FRIDAY, APRIL 27, 11:45 A.M. CT
CORPORATE AVIATION FACILITY, DALLAS, TEXAS
Bradley Chubb's mother, Stacey, has long imagined this day might arrive.
She may not have been able to provide the details of this morning — the morning after her son was selected by the Broncos with the fifth-overall pick of the 2018 NFL Draft — but that would've been too much to ask.
Who could've predicted the Chubb contingent — Bradley; Stacey; his father, Aaron; older brother, Brandon; and agent, Erik Burkhardt — would be stepping out of a 15-passenger van to board Broncos Owner Pat Bowlen's private plane at the Corporate Aviation facility at Dallas-Fort Worth International airport?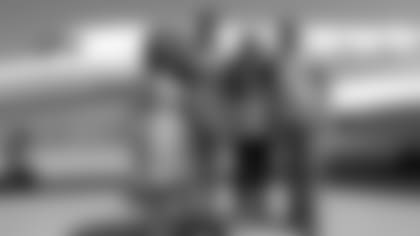 Who could've predicted the orange dress Stacey brought from Georgia to Dallas — "I was trying to be neutral!" she promises — would match the color of her son's new team?
Who could've predicted Brandon would be there in time to join them, having flown to Dallas after a practice in Detroit? Brandon would need to charter a helicopter from DFW to AT&T Stadium in order to arrive Thursday night on time for his younger brother's moment.
Even a week earlier, when Bradley sent Burkhardt a text that paired Von Miller's quote about him with the wide-eyes emoji, this setting would have been hard to perfectly predict.
But Stacey knew it was coming in some fashion.
Her elder son, Brandon, started playing football at age 8, and it didn't take long for Bradley to follow suit. Even then, Stacey could tell her sons were special.
Bradley was still years away from terrorizing quarterbacks. He played running back and often blazed by the other kids on his way to the end zone.
His parents didn't know then he would grow to be 6-foot-4, Stacey jokes, but they recognized his raw ability.
"That's where it started," Stacey says. "We could tell then he had it."
His energy was also unmatched. Stacey called Bradley "Tigger" because of the way he bounced around the house, and he was never far from the football field.
In middle school, as other kids his age hung out by the bleachers during high school football games, Bradley served as a ball boy.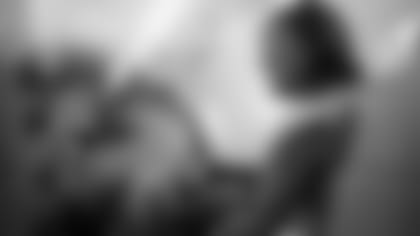 Soon enough, Bradley reached his growth spurt and surpassed his 6-foot-1 brother during his junior season of high school.
Even then, he didn't receive the attention from colleges he would later get from NFL teams. Bradley earned a handful of ACC and SEC offers, but traditional powers like Alabama and Tennessee never offered.
Neither did Georgia, where his father put his own NFL career in motion.
Had Bradley or Brandon — who played at Wake Forest — been recruited by Georgia, their stories may have turned out quite differently. Stacey thinks the pair would've committed to their father's alma mater.
"They grew up watching Georgia football and knowing the players that played for Georgia," Stacey says. "We would go back to some of the games. But when that didn't seem like that was the direction that their careers were headed in, they definitely didn't pine over Georgia. They just said, 'That's their loss.'
"I think it worked out well, because they got to make a name for themselves in their own places."
At Wake Forest, Brandon did enough to get noticed by the Los Angeles Rams as an undrafted free agent.
Bradley would do far more.
After a 10-sack, 20-TFL season as a junior at NC State, he faced questions about whether he would leave school early. And that's when Stacey finally knew how high her son would go in the NFL Draft.
"I'm not going to say I didn't see him as a high pick before then," Stacey says, "but going into his senior year, I'm like, 'OK, this is real.'"
The magnitude of the moment, though, has only started to sink in as the plane begins to speed down the runway and lifts off toward Denver.
And still, as they jet toward his introductory press conference, it becomes abundantly clear that Bradley's football talent doesn't impress her as much as his maturity, work ethic and humble attitude.
"Just to know his dreams have come true is an overwhelming feeling, and it's hard to describe," she says. "To know your child has worked for something for a long time and it has been realized, it's just the best feeling in the world."
If this moment is a victory for Stacey, Bradley's biggest fan, it's a bigger victory for Stacey, Bradley's mom.
The most wonderful thing about Tigger, she used to tell her son, is he's the only one.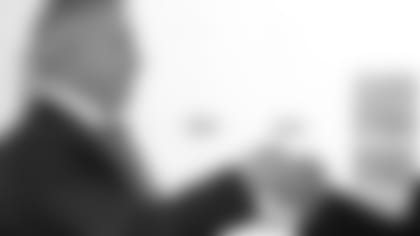 THURSDAY, APRIL 26, 6:40 P.M. MT
DENVER BRONCOS WAR ROOM, ENGLEWOOD, COLORADO
The cheers rise from the Broncos' war room minutes before the card with Chubb's name on it has been turned in to the NFL.
They come instead when the Cleveland Browns pass on Chubb and select Ohio State cornerback Denzel Ward with the fourth-overall pick.
Cleveland general manager John Dorsey will later defend the pick, saying the Browns' need in the defensive backfield outweighed the potential of adding Chubb.
But at this moment the Broncos aren't worried about Cleveland's reasoning, which has changed the trajectory of Denver's draft.
The Broncos won't be trading back. They won't be selecting a second-choice player.
Instead, they land their highest-rated defensive prospect in the draft.
John Elway will later confirm he was close to sending the pick away. The appeal of Chubb playing opposite Von Miller ensures that doesn't happen — and the Broncos don't waste much time to make it official.
With more than seven minutes left on the clock, Chubb is already on the line with the Broncos.
As a staffer sprints down the hall to find Defensive Coordinator Joe Woods, Elway takes the phone and welcomes Chubb to Denver.
"You're a Bronco," Elway says.
The room seems to like the sound of that. Head Coach Vance Joseph smiles and shakes his head as Woods jogs to join the celebration.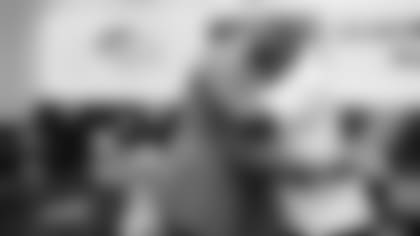 "How about that, guys?" Joseph rhetorically asks the staff. "Awesome, awesome."
Woods' reaction is far less reserved. The second-year coordinator pumps his fist and starts clapping as he waits for his turn to talk to his newest weapon.
They chat for a moment, and then Woods is out of the room and jogging back down the hallway toward the coaches' offices.
Might Woods be the happiest of anyone in the building?
"You better believe it," he says later.
Chubb's highlights flash onto the projector screen, and the room falls temporarily silent. As Chubb brings down another quarterback, NFL Network Mike Mayock offers a comparison that thrills the room.
As a rookie, Mayock says, Chubb could make the same impact as the Chargers' Joey Bosa, who had 10 sacks during his first season.
"I hope so," Director of Player Personnel Matt Russell says with a grin.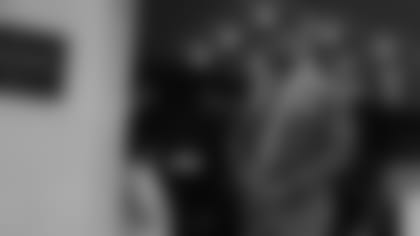 FRIDAY, APRIL 27, 9:20 A.M. CT
THE ADOLPHUS HOTEL, DALLAS, TEXAS
Chubb loses his train of thought.
It's happened once before, and at first, it appears he's tired after the emotionally draining night that preceded this breakfast.
He's sitting in City Hall, a usually far-busier bistro in The Adolphus Hotel in downtown Dallas.
"You can't fight city hall," reads a sign near the entrance.
It doesn't appear wise to fight Bradley Chubb, either.
The 6-foot-4, 276-pound defensive star has squeezed himself into a back-corner booth in an otherwise empty restaurant, and he looks more like a pro-ready player than many of his peers who shook Roger Goodell's hand the previous night.
Thursday night's first round — and the celebrations that followed — has muted both the hotel and the restaurant.
Shaquem and Shaquil Griffin — who will end up teammates again in Seattle in just over 24 hours — enter a downstairs coffee shop around 8:45 a.m.
Chubb may be the only other player awake within the hotel. He's certainly the only one already in a suit, meeting with his new team.
He's traded his solar system-lined suit from the previous night for a far more reserved choice. Chubb complements a gray, pinstriped suit with a plain blue shirt and a darker blue tie.
The beaded bracelets on his right wrist provide the only other pops of color. One is red, white and black, presumably to honor his alma mater, NC State. Another is tinted gold.
And one has an orange and blue twist.
He's either a quick learner or quite lucky.
Chubb seems to think he needs another component to complete the look, though — and that's where his attention has drifted:
To the Super Bowl 50 ring across the table.
Ray Jackson, the Broncos' director of player development, holds up his fist to give Chubb a better look.
"It's hard not to stare," Chubb says.
One group of rookies will win their own ring this season, Jackson reminds him quickly. Then it's on to a number of other topics.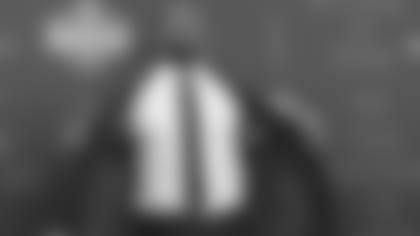 How Chubb will be expected to help lead the rookie class. How his life will change as a first-round pick. How to help Von return the pass rush to an elite level.
Chubb is quiet at first, but as he works through his scrambled eggs, wheat toast and ham, he begins to pepper Jackson with questions.
These 40 minutes undoubtedly pass far faster than that same period of time did when Chubb waited in the green room.
Plate cleared, Chubb stands and heads back toward the front of the restaurant. He visits briefly with the NFL's Executive President of Football Operations, Troy Vincent, and then he disappears into an elevator to grab his belongings.
This is when it becomes clear that Chubb is different.
The elevator doors open again, and a quarterback who was drafted in the top 10 the previous night steps out.
He struggles to carry both his bag and an Xbox, and his tie has come loose around his neck.
He looks, for better or worse, like a college student.
It only makes Chubb's maturity all the more impressive.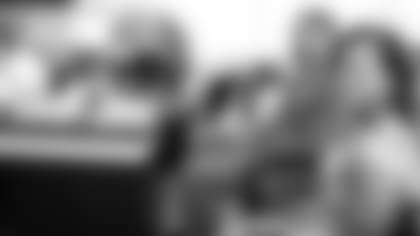 FRIDAY, APRIL 27, 1:20 P.M. MT
UCHEALTH TRAINING CENTER, ENGLEWOOD, COLORADO
In the lobby of UCHealth Training Center, Chubb stands in front of the Broncos' three Lombardi Trophies and doesn't speak.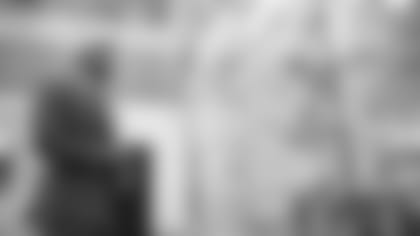 He takes a few photos, but there aren't many words exchanged.
When he and his family finally do speak, their voices are hushed. Reverent, even.
This is the goal. This is why Chubb was brought to Denver.
And with him, he brings renewed hope.
Hope for another playoff run, for another Lombardi Trophy.
As he leaves the lobby and tours the facility, the reminders of previous titles don't end.
There's a photo of Von Miller stripping the ball from Cam Newton. There's John Elway with his arms outstretched. Terrell Davis adorns one panel. On another, Steve Atwater smiles after a win.
And there's Owner Pat Bowlen hoisting the Lombardi.
Chubb stops when he sees a gold jacket dedicated to Bowlen by the team's Hall of Famers. His mother seems to be in disbelief when she's told the stat.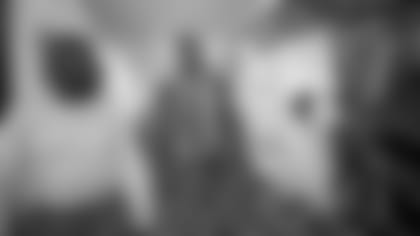 More Super Bowl appearances than losing seasons, Executive Vice President of Public and Community Relations Patrick Smyth tells them.
Chubb is one of the pieces that could help bring Denver back to that game.
"I need one of those from you," says Ray Jackson, pointing at the panel of Miller and Newton.
Around the facility, there's a belief he can do just that.
As he sat in the cafeteria earlier, Matt Russell stopped by Chubb's table to say hello and meet the first-round pick.
The lack of a pre-draft visit, Russell explains, was merely part of the plan.
"Don't think we weren't interested," Russell says. "That's why we did it. That means we were interested."
Before Chubb heads to his introductory press conference at the Pat Bowlen Fieldhouse, Elway confirms that sentiment.
The Broncos, Elway said, didn't think Chubb would still be on the board at No. 5.
That didn't mean they weren't thrilled.
"We won the AFC Championship and the Super Bowl because of our pass rush," Elway said, "and we have not had that pass rush."
Chubb, who's added a Broncos pin to his suit lapel, seems intent on fixing that problem.
When he and his family join Joseph in his office, it's not long before Chubb asks when he can get the playbook.
Soon, Joseph says. They'll load up his tablet for him, and he can begin to prepare for the Bosa-esque season Mayock predicted.
For these 15 minutes, though, they talk about the team Chubb is set to join.
Miller, of course, is among the players that come up.
Joseph believes Chubb can do more than just learn from the six-time Pro Bowler and Super Bowl 50 MVP. Chubb can inspire Miller, Joseph says, and push the All-Pro player to a higher level.
Then they arrive at the biggest question: how can they fix what went wrong a year ago?
Chubb should play a large part in finding that answer — but Joseph aims now to take some of the weight off the fifth-overall pick's shoulders.
"We expect big things from you," Joseph says. "But we've got patience.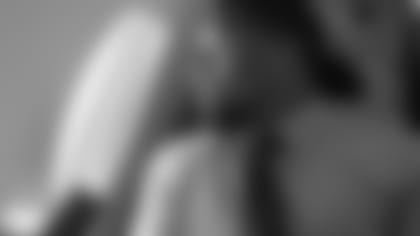 FRIDAY, APRIL 27, 12:30 P.M. CT
BRONCOS' PRIVATE PLANE, SOMEWHERE OVER TEXAS
Still hours away from the photo ops and jersey presentation, Aaron and Stacey Chubb take stock of their new reality.
From where they sit at 40,000 feet, Marietta, Georgia seems quite far.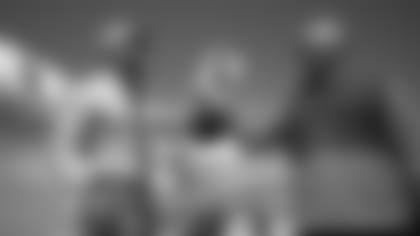 "We're not in Kansas anymore," Stacey jokes.
They'll never bat an eye at traveling commercially to one of their sons' games, but this is the family's first time on a private plane — and you can believe they're enjoying the small reward after years of hard work and sacrifice.
Aaron's brief NFL opportunity in 1989 has transformed into a reality in which both of their sons are NFL players.
"It wouldn't have been something I would've believed," Aaron says. "It's so surreal. You hope that. You wish that. You work for that.
"But for it to come true and actually happen … it's just remarkable."
That Bradley's opportunity will come in Denver only betters this moment.
Though his parents swear they had no preference as to where their son was drafted, the positive reviews arrived quickly and frequently.
Stacey received text after text praising the "Class-A organization" to which her son was headed. Videos of Broncos fans at the draft celebrating Denver's selection only reaffirmed what Stacey was hearing about her new favorite team.
The city, too, is a familiar setting for the family. When Bradley and Brandon were younger, they toured the Mile High City with their father as Stacey attended a conference. They took in a Rockies game, spent time at Elitch Gardens and took a photo at the Mile-High Steps at the state capitol building.
Today, Chubb returns to Denver.
Less than an hour now remains until Chubb steps off the plane at Centennial Airport in Englewood and is whisked to UCHealth Training Center, where the next chapter of his football career will begin.
At this moment, though, Bradley reclines in one of the plane's leather captain's chairs. He crosses his feet and points his polished, black dress shoes forward toward Denver.
He sets his phone — still pinging with congratulatory messages — to the side and tilts his Broncos Country hat down over his eyes.
Within minutes, he's asleep.
One can only guess what he's dreaming of now.