ENGLEWOOD, Colo. --After what was perhaps the best defensive performance by any team this season, it stood to reason that Derek Wolfe would be named the AFC's Defensive Player of the Week.
Even though his performance lacked the typical tentpoles that give players that award -- sacks, interceptions, forced fumbles or some combination of the three -- Wolfe's performance helped push the Packers away from the run-pass balance they'd achieved in their 6-0 start.
Still, he was disappointed about finishing the 29-10 win without a sack.
"Anytime I don't get a sack, I don't think I had a good game," Wolfe said. "Sacks aren't rolling around as much as they used to anymore with [OLB] DeMarcus [Ware] and [OLB] Von [Miller] and [DE] Malik [Jackson] and Shaq [OLB Shaquil Barrett] now. They are so many guys that can rush the passer that it's almost like, even if you do have a good rush, it's not good enough because they're just a little bit faster."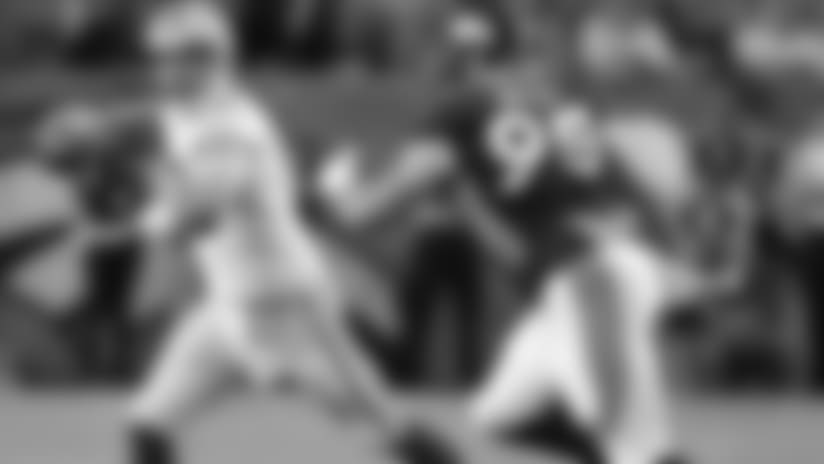 Wolfe's Sunday performance it was all about stuffing the run, making the Packers one-dimensional and preventing them from gaining any semblance of momentum, which is what he did when he took the field for the first defensive series of the second quarter.
The Packers trailed, 14-0, and needed a scoring drive in the worst way to halt the Broncos' cresting tide of momentum. A first-down pass to Davante Adams picked up eight yards and offered Green Bay some hope.
But Wolfe created havoc, helping blow up a pair of runs that forced the Packers to settle for a three-and-out -- including a third-down run on which he pushed guard T.J. Lang into the backfield, then caught Eddie Lacy from behind one yard short of the chains.
By the time the Packers got the football again, the deficit had ballooned to 17 points.
These might not get the pass-rush opportunities he wants, although he did hurry Rodgers Sunday. But he'll make the most of the chances to stop the run.
"I embrace that role as being the guy that if they're going to run the ball at me, it's going to be a long day," Wolfe said. "I appreciate that. I thank the Green Bay Packers for trying to run the ball at me."
Rarely does the first play offer such a clear window into a team's plan of attack as it did in the Broncos' 29-10 win over the Packers last Sunday.
It was a play-action pass that worked brilliantly. Peyton Manning play-faked to Ronnie Hilliman, which froze Packers cornerback Micah Hyde and his linebackers, setting up one-on-one matchups for Demaryius Thomas and Emmanuel Sanders.
Manning has his pick of receivers, with Sanders crossing in front of a deep safety and Thomas curling back for a potential reception. The Broncos had 18 yards, and even though they would punt four plays later, a tone for success was established.
The Broncos would use intermediate routes to shred the Packers defense whether in playaction or straight drops. But the playfake proved deadly to the Packers throughout the night, as Manning racked up a 109.7 rating (6-of-9 passing for 153 yards) and averaged 17.0 yards per attempt when Manning faked a handoff.
'If we run the ball, we should make big plays throwing the ball. That's very important and that's happened for us the last few weeks," Head Coach Gary Kubiak said. "Hopefully we can stay committed to running it. If we do that and Peyton pulls it out of somebody's belly, we should have some places to go down the field with it.
"That's part of what we want to do, and we just need to continue to improve it."
... Peyton Manning was hit three times -- twice by Clay Matthews and once by Mike Daniels -- but was not sacked for a second consecutive game and has been sacked just five times in the Broncos' last 200 pass plays -- a rate of one every 40.0 pass plays that is better than the top current season-long rate (by the Jets: one every 37.7 pass plays).