Although it's always nice to win, preseason is about the process, not the result, and that's why we'll start this week's review with T.J. Ward and how Defensive Coordinator Wade Phillips used him in Saturday's 14-10 win.
On the stat sheet, Ward appeared to have a quiet evening: one tackle and two assists. But beginning on the defense's second play, when he aligned himself next to the inside linebackers, giving the Broncos eight men in the box, the multi-faceted nature of Ward's role in the defense began to take shape.
During his 20 snaps of work, he lined up in the box five times, which included some work as an eighth man in the box in the base package and other plays on which he lined up next to an inside linebacker. The Broncos had dime personnel on these snaps, but used David Bruton Jr. and Darian Stewart at the safeties, in effect returning Ward to the sub-package linebacker role he handled at times late last season.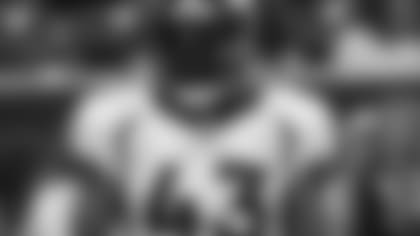 He also lined up opposite tight ends C.J. Fiedorowicz and Garrett Graham when they split into the slot on two snaps, using his physicality to jam them at the line of scrimmage before they began their routes. On another, he engaged with Fiedorowicz as he ran a drag route.
"I love it. I love to be all over the place," Ward said. "I love to make plays from different positions and different areas -- move me around, disguise me, play me in coverage."
On 11 of 20 snaps, he lined up at least nine yards back from the line of scrimmage, in a traditional safety alignment. But on one of those, he crept close to the box, attacked at the snap, then dropped into coverage.
"Every week Coach Wade is throwing in something new for us -- little scheme adjustments that we have to make," said cornerback Chris Harris Jr. "I think guys are picking them up fast, and that's a good sign."
Ward's versatility and aggresion are under-the-radar components of what gives the defense the potential to be one of the league's most dangerous. It will be difficult for an opponent to prepare for how the Broncos use Ward when he's capable of lining up at almost any spot other than the defensive line.
As with the tight end/fullbacks on offense, Ward allows the defense to change its look without changing personnel. When factoring in the willingness to drop edge-rushing outside linebackers into coverage and blitz inside linebackers, the Broncos can throw myriad rushes and alignments at an opponent while looking the same as they break the huddle before aligning.
"We make everything look the same, and that's something that the offense is going to be confused on, they're going to have to read and see what we're in," Harris said. "That's a credit to Coach Wade and his scheme, and we love it."
Added Ward: "His scheme is great for any position, honestly. I think as a whole, we're loving the defense."
THIRD DOWN UPS AND DOWNS:
On the defense's first third down of the game, Brandon Marshall deflects a Ryan Mallett pass intended for Alfred Blue in the right flat to get the defense off the field. It was a play that let Marshall know that he was back after missing the entire offseason because of April foot surgery.
But there was a lot more going on than just Marshall keeping up with Blue in coverage. First, there's the fact that Marshall was there step for step with the running back; he had to elude Houston TE No. 88, who moved into position to try and obstruct Marshall (without drawing a pass-interference penalty for setting a pick). As Marshall gets around 88, he cuts on his left foot -- the one on which he had surgery -- as he begins to chase Blue outside.
Marshall isn't looking back at Mallett, so if he'd made contact with the running back, a flag would have certainly followed. But he avoids colliding with the running back and gets his left arm up to create just enough of a distraction to force the incompletion.
The offense took over after a punt, and resuscitated its possession via a perfectly executed third-and-9 pass from Peyton Manning to Owen Daniels that showed the 10-year veteran's tight end prowess as a route runner.
For years, Daniels has been among the league's best at using every trick of the trade to find space underneath coverage. That's what he did on this 11-yard catch. He starts from being lined up outside RT Ryan Harris, and then makes his cut to the right just as Jordan Norwood, working in the right slot, moves upfield.
By timing his out cut perfectly, Daniels forces Texans safety Eddie Pleasant to maneuver through traffic, creating just enough space for separation in the right flat. Manning then finds Daniels for 11 yards and the first down. Daniels is one of the game's smartest tight ends; plays like this are the reason why.
Now the bad: third-and-short on offense. The Broncos went 1-for-4 on third-and-1 situations Saturday, then failed on a fourth-and-1 in the fourth quarter. On two of the failed third-down runs, Montee Ball and Juwan Thompson were engulfed in the backfield; the Broncos' offensive line was pushed back on Ball's attempt, and Justin Tuggle was unblocked and filled the hole to the left side, preventing Thompson from advancing.
Tight end James Casey had a third-down drop in the first quarter; that's a correctable mistake. But the No. 2 offensive line's inability to generate any kind of surge on third-and-short is worrisome for the Broncos.
"I'm pleased with a lot of the things we're doing but I'm very disappointed in what we're doing short-yardage wise," Head Coach Gary Kubiak said. "I think we're one for five or something like that on third and one. That's staying on the field. That's 15-20 more plays. That's a disappointing part. We're trying to become more physical as a team. I think we did run the ball pretty good, average-wise, but you've got to stay on the field in third and one."
Look for that to be a point of emphasis this week.
... The Broncos had much more success running to the left side than the right side against Seattle, and that trend continued against Houston. Denver averaged 6.0 yards on nine carries to the left side Saturday compared with a 2.67-yard average on nine carries to the right side. The Broncos also average 5.6 yards per carry up the middle on five attempts. Against Seattle, the Broncos' averages were 4.14 yards to the left, 5.5 up the middle and 2.43 to the right side.
... Denver's sack rate of one every 6.75 pass plays leads the league, just ahead of Dallas (one every 7.17 pass plays), Washington (one every 7.89) and Green Bay (one every 8.2).
For what it's worth, in 2014 the Broncos' regular-season sack rate (one every 16.63 pass plays) was comparable to their preseason pace (one every 15.78 pass plays).
... The Broncos are the only team in the league to allow just one touchdown to opposing offenses this preseason.