Although some parts of the Broncos' season have been frustrating, much more has gone right than wrong. They're 7-1. In 24 of the last 40 years, that would have been good enough to have the league's best record after eight games.
In a stellar season to date, what have been the best moments in each phase? Let's take a look back at them and how they developed.
The best glimpse of what this running game can be remains Ronnie Hillman's 72-yard gallop against the Vikings in Week 4, a play that was the longest rush for a Bronco since Javon Walker's 72-yard end-around sprint for a touchdown in Pittsburgh nine years ago.
It starts with the formation: two tight ends (Owen Daniels and Virgil Green) to the left, and two wide receivers (Emmanuel Sanders and Demaryius Thomas) to the right. The two receivers force one defender out into coverage and pull him away from where the play will go; in this case, it's Anthony Barr -- perhaps Minnesota's best linebacker -- who moves over to the slot.
Although Barr reads the play effectively, he's in no position to have any impact on it.
Over on the left side, Green makes the first block on DE Danielle Hunter. Daniels and Harris pull to the left. Harris moves inside and goes low to block Chad Greenway. Daniels obstructs Terence Newman to the outside.
All Green has to do is hold off Hunter just long enough for Hillman to burst through. It's close, but Hillman gallops through the seam and then outruns all pursuing Vikings to the south end zone.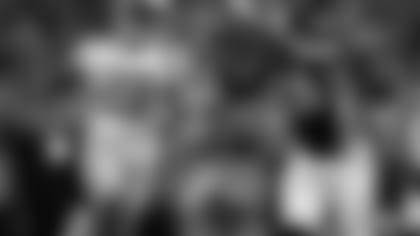 The obvious choice would be Peyton Manning's 75-yard strike to Emmanuel Sanders in Cleveland to put the Broncos back in front on the first snap after Karlos Dansby's pick-six not only gave the Browns a lead, but brought out the knives on social media.
But if you want a play that shows where this offense can go, look at the first play of the second quarter against Green Bay, when Manning hit Demaryius Thomas up the left sideline for a 47-yard gain that set up Ronnie Hillman's 15-yard touchdown run one play (with a penalty in between) later.
The pass comes from out of a pistol formation, with two tight ends aligned to the right, creating an unbalanced Packers defense with five of the back seven players aligned from the center to Manning's right.
Manning's playfake -- and the Broncos' success at running out of two-tight end pistol alignments -- draws the intermediate safety up, leaving a one-on-one matchup on the outside. The single high safety deep is too far away to have any impact on the play, since he's accounted for the two tight ends to Manning's right and lined up near the hashmarks on that side of the field.
Once Thomas gets past Casey Hayward, all it takes is an accurate throw. Manning delivered it, and Thomas had his longest gain of the season.
There's no question on this, and, in my opinion, this is the play of the year, period: Brandon Marshall's strip of Jamaal Charles with 33 seconds remaining in Kansas City in Week 2. Bradley Roby immediately recovered the football and scampered 21 yards with it to cross the goal line six seconds after the football popped loose.
It was only lucky if you adhere to the cliche' that luck is where preparation meets opportunity. The opportunity arose when Charles went low in anticipation of a collision with Darian Stewart, and the preparation came from a meeting the night before the game, when Defensive Coordinator Wade Phillips instructed his players to be on the lookout because when Charles dives forward, his grasp on the ball opens up the possibility of a forced fumble.
"Coach said, 'He'll fumble it to you,' so we took emphasis on that," ILB Danny Trevathan said. "So me and B-Marsh on the sideline, we're like, 'What's going on? He's holding that ball loose. Man, we can get it out.'
"So we look at each other like, 'Man, one of us is going to have to get it out.'"
RB C.J. Anderson noted that Running Backs Coach Eric Studesville also noticed the fault in the Chiefs' star's ball-carrying.
"Usually when you have it in the center like this you're exposed, so when you get hit, you drop it," Anderson continued. "That happens. We talk about it all the time."
The Broncos knew Charles' weakness. Then they made him -- and the Chiefs -- pay dearly with a loose ball, a touchdown and the ignition for a five-game losing streak that leaves them four games back entering Sunday's rematch.
Surprisingly, it's not a pick-six or a strip-sack fumble.
Bradley Roby's first-quarter interception of Detroit QB Matthew Stafford in Week 3 shows everything that the defense can be, even when it keeps things simple and eschews the blitz.
First of all, there's no blitz required; the Broncos use a four-man rush. It's on third-and-5, a play most teams expect to convert via the pass. To guard against underneath routes, David Bruton Jr. and Brandon Marshall had the short area covered.
When you have Malik Jackson and Von Miller working together, as they do on this play, you don't need a blitz. Miller is aligned at left outside linebacker outside of Jackson, and guides Lions RT LaAdrian Waddle outside and wide. Jackson then has a one-on-one matchup with Larry Warford, and pushes Warford into Stafford's line of sight, setting up the errant throw that Roby intercepts.
It's an underrated example of how pressure creates takeaways, but it's integral to the Broncos' equation. Plays like this have helped compensate for the offense's continued spate of giveaways.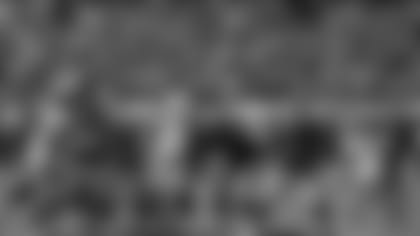 Omar Bolden's 83-yard punt return against the Colts last week provided the explosive moment the Broncos' third phase had lacked, and helped vault the Broncos to eighth in overall return efficiency, giving the Broncos a punt-return average that is 22 percent higher than the norm.
But the most important play on special teams this year was Sylvester Williams' block of Sebastian Janikowski's field-goal attempt in Oakland in Week 5, which proved crucial in changing the eventual flow of what would be a 16-10 Broncos win.
The block was simple, but note the players who were on the field, a group that included seven starters: Williams, DeMarcus Ware, Chris Harris Jr., Aqib Talib, Brandon Marshall, Danny Trevathan and T.J. Ward.
The Broncos have some of their best athletes on the field for key special-teams plays. Starters. Pro Bowlers. That's team buy-in to the third phase, and it's a big reason why the unit has become one of the league's best in a majority of metrics: placekicking efficiency, kickoffs, returns and punt/kick block rate (at which the Broncos lead the league).