The Broncos capped their undefeated September with big performances from some of the usual suspects: Peyton Manning, DeMarcus Ware, Brandon Marshall, Demaryius Thomas and Emmanuel Sanders, among others.
However, all three of the Broncos' takeaways involved players not listed on the first team of the depth chart -- although two of them, safety David Bruton Jr. and No. 3 cornerback Bradley Roby, have each played over 50 percent of the snaps this year, thanks to an emphasis on sub packages and Bruton starting for the suspended T.J. Ward in Week 1.
(And Bruton has remained quite busy; even after Ward's return, he's played 63 of 142 snaps in the last two games.)
But no player has been more efficient at maximizing limited opportunities than outside linebacker Shaquil Barrett, who has played just 38 defensive snaps this season.
The best part about his fourth-quarter strip-sack fumble was how he adjusted and changed direction to make the play. Lions right tackle LaAdrian Waddle does a good job initially guiding Barrett outside and behind Matthew Stafford. But Barrett spins around and breaks free, which at that point gives him a clear shot at Stafford, who has stepped up in the pocket.
Stafford feels Barrett coming and moves to his left, but it's too little, too late. Barrett's straight-line speed and acceleration ensure that he can get to Stafford as he prepares to throw.
Coverage helped set up the play, but Barrett finished it.
According to ProFootballFocus.com, Barrett has two quarterback hurries in 13 pass-rush opportunities this season. That's a limited sample size, but consider that the only front-seven Bronco with a better hurry rate than Barrett's one every 6.5 opportunities is Von Miller (one every 5.18 pass-rush chances).
MEET THE NEW TARGET: BENNIE FOWLER
Fowler was another ex-practice squad player to announce his presence with authority, making his first, second, third and fourth regular-season receptions.
"It speaks to him," quarterback Peyton Manning said of Fowler. "Obviously, he put a big impression on the coaches with training camp and limited reps for them to put him in there. Throwing to him five times tells you the confidence that I have in him."
Of the four receptions, his second catch -- a 13-yard grab up the middle on third-and-4 -- showed why he's playing, and it's not because of the spectacular catches he made in training camp, although those didn't hurt his cause. He's playing because he's meticulous and precise.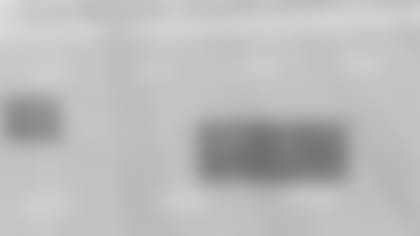 Fowler starts his route as the inside receiver of the three wideouts bunched outside of right tackle Ryan Harris. As the play begins, he waits for Demaryius Thomas to cut across, and then starts his route. He advances nine yards and then makes his cut inside -- exactly at the point when he's capitalized off the soft coverage of rookie Quandre Diggs, who was also monitoring the short underneath area.
When Fowler starts his cut, Diggs is two yards behind him. Darius Slay is too far downfield and wide to be a factor; so is safety Glover Quin. And Manning is his usual self; he makes his throw as Fowler starts his cut.
If you are as meticulous as Fowler is, you will play. Don't expect this to be the last you'll see of him.
"What's unique about Bennie is that he can catch the deep ball on the outside, he's got the speed to run it, but he's fearless across the middle," Manning said. "That's a pretty good combination, so I think you'll continue to see him to be involved in this offense."
... Fowler's reception was also made possible by left tackle Ty Sambrailo, who did a good job using Ezekiel Ansah's outside speed rush against him. Sambrailo guided Ansah wide and behind Manning, who had plenty of time and space to read Fowler's route and make the throw.
... The Broncos ran 58 of their 62 plays in shotgun or pistol alignments: 28 in the pistol and 30 in the shotgun.
... Ware played more snaps (63, 80.8 percent) than in the first two games (44/75.9 percent in Week 1; 47/73.4 percent in Week 2).
... Malik Jackson played a season-high 64 snaps (82.1 percent) as the Broncos kept him in as one of two down linemen during most pass-rush situations.