ENGLEWOOD, Colo. --** The blue is back -- for two games this year.
The Broncos will wear their blue alternate jerseys for home games against the Green Bay Packers and Oakland Raiders. But in a twist from the last three seasons, the Broncos will break out the white pants with orange stripes for the Packers game on Nov. 1.
They'll wear blue pants against the Raiders on Dec. 13, continuing the recent tradition (since 2012) of wearing all-blue once a year.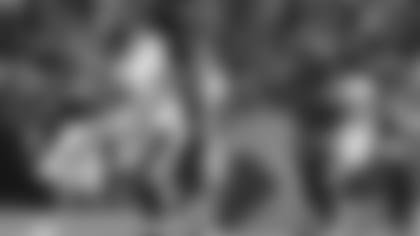 The return of the white pants with orange stripes allows the Broncos to recreate their uniform ensemble from their Super Bowl XXXII win over the Packers. That game will also witness Owner Pat Bowlen's induction into the team's Ring of Fame.
Some of the Broncos' most memorable wins came in the blue-and-white ensemble, including that Super Bowl, the divisional-round win over the two-time defending champion Patriots in January 2006 and the last previous game in blue-on-white, the Jan. 8, 2012 wild-card win over the Pittsburgh Steelers.
The two appearances of the alternate jersey are the maximum allowed by the league in a regular season.
The Broncos have not worn blue jerseys against the Raiders since Oct. 24, 2010, when it was still the primary jersey color.
Since reversing their colored jerseys and making orange the primary jersey, the Broncos are 3-0 in their all-blue uniforms, including one of their most thrilling recent wins, the 51-48 triumph at Dallas in 2013. This will mark the second consecutive season in which the Broncos have worn their blue jerseys in prime time; they wore an all-blue ensemble for a Sunday Night Football win over the 49ers last October.