ENGLEWOOD, Colo. –As a senior in high school, he led the state with 123 tackles. As a senior in college, he led the Big 12 with 124 stops.
He attended the NFL Scouting Combine and sat in front of the television waiting to see which NFL team he'd suit up for on Sundays.
On the surface, linebacker Steven Johnson followed the same path to the NFL as the majority of his counterparts.
A deeper look shows that Johnson's path, however, was far from typical.
After leading the state of Pennsylvania with 123 tackles in 2005, Johnson received offers to schools that included West Chester University, Millersville, the University of Delaware and Villanova.
Wanting to play at the Division I level, Johnson decided to enroll in prep school at Wyoming Prep Seminary in Wilkes-Barre, Pa., with the hopes of eventually landing a scholarship offer from a Division I program. There, he tore his ACL and MCL just four games into the 2006 season and any chances of a scholarship offer seemed to disappear.
After the injury, coaches told him his chances of playing again were slim and recommended he reset his goals to the Division II or Division I-AA level.
"I had to spend a lot of time rehabbing," Johnson said. "My trainers initially told me they didn't know if I could play the game again, but I fought back. My dad went and found the best doctor he could find and I've been good ever since."
Instead of listening to the advice of his former coach and trainers, Johnson pulled out his computer and emailed the recruiting coordinator at Kansas that he'd been in touch with before the injury.
"Kansas was the only school that gave me an opportunity to walk on," he said. "If it wasn't for them, I don't know where I would be. I'm just grateful that it worked out the way it did."
With Kansas being the only Division I school to show interest, Johnson enrolled in classes in Lawrence, Kan., and spent the 2007 season rehabbing his knee injury. Cleared to re-join the team on the field in 2008, Johnson appeared in two games for the Jayhawks as a freshman in 2008.
As his knee and confidence grew stronger, so did his impact on the field.
Johnson played 10 games and made nine tackles as a reserve linebacker and special teams contributor as a sophomore. It was during that sophomore season that Kansas Head Coach Mark Mangino pulled Johnson aside just before the scholarship deadline and told the walk-on that he'd be put on scholarship.
"It was right in the middle of practice, so everybody was clapping with joy and tapping me on the helmet to say congratulations," Johnson told the Big 12 Conference website. "I just wanted to take a second and cry but it was during practice and we were about to start hitting, so I knew I had to snap out of it."
Not having to worry about how he and his family would continue paying for college, Johnson was able to focus on football.
It paid off, as Johnson continued to climb up the depth chart and emerged as a starter when the 2010 season came around. He opened all 12 games for the Jayhawks and led the team with 95 tackles.
The next season, he was elected a team captain and registered double-digit tackles in 8-of-12 games to lead the Big 12 with 124 on the season.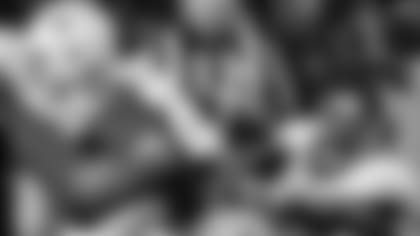 Hoping to continue his career at the next level, Johnson eagerly awaited an invitation to the combine. When it didn't come, Johnson decided to take matters into his own hands again and contact the combine officials.
"I guess I was originally on the bubble," he said. "I was calling them just to see if I was going to get invited. They said they'd get back to me and they did – I was one of the guys that had an opportunity to go."
Despite his success at Kansas, Johnson wasn't sure when – or if – he'd be drafted. As in the past, he was just hoping that somebody would give him a chance to prove himself.
"I originally thought I was going to get drafted," Johnson said. "But, the chips fell the way they did and I was undrafted. It was just more of a chip on my shoulder."
As late rounds of the draft came and went, Johnson remained on his couch, still without a team.
At the end of the draft, Johnson's phone finally rang. And it kept ringing. Johnson estimated that around 10 different teams called him in the hopes of signing him as a college free agent.
While he was mulling those offers, his phone rang again.
This time it was his former roommate and teammate at Kansas, Broncos cornerback Chris Harris Jr..
"I called him and told him the coaches wanted him and they were interested in him," Harris said. "I knew they would give him an opportunity to come in and make the team. That's all you can ask for."
Harris had been in Johnson's position a year ago when he joined Denver as a college free agent. Harris not only played his way onto the team's opening-day roster, but emerged as the club's nickel back midway through the season.
Harris' success gave Johnson the confidence that he'd get a fair chance to showcase his abilities in Denver.
"Chris told me, 'Hey, you need to come here,' and basically sold the whole Broncos organization – they have great facilities, great people and great coaches," Johnson said. "He knew that I'd have an opportunity to make it here, so I went with that."
After signing with Denver, Johnson still faced an uphill battle to make it to Week 1 wearing orange and blue.
Throughout training camp, Johnson turned to Harris for guidance.
"Just come in, do good on special teams and always be a high-effort guy and they should be able to see," Harris said of his advice to Johnson. "As a veteran guy now that has the experience of being an undrafted guy, I try to stay in all those guys' ears and give them motivation. You do start to wonder, 'Am I going to be able to be here,' with the numbers and stuff. It's hard sometimes."
But, given the opportunity, Johnson took full advantage of all his reps in practice and in the team's preseason games and did what he's done his entire career – produce.
He led the Broncos with 15 defensive tackles and tied for the team lead with three tackles for a loss and one forced fumble in the preseason. Johnson added one sack and also contributed on special teams, making one tackle in a role that he knew would be vital to his chances of making the roster.
"I felt like I was getting better," Johnson said of his preseason play. "Going along during the preseason, I felt like each and every game, I was trying to improve on certain things, such as moving quicker on drops and reads and stuff like that. Toward the last game, I felt pretty comfortable out there. I was making some plays. I'm just looking forward to keep getting better."
While he felt good about the way the preseason went, Johnson knew that he still faced long odds to make the 53-man roster.
"When you're an undrafted free agent, you feel good, but at the same time, it's like 'I don't know,'" he said. "You never know what can happen in this business. I felt like I went out there and put my best foot forward."
Denver wrapped up its preseason on Thursday, Aug. 30 and had to cut its 75-man roster down to 53 by 5 p.m. MT the next day.
As the hours passed between the final snap of Thursday's game and the cut deadline, Johnson nervously awaited his fate.
"I was listening to a lot of music, sitting in my room, just staring at the ceiling," he said. "Friday, when we got here, I was just scared. My heart was beating the whole time. I didn't want to look anybody in the eye."
Of the 470 undrafted players that signed with NFL teams immediately following the draft, only 42 made opening-day rosters.
One of those 42 was Johnson, as he helped extend the Broncos' streak of college free agents making the active roster out of training camp to nine consecutive seasons.
When he found out he'd made the roster, he immediately called his dad, who had sacrificed financially to help Johnson earn his opportunity as a walk-on at Kansas.
"Dad got the first call," Johnson said. "He was excited at first, and then he started crying. I was like 'Man, my dad's crying.' It was weird. I've never seen my dad literally cry, but he was very excited. And I called my mom, and she was very excited, and my whole family found out. They're just very excited with joy that I made my dream come true."
Harris learned of the news when he arrived at the facility Friday and saw Johnson's nameplate still hanging above his locker.
"It's very hard to make the team as an undrafted player," Harris said. "So I was very excited for him."
Each step in his career has been difficult for Johnson. At any point, his career could have come to an end due to a lack of opportunities.
Now that he's made the initial roster, Johnson knows that nothing is guaranteed.
"I know when I got on scholarship, my roommate said, 'Oh, you got on scholarship, now you have everything to lose,'" Johnson recalled. "I was like, 'I felt like I just got so much more to gain, I just want to keep going.' Now that I'm on the team, I just want to keep going up from here. My goal is to be a Pro Bowl linebacker one day and (Linebackers) Coach (Richard) Smith is a great coach. He's busting my chops every day trying to get me right."
Although his path to the NFL was unconventional, Johnson continued to overcome obstacles and earn his roster spot.
"I couldn't stop smiling," Johnson said. "I kind of did it again, you know. Being a college free agent is kind of like being a walk-on. I beat those odds twice."
Throughout his life, he's taken his chances and run with them. There's no reason to think that trend won't continue at his highest level yet.
"I used to think it didn't get any better than Friday nights," Johnson said. "Then when I went to college, it was all about Saturday. And now it's Sunday, so I'm like, 'Oh, maybe Sunday is better.' I'm just excited for the opportunity."