ENGLEWOOD, Colo. --For the Broncos, last week's bye was not just about getting the closest to full health that they've been in months.
It was about having four extra practices to retool and refocus.
"We did a lot of individual work, really," said Head Coach Gary Kubiak. "We got back on our team stuff today and got going on Steelers. We did a lot of individual work, a lot of conditioning-type stuff, a lot of throwing and catching. It's been good."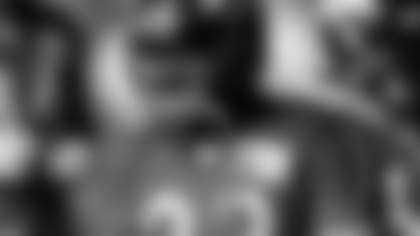 It was back-to-basics work that provided a needed refresher course on fundamental techniques after a season spent immersed in the week-to-week grind of game plans and strategy.
"Last week was like a training-camp week, and that was a good thing," said running back C.J. Anderson.
For the running backs, that meant focusing on protecting the football. A spate of fumbles has dogged Anderson and Ronnie Hillman in recent weeks.
Anderson has lost fumbles in each of the last two games and Hillman had fumbles in each of the previous two games, losing one in Pittsburgh that set up a quick Steelers touchdown that proved crucial in a 34-27 loss.
"A lot of drills," Anderson said. "A lot of things that [Running Backs Coach Eric Studesville] thought were bad habits. When we watched the tape, I saw it was bad habits by me, which is out of character.
"We get lazy sometimes -- and that happens, you have so many weeks of success, you get lazy. We just got back to the fundamentals of things like the first weeks of training camp. It was good to get back to those things, emphasize it, and refresh the brain."
On defense, the point of emphasis was different -- and perhaps not as urgent as ball security, but the focus on fundamentals was just as clear.
"Just basics: open up your hips, get your hands right, hand placement, pad level and all of those things," said DE Malik Jackson. "Just getting back to those things that you learned in camp -- fundamentals, because you lose a few of those things throughout the season.
"So I think we just want to get back to who we are, to Broncos defense as far as basics, and that's what we did this week."
With the Steelers set as the opponent, the game-planning is under way in earnest. The Broncos got a look at the Steelers last week; video of all three possible opponents was provided to players via their playbook iPads.
But the Broncos can attack their preparation knowing that for the last four practices, they were able to clean up their own lingering issues.
"Some teams, they haven't had a bye since Week 4, and they've just been playing all the way through, and they had to play the wild-card, and mentally they're like, 'Damn,'" said Anderson.
"Mentally, we got a chance to refresh and work on what we need to work on so we can get ready to make this run in the best way possible."
The Broncos were back outside for practice as they begun their first preparation for the Steelers. (photos by Ben Swanson)