ENGLEWOOD, Colo. --Louis Vasquez made the best of a difficult situation in 2014, handling his midseason move to right tackle without complaint.
But even with the unfamiliarity of a new scheme focused on zone blocking, this offseason brings him back to the spot he knows best: right guard, the position at which he was a first-team All-Pro in 2013.
"My mentality is that I'm a guard," Vasquez said. "I would love to stay inside the trenches. That's what my mentality is. I'm a big, strong guy and I like to get physical. On the outside it's more finesse; the guys want to rush the passers and things of that nature. That's not my forte."
And the other personnel changes along the line hampered the unit's attempt to gain chemistry. Although the Broncos' rushing offense became more efficient, cracks formed.
"It strained us as a unit up front," Vasquez said. "Having that stability and everybody in the same places helps with our gelling together and just becoming a unit as one. That just helps everybody else's chemistry."
And that's why this offseason is so crucial for the offensive line. The competition at left guard, center and right tackle will define the offseason as the Broncos attempt to find a combination to build around their twin pillars, Vasquez and left tackle Ryan Clady.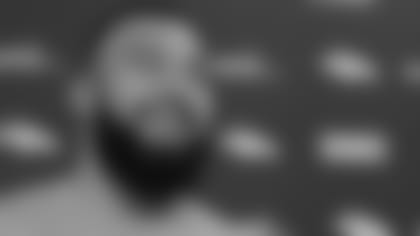 "Having guys competing, it's going to make us work even harder and just make us even better," Vasquez said. "Through this time we'll work at it and we'll get the guys in the right spots."
But building cohesion takes time. As Vasquez noted, when an offensive line meshes as it should, the unit reaches a point later in the season where the linemen "don't have to talk -- we know what each other's going to do and what each other is thinking."
So the sooner that potential starters rise to to the top line of the depth char, the better.
"Hopefully we'll figure it out sooner rather than later," Vasquez said. "And if we figure it out sooner, that'll help us have more chemistry up front."
And chemistry is as essential as above-average footwork to a zone-blocking scheme.
"I just feel like it will complement what my strengths are," Vasquez said. "Obviously, it's been successful in the past. We'll work at it up front. The zone is going to be our bread and butter."
But for the moment, it's still something new, making the classroom time with Offensive Coordinator Rick Dennison and Offensive Line Coach Clancy Barone essential.
"We're in there first thing in the morning meeting with [Dennison], installing the daily installs," Vasquez said. "He's there to answer any questions, and he quizzes us to make sure that we're doing what we're supposed to do, doing our part, because he's for sure during his."