ENGLEWOOD, Colo. --Ronnie Hillman is still listed as the No. 3 running back on the depth chart issued by the Broncos in their weekly press release Monday.
But he was the second running back up against Houston on Saturday. And after slashing through blocks and around the edges of the Texans' defense for 54 yards on just eight first-half carries, he is second to none in the league in rushing yardage so far this preseason, with 120 yards on 16 carries.
Yeah, yeah, it's just preseason. The Broncos know that. Hillman, in his fourth year, knows that. Last year's preseason rushing leader, Baltimore's Lorenzo Taliaferro, gained just 292 yards in limited duty in the regular season. No one's breaking out the streamers and balloons to herald Hillman's arrival.
But there's something different about the San Diego State product now. As the offense as a whole searches for consistency in a tweaked scheme, Hillman appears more comfortable than ever before.
"He's moved himself up. He's had a really good camp," Head Coach Gary Kubiak said after Saturday's game. "... He deserves more reps and if he keeps playing like that he'll continue to get some more."
Kubiak has always noted that he won't strictly have No. 1 and No. 2 running backs; instead, they will be 1 and 1a. The best example of how that worked for him came in the 2011 season with the Houston Texans, when backup Ben Tate had 175 carries -- 62.9 percent as many as first-teamer Arian Foster. They combined for 2,166 yards and the Texans sprinted to their first division title.
The No. 2 back will play -- and he could see a lot of work.
"You just want to put your head down and work," Hillman said. "Like one of my teammates said, 'Focus on what's in front of you.' Right now, [that's] just practice and working these preseason games and taking a step at a time."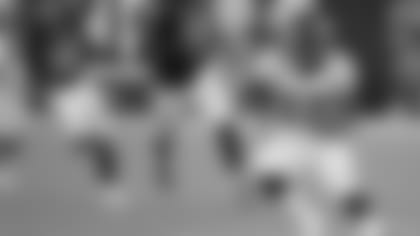 Hillman's speed has long been his calling card, and even after last year's Lisfranc injury, he appears to have maintained it thanks to six weeks of rest and rehabilitation he had last year after suffering the injury last November in Oakland.
"They have to be cautious with it," Hillman said. "They did a good job on it, and now I'm healthy. I'm just trying to pick back up where I left before I got hurt."
Prior to the injury, Hillman averaged 4.22 yards per carry, including two 100-yard games. He was solid, but had no explosive runs in his last two games before succumbing. He continued rehabilitation work in the offseason to complete his recovery.
"In the spring, I started feeling a lot better, coming back and doing the football stuff and breaking the scar tissue. I started feeling a lot better," he said.
But the zone-blocking based scheme and his improved decisiveness in his cuts has allowed him to do more than merely pick up where he left off. He's better, and now he can finally reap the rewards of his natural straight-line speed.
"I feel like I fit in any kind of offense, but this one, it just fits my abilities a lot more than the other ones would," Hillman said.
"In this offense, they just want you to stretch and go downfield as fast as possible," he added later. "I think that ties into when you're kind of fast, everybody thinks that you're going to go to the edge, and you just go right up the field."
Hillman explodes into the open field. There's no dancing, no waiting for the perfect hole. Instead, he finds a gap that's good enough and goes, quickly cranking up his whip-quick acceleration that gets him to the second level before many defenders can react.
"He's the guy in the group who has a different ... gear to get the ball to the edge," Kubiak said.
But Hillman also has a different demeanor about him. When he arrived in Denver in 2012, he was just 20 years old, and the youngest player on the team by a wide margin. Three years later, he's matured, through experience and mistakes.
"You've just got to be patient, and just [emphasize] the film study and being focused," he said.