ENGLEWOOD, Colo. --Defensive end Antonio Smith practiced for the first time in over two months Friday, but after missing OTAs and minicamp to attend to a personal matter, he was not up to full speed and won't be for a while.
Smith was limited to individual work and time with a team trainer during Friday's practice as the Broncos eased him back into full-scale participation.
"I think we're probably looking at maybe four days to a week before [he fully participates in practice], but then it will be a process as we work through," Head Coach Gary Kubiak said. "I know he knows our defense and all those types of things. I'm just concerned about the total conditioning part. We'll be smart."
Smith will miss Saturday's practice to attend a funeral, but is expected to return for Sunday's session.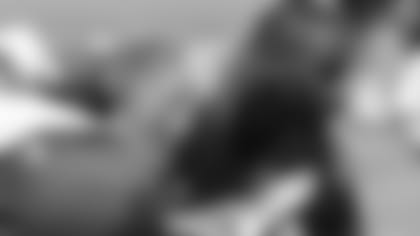 Smith, Kubiak and other club officials agreed in late May that it would be best for Smith to attend to issued related to a police investigation that became public knowledge in May.
"I love football. I love my teammates more than I love the game and to be away from them was definitely a hard situation," Smith said.
Smith has not been charged with a crime in connection with that issue, and said "Nothing's changed" when asked about the situation. He returned this week after conferring with Broncos officials, who consulted with the league office before announcing his return Tuesday.
"I really can't speak much on it. But I have faith in the process," Smith said. "I have faith that in the end it's going to be alright. Like I said, a second ago, I haven't heard a word. So I don't know a timetable, I don't know how I should feel about a timetable. Never been in this situation before. Just got to trust the system."
But it's easy for Smith to trust his new team and teammates, whose support he praised.
"Unbelievable. Unbelievable. A lot of people reached out," Smith said. "Everybody's there for you. More than I've ever experienced, I'd have to say."
Take a look through the lens at our best photos from Day 1 of Broncos 2015 Training Camp.