PITTSBURGH --There are many small questions after the Broncos' fall-from-ahead 34-27 loss to the Steelers, but they all lead to one big one: Why did the Broncos cough up another double-digit halftime lead?
It's not that the Broncos aren't good enough -- at least in spurts. They dominated the first halves of the last two games, outscoring the Raiders and Steelers 39-13. Their first-half output Sunday was their highest in nearly two years; for 30 minutes, the offense looked like the league's best.
When considering the Week 13 win at San Diego, they have a 56-16 first-half edge this month. But they've been outscored 36-0 in the second half, including 21-0 Sunday.
"We've just got to figure out what's going on, man," said ILB Brandon Marshall. "I think we've just got to go back to the drawing board.
"We're not finishing how we should finish right now, and it's at the point of the season where you want to finish games, you want to peak at the right time."
Before they can think about peaking, they have to find their way out of the valley in which they sit after two consecutive losses. Is it a lack of intensity? A loss of focus? Penalties? Dropped passes?
"Intensity was there some of the time. But at other times, you could feel the momentum change," said DE Antonio Smith. "There were times that stadium was all the way quiet; we had it under control. And then it was all of a sudden like an ignitement.
"And as soon as that energy ignited for them, it was like the tide started turning. They started making plays. So you've got to take that away from them."
There were penalties. For the offense, three penalties -- just one of which was accepted -- were a symptom of two clunky possessions that opened the second half and gave the Steelers a chance to catch their breath after the Broncos raced through them for four first-half touchdowns.
"Nobody has a chance when you do that to yourself," Head Coach Gary Kubiak said. "It was penalties and lack of execution."
For the defense, there was the 26-yard pass-interference call against Chris Harris Jr. that moved the Steelers to the Denver 9-yard line. Harris made brief contact with Steelers WR Antonio Brown, and Brown's arm then tugged at Harris' helmet. Ben Roethlisberger's pass sailed wide, but a flag flew, much to Harris' exasperation, as he later called the call "crazy."
"It was a big momentum change, it seemed like," he said. "I've got to be able to just let that go and come back to the next play."
But he couldn't, and Brown scored at his expense one play later. It was the first touchdown Harris had allowed since Nov. 24, 2013. Brown beat Harris again for the game-winning touchdown in the fourth quarter.
Harris blamed himself, telling reporters, "I let the team down."
Before the pass-interference call, Roethlisberger had a 73.3 quarterback rating, going 22-of-33 for 225 yards. Pittsburgh averaged 5.53 yards per pass play and moved the chains once every 3.0 pass plays. They dinked and dunked, but didn't dent the defense.
After the call, Roethlisberger racked up a 116.7 rating, went 18-of-22 for 155 yards, averaged 7.05 yards per pass play and moved the chains once every 2.44 dropbacks -- a rate that will get you beat almost every time. Three of his 22 passes went for touchdowns.
"When calls like that happen, it causes you to have to play off. You can't play as aggressive," Smith said. "And with a guy like that [Brown], you've got to play aggressive on him, and it just changed the way that we covered them."
But that wasn't all. The pass rush wasn't deterring Roethlisberger, who was extending plays.
"There were a few plays that he made where the play was elongated and we should have gotten to him and sacked him," Smith said.
"It's our job to stop that. We can't let him extend plays like he did."
But time after time, Roethlisberger wiggled out of the jam -- not unlike his team as a whole.
As the Steelers offense surged, the Broncos offense was stuck in mud. Brock Osweiler sizzled in the first half, then went 7-of-26 after halftime. Not only did the Broncos fail to score in the second half, they didn't even mount a drive that netted 30 yards or consumed more than two minutes, 18 seconds off the clock.
That exacerbated the defense's woes; by the fourth quarter, it was exhausted.
"In the second half, we just weren't doing anything. So they just kept going back out there, and I'm sure they were worn out," Kubiak said. "We just couldn't put anything together."
There was palpable anger in the locker room after the game. It was understandable; even though the Broncos haven't lost control of their fate in the race for an AFC West title and a first-round bye, they have lost their margin for error; one defeat in the next two games would allow the Chiefs to claim the division if they win out.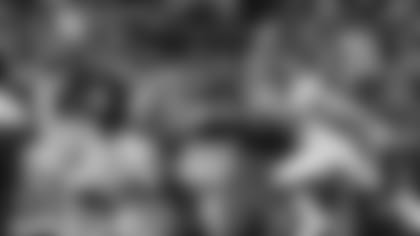 They have time to fix this problem -- and they can lean on the notion that many other champions have skidded through December. Seven of the last nine world champions lost multiple December games. The only two Broncos teams to win Lombardi Trophies both lost consecutive games in December.
Those teams found solutions in time to turn December despair into January joy. Whether the Broncos do the same depends on how they can reset their focus.
"Sometimes you need that rude awakening, you know?" Smith said. "But you've got to respond to that rude awakening and you've got to be the hot team going into the playoffs."
"The key thing is do you learn from it and get better?" Kubiak added. "I know we can be pretty darn good at any given time. We just need to find some consistency in what we're doing.
"It's on to Cincinnati and a big challenge next Monday. We'll look forward to that. We have to have a good week."
It's essential because the Broncos might have run out of mulligans.
The Patriots and Bengals have clinched playoff berths. The Chiefs, Jets and Steelers are all hot on the Broncos' heels, just one game back. Because the AFC South winner will seize a playoff spot, one team in that quartet at 9-5 and 10-4 will be cleaning out its lockers on Jan. 4.
"I don't know what it is -- what type of funk it is in the second half that we're doing," Harris said. "It's just something that we've got to fix in a hurry."
The Steelers took the win in the second half in Pittsburgh.