ENGLEWOOD, Colo. -- **John Elway said 14 months ago that he wanted a team that, if it went down, did so "kicking and screaming."
No player on the roster epitomizes that more than running back C.J. Anderson.
When the Broncos capitulated in the January 2015 divisional-round playoff loss to Indianapolis, Anderson was one of the players who fought hardest to keep the Broncos' dying season alive. His fourth-and-1 conversion on the final play of the third quarter that day, a run in which he doubled back and made five defenders miss on a 7-yard carry, would have been a season-saving play if the offense had not stalled immediately thereafter.
Anderson left every ounce of his being on the field that day, but it was for naught. Months later, he would say that despite his valiant efforts, he didn't do enough because he didn't score a touchdown.
That's just C.J. Anderson. Nothing short of team victory is good enough, regardless of the individual statistics.
A year later, his persistence and drive were rewarded, and he burrowed and pounded through a thicket of Panthers -- including All-Pro Luke Kuechly -- for the touchdown that sealed the Broncos' first world championship of the 21st century.
Both of those runs were in the playoffs, which, along with the late part of the regular season is when Anderson has been at his best. In the last two seasons, no running back has more yardage from scrimmage after Week 8 -- including the postseason -- than Anderson. The only two players with more late-season and postseason yardage in the last two years are wide receivers: Odell Beckham of the New York Giants and Pittsburgh's Antonio Brown.
Anderson is at his best in the highest-leverage situations. That's a big part of why the Broncos matched his offer.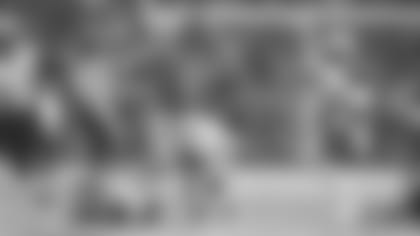 The contract will have a significant first-year charge of $6 million; it was structured in a front-loaded manner by the Dolphins. But that has its advantages. It keeps with the "pay-as-you-go" approach to long-term deals that the Broncos have tried to implement in most of their contracts in recent years. Further, because of annual cash commitments in future years that are lower than the 2016 outlay, the Broncos can evaluate the impact of additional wear and tear on Anderson before deciding whether to continue with the terms of the contract.
If the Broncos had offered him a higher restricted tender, they would have gotten him at a lower price for 2016 -- but would have been in a similar situation next year, facing his potential departure for a bigger contract, but with no chance to match a deal because he would be an unrestricted free agent.
Now, the Broncos could have a bargain if Anderson continues playing at his current level.
Anderson is a career 4.7-yards-per-carry back (including postseason) who is also a capable receiver, a breakaway threat catching passes out of the backfield and a proficient blocker. His career fumble rate of one every 162.3 touches reveals that his fumbles in Weeks 16 and 17 were most likely an aberration.
There are no holes in his game. This offense requires a complete back, and as the Broncos have learned in recent years, they are not easy to find, with second-day picks Montee Ball and Ronnie Hillman enduring their ups and downs.
Anderson is that complete back.
But he also has a chip on his shoulder from being undrafted in 2013 while seeing 23 other backs have their names called. Now he has his reward, but he'll have another motivating factor: wanting to be worthy of one of the biggest contracts for a running back in the game today.