NEWARK, N.J. --As hundreds of media members swarmed the floor at the Prudential Center for the Broncos' Media Day, linebacker Nate Irving took time to reflect.
A starting linebacker on the AFC-champion Denver Broncos, Irving is set to play in the biggest game of his life.
But all of that was just a pipe dream in the early morning of June 28, 2009.
"I was leaving my house at like 2 in the morning just to go back to school," Irving recalled. "It was like an hour drive, an hour and 15 minutes, and I just fell asleep driving. I don't remember too much of what happened from that night, but I fell asleep driving and overcorrected and ran off the road."
His truck flipped over, collided with several trees and caught on fire.
Somehow, the then-college student was able to crawl out of the truck into the grass, where he laid for nearly an hour.
Fortunately, someone saw the accident happen and called for an ambulance.
"I just woke up in the hospital with tubes and neck braces," Irving said.
He had suffered a broken rib, a separated shoulder, a punctured lung and an open fracture in his lower left leg.
So it would make sense if football was the farthest thing from his mind at that moment. But it wasn't.
"No, that was the first thing I asked," Irving said. "'Will I be able to play again?' The doctor told me, 'Don't worry about playing right now.' When you hear something like that, it's like, that's it."
But that was far from it.
He spent the next season off the football field and in the training room, rehabbing his barrage of injuries.
By the time his senior season rolled around, Irving said the fact that he didn't remember much of the accident -- or even the pain -- made it feel like he was "just coming back from a sprained ankle, just a little bit more serious."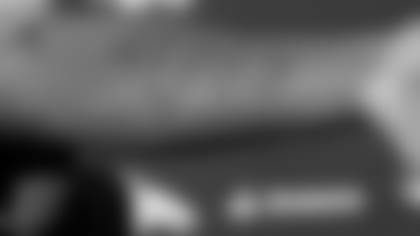 He started every game for the N.C. State Wolfepack that season, tying for the team lead in tackles.
"When I went in there to work him out and he had already recovered from that leg injury, in my mind I thought how fast he battled back from that injury showed me something," Broncos Linebackers Coach Richard Smith said.
So much so that Denver selected Irving in the third round of the 2011 NFL Draft.
He played in all 16 regular-season games as a rookie and 15 in each of the past two seasons -- but this year he has notched his first starts on defense.
When fellow linebacker Von Miller suffered a torn ACL that cost him his season, Irving stepped right in.
"I've been so proud of him because he's not just done a good job, he's done a great job in terms of his role, taking over for Von," Smith said. "He's done a remarkable job. Is he the pass-rusher? He's not in that role, he's not that kind of guy, but who is that kind of freakish athlete? But he's done a wonderful job. I like that his personality's starting to come out. Really close-knit (with the defense), he's very coachable and he's done a tremendous job."
Team captain Wesley Woodyard echoed Smith's praise.
"It's exciting to see Nate get an opportunity," Woodyard said. "He's been making plays and that's what Nate does. He makes plays come game time."
It just so happens that the next game is the Super Bowl.
And with the accident still in the back of his mind -- and on his arm, as he sports a "6-28-09" tattoo -- as a motivator, Irving is ready to tackle that next challenge.
"A lot of people don't know the story," he said. "It wasn't easy. I always want to share my story because I figure maybe somebody else is going through something and me sharing my story and showing what I came through will give them a little boost."
"I'm just sitting here thinking about how blessed I am just to be in this situation. I'm grateful for it. Now I just want to take full advantage of the opportunity."