The defensive line may not have a nickname like the secondary's No Fly Zone, but they were just about as dominant up front, allowing the fewest rushing yards per carry. Defensive Line Coach Bill Kollar sat down with us to talk about his time as an NFL player, dreams realized by Super Bowl 50 and where his group can grow. **
What were some of your fondest memories from your days as a player in Cincinnati and Tampa Bay?
You always enjoy the competition, the practices, getting out there and playing with your teammates. Obviously, practices were a lot different back then. There was a lot more hitting and stuff and you really bonded as a team overall and you really enjoyed those aspects of it.
Those early days of the Buccaneers with former head coach John McKay were interesting. What was it like with the organization in its infancy?
I got there the second year. We won the first game of the franchise in the 13th game of the season, then we won the last game and then came back the next year and [in 1979] ended up making it to the [NFC] Championship Game, so I mean, he was a heck of a guy. I really enjoyed him as a head coach. I had Abe Gibron as my position coach; Tom Bass was the defensive coordinator. I just had a great time down there, really enjoyed it. I spent six years down there playing and really enjoyed it. 
**What about rookie DE Adam Gotsis's tape makes you so intrigued?
For not having played football for that long, I like that he's a big guy [who] uses his hands pretty well. The shame of it is obviously he's coming off an ACL, so he's out there practicing and stuff right now but he's still not where you'd like him to end up being. So it's just going to take time for him to keep getting confidence back in his knee. It's probably 100 percent right now, but now it's getting your confidence back and getting back to playing. But I think he'll end up being a good player.
Derek Wolfe had an outstanding season last year despite missing the first four games. Where is his potential to grow even further?
I think he does a heck of a job. He's really good in the run game, really improved his pass rush last year. He plays hard and we're expecting him to have another big year this year.
How much had you dreamed of winning a Super Bowl?
You do that from way back. […] I would have loved to have won one when I was a player, but I was unable to do that — but getting to two of them when I was coaching and got beat when I was in Atlanta and St. Louis, it just makes you sick. So to be able to end up winning that last year was just flat awesome.
So if losing Super Bowls makes you sick, what is the feeling after finally winning one?
It makes it that much more important because you definitely want to end up being able to say you were a world champ at one time or another. I'm not the youngest guy around so it depends on how many more years I have that I'll be coaching, so it was awesome that we ended up getting it last year. 
Working for Coach Kubiak and Defensive Coordinator Wade Phillips for so long, what is it you like about working with them?
Both of them are great guys; I really enjoy it. The staff's got great camaraderie and stuff. It's just a tremendous situation working for Kubs and Wade.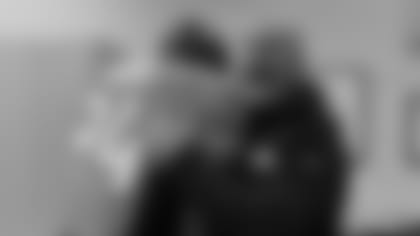 In what ways, as a group, can the defensive line group grow?
Well, we hope that we're able to have a little better year than we did last year. Obviously guys have to come around. […] We've got to use [DE Jared Crick], we've got to use Vance Walker, we've got to end up using Gotsis — whoever's out there, we've got to end up using. We've got to keep guys fresh and keep them going full speed. We're hoping we can do it with the group we end up keeping.
You're kind of known for getting your defensive linemen's hands up when the ball's released. Is that something that you did a lot as a player or something you've just seen an opportunity for as a coach?
You did it as a coach because you end up seeing the game's gone, now, so much quick passing and stuff. You don't have time to get back to the passer [by] rushing. You've got to make sure you end up getting your hands up, so it makes just a huge difference when you can end up knocking a ball down, and over the years, we've had a bunch of interceptions off of batted passes, too. So we try to work on it pretty close to every day.