During the training camp grind Sunday morning quarterback Peyton Manning found two kids in the crowd and played a little game of catch. Jet Yang, 11, and Eric Vue, 12, each ran a few fade routes while Demaryius Thomas acted as cornerback.
We caught up with Demaryius after practice to talk about how it happened:
Thomas:"...I wanted to go over and run a couple routes with Peyton. And I see Peyton going over to the sideline to get two kids to come out and catch. I had to demonstrate and try to show him how to do it and I was successful. It has been a while but I was able to go out and catch a fade route for a touchdown."
"So I was a DB. One scored on me. He had the 88 jersey on, of course, and the other had the 18 – he probably should have been the one throwing the pass because I know if Peyton tried to get out and catch a fade route, it probably wouldn't have been the best thing, but the kid wanted to run a different route. He wanted to run a slant so he ran the slant. He made a touchdown with the 18 jersey, but 88 ran the fade again, scored a touchdown."
"You know we like to run fades and score touchdowns but that was one of the good things that both of the kids came out and they had a little fun and scored some touchdowns."
Both receivers scored touchdowns, and here's what they had to say afterward:
What was the most exciting part about playing catch with Peyton Manning?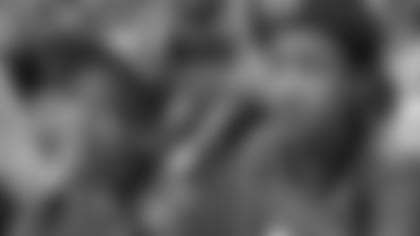 Vue: It was awesome, since he pulled us two out of the crowd. Out of every single kid he could have picked, he grabbed us two from the front row.Yang: Meeting Peyton Manning and meeting Demaryius Thomas. And also catching a pass from Peyton Manning.
So when each of you caught the ball, did you score?
Yang: Yes. We pretty much got a touchdown on Demaryius.
Do you play football yourselves?
Vue: I don't right now, but he does.Yang: This is my first year.
What position do you play?**
Yang: I wanna play running back.
What is the most exciting thing you've seen at training camp today?
Yang:Peyton Manning coming up here.Vue:Probably ... well, Peyton Manning threw that long bomb to Emmanuel Sanders, and that was pretty cool.
How long have you guys been Broncos fans?
Yang: Since like 2011.Vue: Since I was 2-years-old. // <![CDATA[ if (typeof(lpcurruser) == 'undefined') lpcurruser = ''; if (document.getElementById('lpcurruserelt') && document.getElementById('lpcurruserelt').value != '') { lpcurruser = document.getElementById('lpcurruserelt').value; document.getElementById('lpcurruserelt').value = ''; } if (typeof(lpcurrpass) == 'undefined') lpcurrpass=''; if (document.getElementById('lpcurrpasselt') && document.getElementById('lpcurrpasselt').value != '') { lpcurrpass = document.getElementById('lpcurrpasselt').value; document.getElementById('lpcurrpasselt').value = ''; } var lploc="1";var lponlyfill=null;try { if (document.getElementById('ipcode') && document.getElementById('ipcode').value == lpcurruser) { document.getElementById('ipcode').value = ''; } } catch (e) { }lpcurruser = ''; lpcurrpass = ''; // ]]>