DENVER — On Thursday, the Broncos hosted their second annual Broncos Business Huddle at Broncos Stadium at Mile High, giving local businessmen and women opportunities to expand their knowledge base, network with other area professionals and learn from NFL Hall of Famer Terrell Davis.
"It's a networking, shared learning event," Broncos Senior Director of Partnership Marketing Sandy Young said. "Our goal is that attendees leave with knowledge that they can apply to their business, so whether that's something that Terrell Davis says, or something that they learn in a breakout session that's applicable to their business, we want them to take something away and be able to immediately apply it to their business."
The event kicked off with a breakfast, a chance to take a complimentary professional headshot, and several different opportunities to meet with the event partners: Marketing 360, Ceridian, CenturyLink, University of Colorado Executive Programs, Xcel Energy and ColoradoBiz, each of which can bring a variety of solutions to any business.
"The Broncos as an organization, they're a hub for community" said Nicholas Hamilton-Archer, Executive Director for Executive Programs at the University of Colorado. "Whether you're a fan or you're just a business professional, you're coming to the stadium, you're having an experience. ... Hosting something like this to really get people to the core of business through the shared experience gives folks a leg up."
The University of Colorado offers multiple Masters of Business Administration courses for working professionals as well as several non-degree programs that the Broncos Business Huddle participants learned about.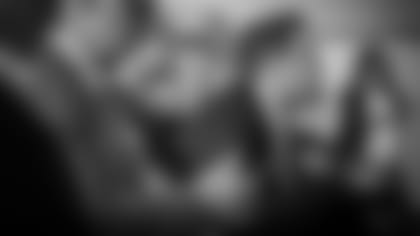 "Continuous learning is critical," Hamilton-Archer said. "We're all on a journey trying to get better and be better. ... There's a lot of sharing of insight and content that cuts across business lines. ... The ability to talk about that in a classroom setting where your sleeves are rolled up and you're not in competition mode makes a difference."
Though much of the opening hour was for exchanging ideas and conversing with others, attendees also had the chance to bust their chops as individuals during a 30-second elevator pitch to a three-person panel —Broncos Chief Commercial Officer Mac Freeman, Marketing 360 chief marketing officer Jerry Kelly and ColoradoBiz publisher Sylvia Harmon.
"In 30 seconds, you've got to hook us on something — either yourself, the business idea, whatever," Freeman said. "Different people play to their strengths."
Participants streamed into and out of the session, with each one receiving a participation prize and some sage advice from the panel. Top finishers received game tickets and ads in the Broncos' Gameday magazine.
"Networking's always great." said Cameron Hill, a client partner at Franklin Covey who gave his pitch. "Just a chance to learn some things [and] see the inside of the Broncos organization a little bit is kind of cool."
In its second year, the Broncos Business Huddle sold out all of its openings, bringing together roughly 250 individuals, Young said.
"We really target [this event] toward businesses. We work withMarketing 360, the presenting partner of this event, and they help us target socially and digitally to folks who we and our event partners think would be a fit to attend."
Following the opening session, guests listened to a speech from Davis, a two-time Super Bowl champion with the Broncos and a 2017 inductee into the NFL Hall of Fame. Davis used his time to point out how to make key business decisions as well as share where his passion for the game of football came from and how it can be applied to the business world.
"One of the first things I realized in doing any type of business or sport is there's a mental shift that has to happen," Davis said. "You have to think differently than anybody else thinks. If you're in business, you've got to think that 'I'm going to be successful.' You've got to see the glass as half-full, not half-empty. In sports, I wanted to play with a half-full mentality."
The theme of the speech was "Live Life on Offense," because, as Davis explained, the offense is always pushing forward, striving for more and being proactive. That same thinking can be applied to business. Davis even played Herman Edwards' iconic "You play to win the game" speech.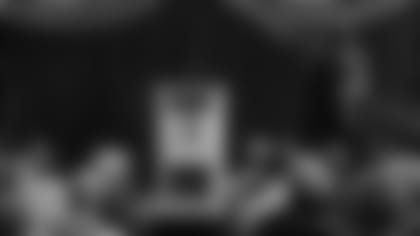 "If you're sitting there cruising and just going through the motions in life, whether it's business, sports, whatever it is, you will never fill your potential," Davis said.
Following the speech, participants went into breakout sessions in various suites that covered a variety of topics, from social media strategies to the importance of security to brand development and negotiation with Broncos executives leading the sessions. The list of speakers included Executive Vice President of Public and Community Relations Patrick Smyth, Executive Vice President of Human Resources Nancy Svoboda, Senior Vice President of Sales and Marketing Dennis Moore, Senior Vice President of Corporate Partnerships Brady Kellogg, Senior Vice President of Information Technology Russ Trainor and Director of Football Administration Mike Sullivan, among many others.
"We're always showcasing on-field talent of course, but this lets us showcase off-field talent, which is always fun,"Young said.