He can. All the pieces are in place for him to do so.
Green is the most capable, powerful blocker at the NFL level among the position group. He also is the only returning tight end who had any catches for the Broncos last year, catching 12 passes for 173 yards and a touchdown.
A dislocated finger kept him out of team and seven-on-seven work during OTAs, but Head Coach Gary Kubiak figured that if offseason work had lasted a week longer, Green would have been cleared for practice, so there are no concerns as to his availability for training camp.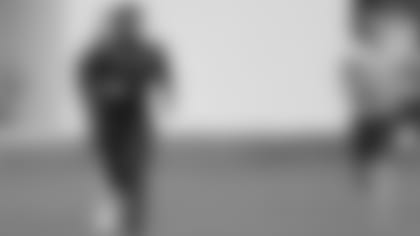 When he takes the field, he should see plenty of first-team work, and a chance to fulfill the expectations that went with the three-year contract he signed last year.
Last season, Green, Owen Daniels and Vernon Davis combined for 78 receptions, 891 yards and four touchdown receptions. But Daniels was released and Davis signed with Washington in free agency.
Someone is going to catch those passes. And in a group with free-agent pickup Garrett Graham and three players with no regular-season NFL snaps to their name -- Jeff Heuerman, Henry Krieger-Coble and Manasseh Garner -- Green is the most likely candidate.
He will have opportunities to shatter every career receiving standard he has. In five seasons, Green has 379 yards and two touchdowns on 35 receptions. The Broncos hope he can significantly exceed all of those numbers in this season alone.
And given Green's blocking ability, he could become a potent weapon in this offense, as his presence would offer no clue as to the Broncos' intent. If he can take advantage of more frequent targets, it will be difficult for opponents to have a hint as to whether the play is a run or pass.
"Every year I come in thinking I can be the guy," Green said in May. "I always feel like I can do things in the pass game. My specialty is being a physical guy up front in the run game and the pass protection game. I always come in thinking that I can be the guy in the pass game."
"I think it's just opportunity, really," Kubiak said during OTAs. "Obviously there are going to be a lot more out there. We'll see. Virgil is a worker and he's got a lot of confidence in what he's doing. He knows what we're doing now. I think he'll be very competitive to be on the field a great deal."
Added Green: "I really want to in training camp show that I can be not just the pass guy, but just the every-down tight end guy."