He has to take the lessons he learned through a rookie season spent immersed in the same meetings that his active teammates had.
After he completed his recovery from a torn ACL, a strained hamstring set Heuerman back during OTAs, sidelining him for much of the final three weeks of work. With Virgil Green also out because of a dislocated finger, veteran Garrett Graham, rookie Henry Kriger-Coble and first-year veteran Manasseh Garner handled the team and seven-on-seven work.
Although Heuerman remained a daily presence at practice and saw individual work, the hamstring injury was frustrating for the Broncos and Heuerman, because it robbed him of what he needs most: actual repetitions.
He got enough mental work during the week and on gamedays -- when he was on the sideline as he traveled with the team -- to last an entire career. It would be nearly impossible to have more mental work a year into an NFL career than Heuerman has had. He couldn't practice, but he got on-field work with Peyton Manning during the future Hall of Famer's rehabilitation sessions, as well.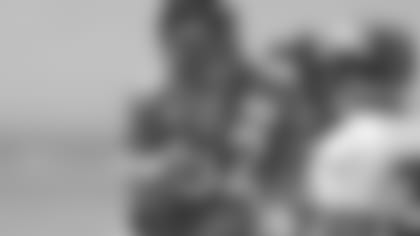 "I participated in all the meetings," Heuerman said in May. "Every meeting, even Saturday night meetings before the games, I was there. I sat in on all the meetings. The NFL prohibited me from being out on the field, so I couldn't be out there during practice, so I would just work out while they're at practice."
"It's one thing to hear it and the other thing is to practice it -- any reps on the field doing anything," Offensive Coordinator Rick Dennison said during OTAs. "That's a crucial part of learning—going through and doing it. Doing the math problem on the board. You can't just think about it. You've got to go do it. We'll get him a chance."
But there will be bumps. This year will see all the firsts that normally come with a rookie season for a tight end: first game, first catch, first block, first first-down reception, first touchdown.
"In a lot of ways, he's a first-year player," Head Coach Gary Kubiak said during OTAs. "[We] don't want to put too much pressure on him. I think he'll do that himself because he's very competitive. Take it one day at a time."
But the Broncos expect him to be a key part of the tight end rotation. Last year, they traded for Vernon Davis at midseason in part because they had to adjust to life without Heuerman, who was projected to see some substantial work as part of the rotation with Virgil Green and Owen Daniels.
This year, he competes with Green, Graham, Krieger-Coble and Garner. Distinguishing himself among that group is simple.
"Make plays," he said. "I've just got to go out and do what you're supposed to do and compete every day. Like I said, there is a lot of talk, but you've got to go out there and do it. There is Peyton, there [are others signing praise], but you've got to go out there and perform. You've got to go out there and make the plays. That's what I'm looking forward to and most excited for."