First-team caliber work -- even if he technically remains a second-teamer, albeit one who plays a majority of the snaps, as he did last year.
"I see myself as a starter," Roby said during offseason work in May.
That's exactly the kind of attitude you want to see, of course. Every player should have that sort of confidence.
But what is more relevant for Roby heading into training camp is that the coaches see him in a similar light.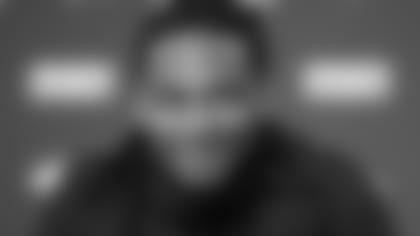 "I think of Roby as a starter," Head Coach Gary Kubiak said during minicamp. "I always have, and obviously his reps are going to pick up. He's out there going head-to-head with Emmanuel and D.T. all day [in practice]. We're counting on him like we're counting on a lot of players."
The Broncos hope to have Aqib Talib back from injuries sustained in a gunshot wound by the start of training camp. But they can afford to be patient with Talib's recovery because of Roby's progress through two seasons.
From his work in the 2014 preseason through Super Bowl 50, Roby has used his size and strength to provide a physical presence on the outside. He has never been timid about coming forward to stop the run, which has always made him a good fit among a cornerback group that prides itself on its willingness to provide complete defensive contributions, not just coverage.
But there are areas in which he can improve.
"Roby has a few technique things that we gave him that he can work on," Defensive Coordinator Wade Phillips said during OTAs.
"I have a lot of things that I can correct from my first two years. I can learn the game more," Roby said in May. "There are some parts of my game that I don't even pay attention to that I know guys that are on the top level definitely pay attention to. Just recognizing routes in the game and stuff.
"There are a lot of things. Nobody is perfect, so you're always going to find out different ways to make sure you're getting better."
But it's not just about technical growth from Roby; it's maturation. Fellow cornerback Chris Harris Jr. echoes the sentiments of many at the UCHealth Training Center when he says the Ohio State product has a "high" ceiling.
Whether Roby gets there is ultimately "up to him," Harris believes.
"It's about how much work he wants to put in, how much studying he wants to put in because he has the talent. It's always about how much work you want to put in and the preparation each week.
"I've seen him grow this offseason," he continued. "If he can just continue to grow and be consistent every day, he has a very high ceiling."