If he can prove his full health and his ability to handle all aspects of the job, he could be the No. 2 running back and edge ahead of veterans like Ronnie Hillman, Juwan Thompson (who is also in the mix at fullback) and Kapri Bibbs.
Given Booker's status as a fourth-round pick, he is likely to be on the 53-man roster if he completes his full recovery from the meniscus injury that resulted in two surgeries, including one last February that sidelined him at the Combine and limited him in pre-draft workouts.
But the extent of his role will be determined by how sharp he can cut, how quickly he can accelerate and how well he can square up on the knee when he has to get involved in pass protection.
Booker said Tuesday he feels that he is "all past that." He said he spent the downtime after OTAs in Denver, continuing his rehabilitation work.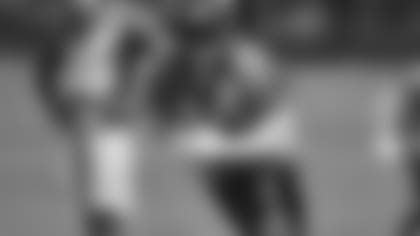 "Cuts and straight lines are all back to normal, so I feel good," he said.
"I really confident about it. I'm just here to compete and do what I need to do for the team so I can get out and play a lot this year. I think I'm relied on heavily by some of the coaches to exceed expectations, and I believe that I will do so."
It helps that he was able to make a gradual recovery and not be rushed into service. By the final week of OTAs, he saw some team-period repetitions.
Through that work, he realized that the Broncos' zone-blocking based scheme was perfect for him -- something that appeared evident from his Utah film, as he read blocks and made the decisive single cuts upfield the scheme demands.
"I don't think I could have landed in a better situation here in this offensive scheme," Booker said. "I'm going to do everything I can to go out there and play my butt off. It's why I can play."
And if he plays better than his experienced competition, he could be the primary backup behind Anderson.