For now, it is likely to be via a collective of players, starting with Vance Walker.
Walker played well in a four-game starting stint for the suspended Derek Wolfe early last season, and saw extensive first-team work during OTAs opposite Wolfe. When Wolfe returned, Walker returned to rotational work, but still provided some pass-rush punch, with two sacks in the last six regular-season games.
"Vance Walker has really come on. He played well for us last year. He's rushing the passer really well," Defensive Coordinator Wade Phillips said during OTAs. "He did rush well at the end of the year last year and I think he's picked up from there."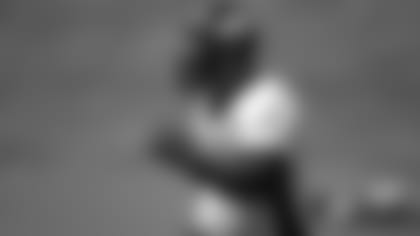 In Walker and April signee Jared Crick, the Broncos have two options who know their defense -- and their coaches -- well. Crick played under Phillips and Defensive Line Coach Bill Kollar in Houston, and saw his workload increase every season he was there.
Last year, Crick was credited with five quarterback hits, 13 quarterback hurries and 27 solo stops.
"We think that he stands for what we want for our football team and how he goes about his business and how he plays," Head Coach Gary Kubiak said early in the offseason. "He'll be a good addition."
But the Broncos hope that at some point, second-round pick Adam Gotsis makes a big push.
The uber-athletic, high-ceiling Australian is a near-certainty to contribute at some point. During training camp, you should look for him to be brought along gradually as he gets back up to speed following the torn anterior cruciate ligament he suffered last year.
When Gotsis gets up to speed, he should see immediate rotational work.
"He's just like any high-round pick: You expect him to come in and help you this year," Phillips said in May.
Like all rookies, the Melbourne, Australia native needs polish. But he has a history of picking up the game and new nuances quickly. He worked into Georgia Tech's defensive-line rotation as a true freshman and made a start that year, then became a full-time starter in his sophomore season of 2013.
"Sometimes with foreign players we've seen that sometimes they really look great, they can run fast and they're big and strong, but it doesn't carry over to American football. This kid has very good instincts," Phillips said in May. "He finds the ball really well. He's a brute on the field. He's very physical."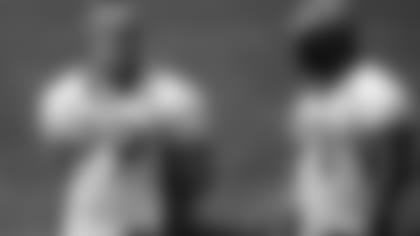 Third-year veteran Kenny Anunike is the wild card. The sooner he is back from the knee injury that torpedoed his second NFL season and sidelined him during OTAs, the better, because if he can step in and show the same burst and explosion he had last summer, he could factor in as a rotational pass rusher.
Anunike's ability is NFL-caliber, and his training-camp and brief preseason work offered a sign that his 4-3 pass-rushing moves could translate to work as a 5-technique defensive end in the Broncos' 3-4 alignment. But the question of injuries continue to linger over him; he missed one full season and part of another at Duke because of knee injuries, and has spent most of his two NFL regular seasons on injured reserve.
Nose tackles like Sylvester Williams, Darius Kilgo and Phil Taylor could also see some work as part of the collective when asked to handle one of the two defensive-line spots in the Broncos' nickel and dime sub packages. But most of the burden will fall on the defensive ends mentioned above.
No matter who ends up filling in for Jackson, Wolfe isn't concerned.
"I think we've got enough guys," he said during OTAs. "I think everything is going to be fine."