"We're almost home," someone said Friday.
"Actually, we're just one-third of the way there," I replied.
To be precise, 38.67 percent of the draft is complete. But two-thirds of the Broncos' nine remaining picks come during the draft's third day, including three compensatory picks in succession late in the seventh round, at spots 250 to 252.
I love Day 3, even though the move of the draft from New York City to Chicago likely means there won't be any impatient spectators yelling, "Make the pick already!" from the balcony as the sixth round dissolves into the seventh.
There's talent out there, and as the fourth round begins, some big names remain. Here's the best of what's left:
OT LA'EL COLLINS, LSU:The report that Collins would not sign a contract if he went unselected Friday and would re-submit himself for consideration in the 2016 draft likely takes him off any draft boards where he was still listed after Baton Rouge (La.) authorities requested a meeting to question him in connection with the death of a pregnant woman there. That might not prevent a team from taking a flyer on him Saturday -- perhaps in the seventh round -- but at the same time, a player must be drafted in the first place to re-submit his name the following year.
OT T.J. CLEMMINGS, PITTSBURGH: **Talented but raw, Clemmings likely needed a year to develop in practice before being ready to start. With a stress fracture in his foot, even that gestation could be delayed by another season. His ceiling is high, but if he's not ready to contribute until 2017, then his draft descent is easily explained.
DT MICHAEL BENNETT, OHIO STATE:At one point, he appeared to have a chance of going in the first round. Now he'll have to settle for being a third-day pick. The 293-pounder has some quickness and showed some flashes of brilliance, particularly early in games. That could be a red flag, but it didn't seem like that would be enough to keep him on the board into Day 3.
QB BRETT HUNDLEY, UCLA:Is the era of reaching for quarterbacks over? Just four passers went in the first two days of the draft -- and to the surprise of many, Oregon State's Sean Mannion went ahead of Hundley. Accepting a Senior Bowl invitation might have given Mannion and Colorado State's Garrett Grayson the edge over Hundley, who at one time was talked about as a potential first-day pick.
RB JAY AJAYI, BOISE STATE: **A knee problem from earlier in his career appears to have contributed to his slide down the draft, even though he has good speed for his size (6 feet, 216 pounds) and racked up 2,358 yards from scrimmage and 32 total touchdowns last year.
WR RASHAD GREENE, FLORIDA STATE:Along with tight end Nick O'Leary, these two key targets of No. 1 overall pick Jameis Winston have tumbled to the third day. Greene's fall is surprising given his production and quickness underneath; he's an ideal slot receiver -- and he can return punts, too.
DT GRADY JARRETT, CLEMSON:At 6-foot-1 and 304 pounds, he can be a nose tackle in the right scheme -- and could be an ideal fit for what the Broncos would ask from their nose tackles.. He uses his quickness to compensate for the size disadvantage he has in some matchups.
CB IFO EKPRE-OLUMU, OREGON: **Another prospect whose stock took a hit because of injury, Ekpre-Olumu isn't big (5-foot-10, 185 pounds), but is skilled and would have been in discussions for the first round if not for a torn ACL suffered in December. But he won't be hurting financially because of the drop in draft status; he will collect $3 million because Oregon took out a loss-of-value policy on him. Ekpre-Olumu might not be ready to contribute early in the 2015 season, but he's a first-round talent if he recovers.
QB BRYCE PETTY, BAYLOR:With Petty, the talk from the Senior Bowl to this week was that the team that drafted him needed to invest at least a year, perhaps two, to make him ready to run an NFL offense. As a third-day pick, he'll get that time now unless some calamity arises with the starter -- and, perhaps, the second-teamer in front of him on whatever team selects the prolific passer.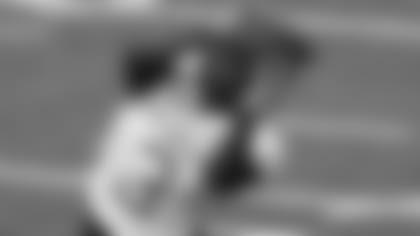 WR JAMISON CROWDER, DUKE:Measurables aren't his friend, but he catches everything in sight, has the ability to work at multiple spots and can return kickoffs and punts. He dazzled during Senior Bowl practices and could be a fourth-round steal.
WR TRE McBRIDE, WILLIAM AND MARY:Unlike many other receivers we discuss on the third day, McBride has ample size (6-feet, 210 pounds) and impressive speed, quickness and the ability to catch passes in traffic. He also has potential as a returner, with an 11.1-yard average on punt returns and a 23.1-yard average on kickoffs.
OLB DAVIS TULL, CHATTANOOGA:Athletic and productive, Tull racked up 32 sacks and 51 tackles for losses the last three years. He's fast and quick off the edge, and if he can learn a few more pass-rush moves, he could flourish, because he already possesses natural instincts in the pass rush and against the run. Recent surgery to repair a torn labrum is hindering his draft stock, but he's worth a Day 3 gamble. Tull and teammate Derrick Lott -- a quick, athletic, 314-pounder -- are two under-the-radar prospects worth considering. Tull was more productive, but Lott may have more upside -- and Lott showed up with some big plays against FBS competition.
OLB Kwon Alexander, LSU
WR Mario Alford, West Virginia
S Adrian Amos, Penn State
WR Dres Anderson, Utah
QB Brandon Bridge, South Alabama
QB Shane Carden, East Carolina
RB David Cobb, Minnesota
DL Christian Covington, Rice
RB Mike Davis, South Carolina
DT Tyeler Davison, Fresno State
WR Stefon Diggs, Maryland
C Reese Dismukes, Auburn
G Jamil Douglas, Arizona State
C B.J. Finney, Kansas State
DE Trey Flowers, Arkansas
WR Connor Halliday, Washington State
DT Marcus Hardison, Arizona State
WR Justin Hardy, East Carolina
OLB Zack Hodges, Harvard
S Gerod Holliman, Louisville
S Kysheon Jarrett, Virginia Tech
ILB Taiwan Jones, Michigan State
RB Jeremy Langford, Michigan State
DT Derrick Lott, Chattanooga
WR Vince Mayle, Washington State
TE Nick O'Leary, Florida State
S Cody Prewitt, Mississippi
TE Wes Saxton, South Alabama
CB Josh Shaw, USC
S Derron Smith, Fresno State
RB Karlos Williams, Florida State
ILB Damien Wilson, Minnesota
DT Gabe Wright, Auburn