#KellyStrong
The three Hall of Fame quarterbacks from the famous 1983 NFL Draft class reunited Wednesday night when John Elway and Dan Marino helped present the Jimmy V Award for Perseverance to Jim Kelly, who is fighting oral cancer.
Their moment in the sun
Case Keenum, meanwhile, was there as a nominee for the Best Moment ESPY, along with his former Vikings teammates, for the "Minnesota Miracle." During the show, Keenum and wide receiver Stefon Diggs took home the award.
Time to shine
Miller, along with actress Alison Brie, presented the Best Team ESPY. But it wasn't his performance as an award presenter that drew interest — it was his suit.
Also, be sure to check out his Instagram Story, as well as Brie's, for a look behind the scenes!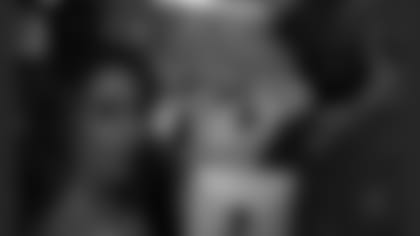 Oh, and Miller also got to try on an Olympic medal from none other than Broncos fan Arielle Gold!