I think we did pretty good building our future in the 2016 draft. The only pick I question is the fourth-round pick of Devontae Booker. With C.J. Anderson, Ronnie Hillman, Juwan Thompson and Kapri Bibbs, I feel we have possibly one of the best backfields in the league. I'm concerned that Kubiak may not be giving Thompson the opportunities and carries he deserves (he's the best back in our stable in my opinion) considering he had far less carries under Kubiak than Fox. Do you think they may be looking for a replacement for Thompson or was this truly just BPA (best player available)?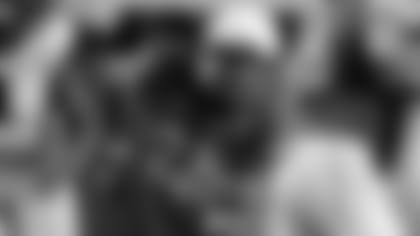 I think on their board — and, it would seem, that of many pundits (including yours truly) — Booker was the best player on the board. Ten years ago, even with the torn meniscus, Booker would have been, at worst, an early second-round pick; the fact that he was regarded by many as a late-second-to-early-third-round pick is largely due to the devaluing of the running back position in the draft process.
"We didn't think he'd be there in the bottom of the fourth," John Elway said Saturday. "To be able to get him, a guy that we had second on our board at that position — I think he dropped because of some issues with his knee."
When Gary Kubiak's offense is at its best, it has a primary back who can be relieved by a second back of equal effectiveness, as was the case in 2011 with the Texans, when he had Arian Foster and Ben Tate.
Anderson, with his late-season surge and new contract, is clearly the primary back, who will be called on to add leadership to his responsibilities. Then the competition is to be No. 2. Thompson is an effective special-teamer but was held back by injuries he suffered against the Lions and Raiders when he was called into duty on offense; those represented his windows to earn more playing time last year, but he couldn't capitalize, and the work went to Anderson and Hillman. Bibbs and newcomer Cyrus Gray are in the mix, but each will need a big summer to snatch a roster spot.
Of this year's draft picks, who do you think has the best chance of seeing playing time on Day 1?**
Third-round safety Justin Simmons. If he develops well, he has the skill set to handle the role manned by David Bruton Jr. last season, in which he would enter as a deep safety next to Darian Stewart, allowing T.J. Ward to align himself next to linebacker Brandon Marshall in the box.
Second-round defensive end Adam Gotsis could play a role, but he will have to wait until training camp in August to get on the field, and that could hinder his chances to make an immediate impact; his progress will be measured by how much growth he shows over the course of the season, and if he earns more game repetitions by December.
If Riley Dixon wins the punting job, then he will play a prominent role. And with Andy Janovich as the only fullback, both could end up listed on the official depth chart as first-teamers when the regular season begins.
And then, of course, there's Paxton Lynch. If he outplays Mark Sanchez and Trevor Siemian, he'll be one of the most prominent rookies in the entire league, let alone on his team.
After the rookie minicamp this coming weekend, Lynch will be able to take part in offseason work with his new teammates.
Lynch and other rookies whose universities have completed their spring semester or quarter will be in the second phase of the offseason program, in which non-contact, on-field instruction can take place and meetings can be held.
Rookies' participation is typically tied to the academic calendar of their schools. Unless the player has already graduated, he cannot take part in anything but the rookie minicamp until commencement exercises at the end of his school's spring semester or quarter. Because the University of Memphis holds its graduation ceremony on May 7, Lynch will be eligible to take part in weekday offseason work the following week.
Let's say Mark Sanchez wins the starting gig, and he plays OK. Since he has one more year left on his contract, do you think that we would retain him or let Paxton Lynch show us?
I think that would depend on the progress of Lynch. If Lynch is deemed ready, the baton would likely be passed. And if Sanchez has shown enough and has a good season, he would likely have a starting gig waiting for him elsewhere.
One possibility is that Lynch dazzles enough to claim the starting job, but Sanchez also plays well, in which case, Sanchez could be a long-term backup option. But I think for now, Sanchez goes into the process knowing that if he does well with the Broncos this year, he will be somebody's starter in 2017, with a contract reflecting that status.
Let's talk about the Cleveland Browns and their success over the NFL Draft. The Browns drafted lots of talents. As well as they signed Robert Griffin III. My question is, is this the year where the Cleveland Browns be able to make the playoffs?**
No. They're a long way from that. Their roster has too many holes, and Cleveland has three problems that even a great draft cannot remedy:
Baltimore Ravens

Cincinnati Bengals
Pittsburgh Steelers
The AFC North is the only division to have two of its members win Lombardi Trophies in the last 10 seasons. Further, each of the Browns' division has have figured out formulas for sustained success of varying degrees.
Baltimore has made the postseason seven times in the last 10 years and 10 times in the last 16, has won at least one playoff game in its last six postseason trips, and has posted an average record of 10-6 since John Harbaugh became its head coach in 2008.
Cincinnati is in an exclusive club of four teams to have made the postseason in each of the last five years, joined by the Broncos, Packers and Patriots. Although postseason success continues to elude the Bengals, they have won 10.4 games per regular season since 2011 and have only missed the postseason once since 2009.
Pittsburgh has been to three Super Bowls since 2005 and 10 postseasons in the last 15 years. It has played 12 consecutive seasons without a losing record; 8-8 is considered a down year, and its average record since Ben Roethlisberger's arrival in 2004 is 10.5 wins and 5.5 losses.
Although the Ravens dipped last year because of injuries, a quick rebound appears likely. The Bengals absorbed some personnel losses, but nearly all of their key components return. The Steelers will likely remain a prime contender as long as Roethlisberger is slinging passes to Antonio Brown, the most prolific receiver in the sport.
This is why the Browns have to play the long game to rebuild their roster and begin laying the foundation for sustained success. They are not within striking distance of making anything more than a one-off challenge to that division's Big Three.
This isn't going to be turned around overnight, and even if the Browns upgraded their roster for the short term, their chances of making a 2016 dent in the AFC North would be remote.
A successful season for the Browns would involve identifying which of their young players would be assets for the future, finding out if one of their quarterbacks could be a long-term answer, and becoming more competitive against top-caliber competition over the course of the season.
They will have two first-round picks next year thanks to their trade with the Eagles. Look for them to acquire more selections — or perhaps try to package them to move up for a quarterback if they decide Robert Griffin III, Cody Kessler or their other passers are not potential answers.
Randy Gradishar deserves to be in the Hall of Fame, and it baffles the mind why he isn't.**
It is a baffling omission, along with the continued absence of Louis Wright, a lockdown cornerback from the same era.
That would be a question for the Seniors Committee, a sub-group of the Pro Football Hall of Fame Selection Committee. A listing of its members can be found at profootballhof.com.
Monday night, I have a dream (not a great one) that we had signed Sam Bradford. Tuesday, I see he's demanding a trade from the Eagles. Wednesday morning, I read a report that we checked in for trade talks, however preliminary they were. Please don't let my dream have been a vision of the future.
Thanks to the selection of Paxton Lynch, it wasn't. But if you think that's a strange dream or vision of the future, that's nothing compared to what I've had rolling through my R.E.M. sleep lately.
What happened to pick 235, from the Chris Clark trade?**
It was sent to the Jets as a part of the Ryan Clady trade.
Can and do you think the Broncos will invite Tim Tebow to camp?
Can? Yes — any team can, because he's not under contract.
Will? No. He hasn't played an NFL regular-season snap since 2012.
Everyone hung up on this subject needs to move on.
---
Submit a question for the next Mailbag!
The analysis, opinion and speculation in this story represents that of the author, gathered through research and reporting, and does not necessarily reflect the opinion of the Denver Broncos organization.