Huge fan of the Mailbag and I find your style of writing and journalism very professional and refreshing. My question for you are what are some things you like that Brock does and what are some ways he can take his game to the next level?
Second, what I like about Osweiler goes beyond the physical tools. A lot of guys have size, speed, arm strength, etc. But the difference is in the mental and emotional game, and that's what makes the evaluation of quarterback prospects are so difficult. Some of them do not encounter real on-field failure in their football lives until they reach the NFL; how do they bounce back? The scout or personnel executive that could nail the mental and emotional evaluations of quarterbacks -- or any position, for that matter -- with complete accuracy would never have to worry about employment again.
So that said, here's what I like about Osweiler:
1) His patience. Sitting behind Peyton Manning and biding his time wasn't easy. He's a competitor; he wanted to play. But he also learned how to maximize his situation. Some backups that yearn for playing time cause a stir and become a locker-room problem. This was never the case for Osweiler.
2) His leadership. Teammates respond to him. He can command a huddle and the locker room, but he does it in a very relatable manner. I've lost count of how many Broncos players of varying experience levels have noted his presence in the huddle.
3) His composure. I think that had a great deal to do with the successful comeback against New England; the Broncos were fighting from behind in the fourth quarter, but he never gave even the slightest hint of losing confidence. When the Broncos were down 21-7, I liked the way he ran into the huddle, clapping his hands. If you can exude that sort of confidence whilst down two scores in the fourth quarter against an unbeaten team in your second career start, then you have something special coursing through your veins.
4) His diligence. This will stand as the primary gift from Peyton Manning that helps him for the rest of his career. Manning raised the bar for NFL quarterbacks in preparation and study habits. Other quarterbacks before Manning prepared well, but none left no stone unturned -- and, frankly, kept finding stones to turn over -- as Manning did. Osweiler saw this first-hand.
Osweiler can't replicate everything about Manning; they have different personalities and different styles. Osweiler has spoken of how he's learned that he has to lead and play quarterback in his own way. But the one aspect of Manning he could mimic is the time and effort he gave to preparation.
As Offensive Coordinator Rick Dennison noted on Thursday:
"To be quite honest, he's been very positive from whenever we could start meeting -- I can't even remember, that was May or something. He's been really good about that and asking the right questions. You know he studies because he comes back the next day with good questions and he's done that. He's continued to do that."
All of those qualities offer confidence that he will learn from his mistakes. Yes, he has the physical tools.
To take his game to the next levels -- and there are plenty above him, but that's okay; it's early -- he needs time. The more he studies and reads a defense from behind the line of scrimmage, the better he will do at being able to diagnose intent and discern deception from reality. He will learn how to better disguise his own intent as he looks down the field, and will improve at looking off the safety when he goes deep. He will improve at being able to feel a pass rush and knowing when to escape and throw it away. He'll get to his second read more often.
Osweiler will also learn how to adjust his own tactics for the game situation, something he mentioned in regards to his interception last week, when he misplaced a pass on a fade route by Emmanuel Sanders. With a 17-3 lead and the offense already well within range of a Brandon McManus field goal that would push the lead to three scores, that was not a chance worth taking, and Osweiler understands that.
There will be some struggles. Osweiler will have a bad game at some point. Every quarterback who was in an early stage of his development process did.
But Osweiler has plenty of tools. And because of the four reasons I cited above, I think he can withstand the inevitable hiccups to come as he develops.
Can he become a great quarterback? That's a high bar to clear, and it's way too early to know. But he has plenty of tools to become a solid NFL starter, and someone with whom you can win if you have a talented roster, which the Broncos clearly possess.
The Broncos' helmets appeared to be a darker blue back in the 1970s. Could they not use the snorting D logo on the current navy blue helmets with the old orange jerseys from that era?
I actually had one custom made and it looks awesome. This would get them around the current helmet rule, right?
It would get them around the current rule, but it wouldn't look right.
If you're going to do throwbacks, do them properly, or don't do them at all. Otherwise, it's not a throwback; it's a fauxback.
And while the 1970s blue, shown on Charley Johnson's 1972 helmet, might appear to be a slightly darker shade of blue compared to the early 1990s helmet -- and I tried to find two games of comparable sunshine in Southern California. But it could be a function of different helmet construction between the 1970s and 1990s. Further, as you can tell, it's nothing close to the navy blue in use today.
Throwbacks will simply have to remain on the shelf until the NFL relaxes its helmet rules.
Why doesn't Denver wear all-orange? Do they have orange pants?
There are no orange pants at this time; thus, no all-orange uniforms. I know a lot of fans would like to see this, but orange from head to toe is, from my eyes, too much of a good thing; when universities like Clemson and Syracuse have done it, it's just too much. I do like the idea of orange pants with white jerseys, however.
There was one brief NFL experiment with all-orange, but it never left the launch pad. True story: Before the Buccaneers' 1995 regular-season finale, then-head coach Sam Wyche had the equipment staff lay out an orange jersey/orange pants combination. A group of players, led by Pro Bowl linebacker Hardy Nickerson, refused to wear it, and the Bucs took the field in orange jerseys and white pants.
An all-orange look might be inevitable as part of the current "Color Rush" campaign -- assuming that it carries over into 2016. (Most "Color Rush" uniforms are in alternate colors, but given that the Broncos' alternate uniform is already a blue-on-blue look, if the NFL wants something different for a Broncos "Color Rush" campaign, they'd go with orange.)
Given that some of the previous "Color Rush" efforts have resulted in teams being compared to evergreen trees, ketchup and mustard bottles and Star Trek characters, I do not relish what the social-media universe would come up with to commemorate a potential all-orange look.
Even though Bruton's knee was still sore after Friday's practice, the fact that he was able to do some work was a good sign -- if not for this Sunday, then perhaps a return by next week. Brandon Marshall indicated that Danny Trevathan's absence would be a one-week deal, although he must continue to go through the post-concussion protocol, and due diligence will be taken.
Because T.J. Ward has not been on the practice field -- even to watch from the sideline -- since he was injured, he might be a longer shot. Kubiak has indicated that Ward is behind NT Sylvester Williams, who also suffered an ankle injury on the same play that took out Ward in the first quarter against New England.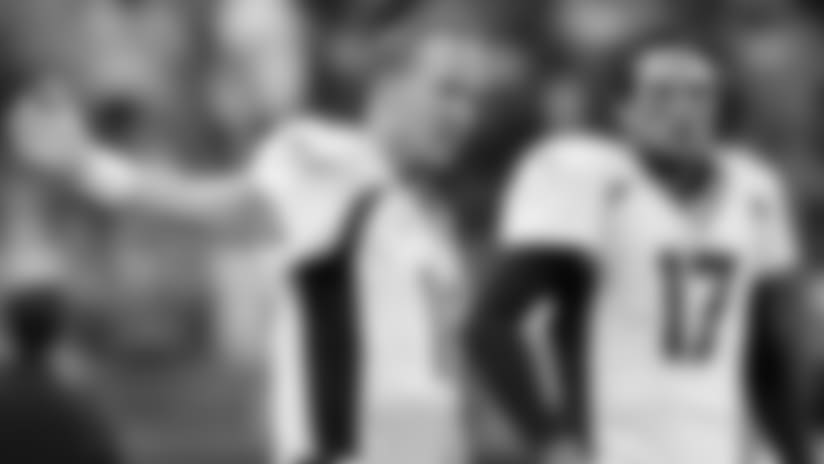 In my humble opinion, I believe it goes without saying that Manning's number will be retired in Indy. With that said, do you believe Manning's record slaughtering 2013 year will earn him the right to have the number 18 (re)retired in his honor in Denver as well. Also, do you know of any other players who have had their number retired by two franchises (or is this even possible in the NFL)?
I don't know for certain whether No. 18 will be re-retired with Manning's name on it when his career is over, but I do know that No. 18 will immediately go out of circulation once again. Frank Tripucka, for whom No. 18 was initially retired, died in 2013; in 2012, he and his family gave Manning approval to wear it.
But a Ring of Fame induction is a slam dunk for Manning given the breadth of his accomplishments in Denver. Further, when you consider that there are two other quarterbacks already in the Ring with fewer years and starts as a Bronco than Manning (Tripucka and Charley Johnson), one with only seven more starts in a Denver uniform (Craig Morton), there appears to be no question that Manning will have his name added to the 500-level facade as soon as he is eligible.
And one player has had a jersey number retired by multiple NFL teams: Reggie White (No. 92 by Philadelphia and Green Bay).
Why hasn't Kubiak been mentioned as coach-of-the-year candidate? He is 9-2 in his very first year coaching the team.
Because of the nature of who usually gets the honor. It would be more accurate to call the "Coach of the Year" award the "Coach of the Team That Most Exceeded Public Expectations This Year" award.
That's why you won't hear Kubiak's name in connection with the honor, and why Carolina's Ron Rivera is the overwhelming favorite, given the Panthers' modest 7-8-1 finish last year and the loss of No. 1 receiver Kelvin Benjamin to a torn ACL in training camp.
But unless something massively changes, it won't be enough to get Kubiak the trophy, because his team was the overwhelming favorite to win the AFC West. In the eyes of pundits, a division title would only match expectations, not exceed them.
When the Broncos select a player like Darius Kilgo, who is responsible for scouting and the subsequent drafting of the player? He obviously has a bright future and I would like to know more about the people involved in the scouting department.**
-- Alex Trigg
The final decision, of course, comes from Executive Vice President/General Manager John Elway. But the input comes from multiple sources: Director of Player Personnel Matt Russell, Assistant Director of College Scouting Adam Peters, and National Scout John Spytek. Defensive Line Coach Bill Kollar and Defensive Coordinator Wade Phillips would also have studied Kilgo's film, and typically will have one-on-one conversations with as many potential draft picks in their areas of responsibility as possible.
But for Kilgo, being from the University of Maryland, the process would start with the Broncos' Mid-Atlantic scout, Nick Schiralli, who has been with the organization since 2008. The regional scouts begin compiling their reports on potential prospects as early as one or two years out from their time of draft eligibility. The regional scouts hit colleges and universities in their area hard, making frequent visits, maintaining contacts with coaches and other people close to the programs in their region.
The regional scouts are the lifeblood of the Broncos' player-development process. The senior member of this staff is Scott DiStefano, who is in his 34th season with the organization, scouting the Midwest. When you see C.J. Anderson in the Pro Bowl, Chris Harris Jr. procuring a pix-six, Malik Jackson in holy-terror mode or Danny Trevathan tackling everything in sight, you should thank the regional scouts first.
My question is, do we as fans give up on Ryan Clady despite his shortcomings? When he was drafted back in '08 he was a vital piece to Denver'so offensive scheme. Now more than ever, he totally seems like the LT for Denver. Any thoughts?**
No, you shouldn't give up -- starting with the simple fact that he hasn't.
First of all, any shortcomings are entirely related to injury. If he can stay healthy -- and yes, that's a big IF given the litany of injuries and surgeries that date back to 2010 -- he still has something left in the tank.
What his future holds in Denver, I don't know at this point. There's salary-cap considerations to consider as well as the development of younger players, along with Clady's health. But he has been diligent in his rehabilitation. I've looked out on the practice field on many a morning and seen him with team strength-and-conditioning coaches, working to recover from the torn anterior cruciate ligament.
Clady is working like a man who wants a starting slot back and will do anything within the rules to get there. That doesn't surprise me one bit, having watched every snap he's ever played as a pro (although his first two years, I watched from a distance via DVR'd games and the NFL Game Pass/Rewind subscriptions, since I was covering the Panthers then).
If they bring them in the night before, yes, they'll get them a hotel. But at minimum, the team will cover airfare and all transportation costs. They'll often have a car or van pick up the players from the airport and bring them to the UCHealth Training Center. It's part of the cost of doing business.
Friday night. I've got my ticket already. Certain I am that I will have listened to John Williams' score before walking into the theatre. (Write I will an entire story in Yoda's syntax, if you'd like.) Can't wait.
---
Submit a question for the next Mailbag!
The analysis, opinion and speculation in this story represents that of the author, gathered through research and reporting, and does not necessarily reflect the opinion of the Denver Broncos organization.