So what happens now at tight end without Jeff Heuerman?
-- Bill Price
What happens is the scenario reverts to how it looked before the Broncos drafted Heuerman, with Owen Daniels, Virgil Green and James Casey set to split repetitions as the experienced hands in the group. Green's progress as a pass catcher bears monitoring because he should receive more opportunities this year, and spent a few days with Peyton Manning, Daniels and wide receivers Emmanuel Sanders, Andre Caldwell and Cody Latimer at the Duke University workouts Manning organized.
In Head Coach Gary Kubiak's eight seasons with the Houston Texans, his teams had four tight ends on the Week 1 roster five times, and carried three tight ends in the other seasons (2008, 2012, 2013). In 2011 and 2012, Casey started at fullback, and he's listed as a tight end/fullback on the Broncos' official roster now.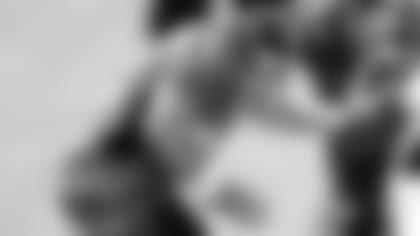 The big question now is what happens if the Broncos keep four tight ends. Dominique Jones was on last year's roster; at 270 pounds, he's a burly blocker who has value in short-yardage situations. Rookie Joe Don Duncan is the wild card; he passed through the 2014 draft and post-draft process unclaimed because of a foot injury and signed in March. Like Jones, he's a 270 pounder; like Casey, he's also listed as a tight end/fullback.
With Heuerman expected to be out for the season, Jones and Duncan have a better chance of working their way onto the 53-man roster.
But it would be no surprise if the Broncos add another veteran in the next few days or weeks.
There's no doubt that Heuerman's injury is unfortunate, and forces a change in plans. But he wasn't the Broncos' only youngster in the barn, and now Duncan will get a chance to show if his athleticism and versatility translate from Division II Dixie State to the NFL -- and if he can stay healthy.
Realistically, only if DeMarcus Ware or Von Miller get injured. You're talking about two players who were in the Pro Bowl last year; it would be a massive -- and probably unrealistic -- accomplishment for Ray to knock one of them off the top line in 2015.
But Ray will play often, and it would surprise no one if he works 50 percent of the snaps even if Miller and Ware play the full 16 games. Ray can keep both fresh -- which is especially crucial for Ware, who turns 33 in July.
You can expect the Broncos to use all three at times, as well.
"There's no doubt there'll be some packages that involve all three of those guys," Head Coach Gary Kubiak said. "That's what they're here for."
I heard a lot of people say the Broncos would take T.J. Clemmings in the first round but we passed on him three times. Why do you think we did that?
-- Joseph Seulean
A lot of people were guessing. Mock drafts are, to some degree, guesses -- and I include mine in that, so I'm as guilty as anyone. They spur interest, discussion and clicks, so we'll continue to crank them out -- but I wouldn't take any of them as an indication of what the Broncos might do.
In regards to Clemmings, he's only been an offensive lineman for two years since shifting from defense at Pitt, so he probably needs a year to develop before he would be ready to play in a scheme like Denver's. Further, if the reported stress fracture in his foot delays his progress, you could be looking at up to two seasons before he would be ready to start -- an awfully long time considering that a rookie contract for non-first-round draft picks lasts four seasons. This undoubtedly contributed to his slide into Day 3.
Denver's second-round pick, Ty Sambrailo has a shorter learning curve and more experience on the offensive line -- mostly at left tackle, but with snaps everywhere but center. His first look in full-team work will come at right tackle, but he mentioned Friday that during rookie camp, he was moving all around, because the Broncos only had seven offensive linemen among the 36 players (including 10 on tryouts) who were present. Sambrailo should be ready to start before Clemmings, and he has the positional versatility that Kubiak, Offensive Coordinator Rick Dennison and Offensive Line Coach Clancy Barone like to have in their linemen.
Look no further than Chris Harris Jr., who in 2011 did not have the benefit of a rookie camp or organized team activities because of the lockout. He showed up at the start of training camp and only had six weeks to prove himself. He was listed on the fifth line of the depth chart. Twelve of the 17 undrafted rookies that year had signing bonuses greater than Harris. But he showed persistence, threw himself into special-teams roles, and worked his way up to the 53-man roster.
It helped that the Broncos were coming off their worst season in the last four decades, and their overall talent level was at its lowest point in that time. The roster the new administration inherited was hollow: it had some good core players at the top and decent quality at most first-team spots, but lacked depth. There were openings through which young players with good camps could burst through.
The 2011 camp was a fascinating one because the competition was so wide open. Julius Thomas had a breakthrough camp, but got derailed when he injured his ankle in Week 2.
By the time the Broncos set their roster for Week 1, eighteen of the 67 players under contract (53-man roster, practice squad and injured reserve) were rookies, including nine undrafted players. But Harris was the only undrafted rookie on the 53 for Week 1 of 2011.
Others on the current roster who had palpable growth during their rookie offseason and preseason work include Bradley Roby (2014), C.J. Anderson (who tore it up in 2013 until he hurt his knee in camp) and Danny Trevathan (2012), who did so well that it was clear he would make D.J. Williams expendable after that year.
---
Submit a question for the next Mailbag!
The analysis, opinion and speculation in this story represents that of the author, gathered through research and reporting, and does not necessarily reflect the opinion of the Denver Broncos organization.