The Broncos will have a solid claim to the lead in that race with a win Sunday, no question.
Whether the Panthers or Broncos win Super Bowl 50, six different teams will have won world championships this decade. Never in the Super Bowl era has that been the case six years into a decade; by this point in the 1970s, the Dolphins and Steelers had each won twice; six years into the 1980s, the 49ers were already two-time champions; in the 1990s, Dallas had back-to-back titles through six years; a decade ago, New England already had three Lombardi Trophies.
If parity were to be defined only by titles, the NFL would have achieved it; of course, that isn't the case, given that four of the the final eight teams and five of the 12 in the playoffs have playoff streaks of at east four years, led by the Packers, who qualified for their seventh consecutive postseason.
Denver's case will be clear if it wins Sunday: two AFC championships, five division titles and a world championship.
The Patriots have six division titles and the same Super Bowl accomplishments, but Denver would have a 2-1 edge in head-to-head postseason play, which would give the Broncos the advantage. Seattle would also have a case, with three division titles, two Super Bowl appearances and one world title.
But the race for "Team of the Decade" is so wide open that the Panthers could easily stake a claim to it and make it their own over the coming years if Cam Newton continues to flourish. With Kelvin Benjamin returning from a torn ACL later in 2016, the best appears to be yet to come for Carolina, which is a frightening thought for the NFC, and the NFC South in particular.
I'm going to the Super Bowl on Sunday. What color jersey should fans wear? Orange/white/alternate blue?
Orange shows up the best on television but if you have a "lucky jersey," wear it, no matter what the color, or era. Don't be afraid to bust out the jersey of a long-since-retired player if that's what works; I still love seeing fans wearing Jake Plummer, John Lynch and Al Wilson jerseys.
I was noticing at the end of the Championship game, while the Broncos defense was on the field, Chris Harris Jr. and Bradley Roby were looking very animated and confused pre-snap, as if arguing about something. This was timed with some big plays by the Patriots. I've also seen them similarly confused in other games. Any idea what was happening here? was the defensive playcaller/leader off the field? were they faking to confuse the offense?
Specific to that point in the game, safeties T.J. Ward and Darian Stewart were both out, so for the Broncos to run their dime package, Harris had to move to a safety spot which put him toward the box or in the slot against a tight end, which changed his alignment, and led to a tweak in Roby's responsibilities, as well. Harris had to learn the safety's responsibilities on the fly from Defensive Backs Coach Joe Woods on the sideline. This was an emergency situation to which the defense had to make a quick adaptation.
But as for other points in other games, don't confuse animation with being confused -- especially when the crowd is roaring and it becomes tougher to communicate. (This is a problem the defense will take any time, because it forces the offense into a silent count, which can often be timed with proper study.)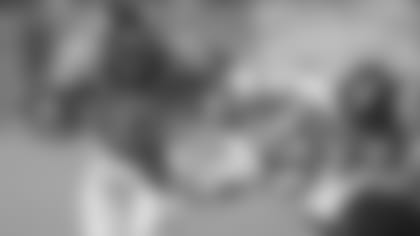 We see players yelling at each other during the games. It doesn't mean there's confusion -- or even lingering anger.
"Teams fight. We fight as a team," running back C.J. Anderson said. "We might be on the sideline yelling at each other -- which y'all probably don't hear, but NFL Films has [recorded] them -- but at the end of the day, we trust in one another to get the job done."
"Tough love is always acceptable," added guard Evan Mathis. "And it's never really condescending or anything like that. When you have a sense of urgency about something it can kind of amplify your body language."
There are plenty of keys, but No. 1 is to not give the Panthers opportunities on a silver platter. No team capitalizes off turnovers better than the Panthers, and nothing will short-circuit the Broncos' hopes faster. If Denver returns to its all-too-generous ways of the regular season, Sunday's game will be excruciatingly long for Broncos fans. If the Broncos continue their recent trend of protecting the football better (just one giveaway in the postseason heading into Sunday), the Broncos can force the Panthers into sub-optimal field position, with which Denver's defense has generally worked well.
Only if the NFL abandons its recent embrace of big-time stars in favor of a return to Up With People.
Which I don't think will happen, given the story told by Joe Browne to NFL Films of how then-Commissioner Pete Rozelle once opened the league's day-after review meeting with the following statement:
"There are three words I never want to hear again:
Watch the first few seconds of the clip and notice how Terry Bradshaw can't contain a sarcastic chuckle as Brent Musburger teases the halftime show by declaring that it "may even be more exciting than the game we've just seen in the first half."
If the NFL had used its current protocol for Super Bowl XVI, the league would have corralled an all-star cast of 1960s acts for the halftime show, especially from Motown Records and Berry Gordy, Jr., given that the game was just outside Detroit. Imagine having The Four Tops, the Temptations, the Supremes, Mary Wells, Marvin Gaye, Stevie Wonder, Martha and the Vandellas, etc.
It would have been the best halftime show to that point in Super Bowl history, and might be remembered as one of the finest to this day.
Instead you had Up With People covering Monster Mash and Surfin U.S.A. *They put forth an earnest, sincere effort, but it was a performance stripped clean of anything resembling edge, verve and soul; it was an early 1980s toothpaste commercial. What a colossal blown opportunity.
*
On the positive side, the Uppies inspired a Simpsons parody, so they can't be all bad:
Loaded nachos, which stems from my family's tradition of serving Mexican/Tex-Mex cuisine on Super Sunday when I grew up.
I completely disagree. What about a cheese pizza? A three-cheese pizza? A margherita pizza? Further, if you make meat a requirement for pizza, you've removed vegetarians from the ranks of those who can enjoy it, and since I'm all for maximum inclusion whenever possible, cheese pizza is definitely a pizza. (This is a bit tougher for vegans, understandably.)
Andrew, I really enjoy Mason's Mailbag! Besides OL, are the Broncos looking at RBs and TEs going into the draft? Who do they have their eyes on defensively?
Thank you, and Ashley, I hope you'll indulge me to answer this question a week from now, when the offseason is in full swing and the Scouting Combine lurks in fewer than two weeks.
Submit a question for the next Mailbag!
The analysis, opinion and speculation in this story represents that of the author, gathered through research and reporting, and does not necessarily reflect the opinion of the Denver Broncos organization. Super Bowl 50 Official Ticket & Travel Packages
The Denver Broncos have partnered with PrimeSport to offer Official Denver Broncos Super Bowl packages.
Visit Primesport.com/denverbroncos for more information