I agree, it would be great, which is why I asked Head Coach Gary Kubiak about Mitch Tanney's impact on Friday.
The first, most important aspect of Tanney's presence in the coaches' booth communicating with Kubiak is this: he's a resource with an array of probabilities at his disposal for many situations. Kubiak doesn't have to think about them, because he trusts Tanney to do so, and to get him the relevant information toward making a decision.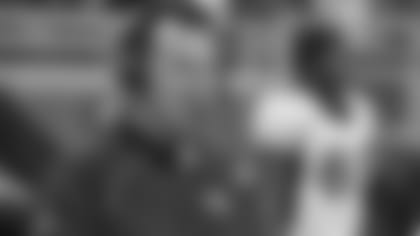 "It's a comfort zone as a coach," Kubiak said. "When you're calling plays and involved in the game and yet you're involved in the time, all of a sudden, you've got somebody up there who is totally involved in that.
"I just listen to him, (saying), 'Hey, Mitch, talk to me here. What do you think?' He's in my ear the whole time. It's a very comforting thing."
Kubiak admits that he doesn't always follow Tanney's advice, particularly on fourth downs.
"I can tell you what analytics guys say on fourth down: They say, 'Go for it,' every time,'" Kubiak said. "We don't always agree, but he's just always talking to you about percentages. He's awesome with time, timeouts and when to use them. He's always thinking ahead."
Consider how decisive the Broncos have been on fourth downs -- particularly in goal-to-go in the third quarter last week -- and on their long field-goal attempts in Week 1 against Baltimore. There was nary a hint of hesitation on sending Brandon McManus out for attempts beyond 55 yards, because McManus and Special Teams Coordinator Joe DeCamillis had determined from warmups that it was within the range from which McManus would hit at least 85 percent of his attempts.
All that in part stems from having a resource like Tanney who helps the coaches make tactical decisions with acceptable risk-reward ratios.
Tanney provides ideas beyond game day, as well. He meets with Kubiak every Friday to discuss various game situations and how to react to them.
"I go spend about an hour with him upstairs and we just review what's going on around the league and how would we have handled things," Kubiak said.
"I think it's a new addition that's very much warranted. I'm glad to have him."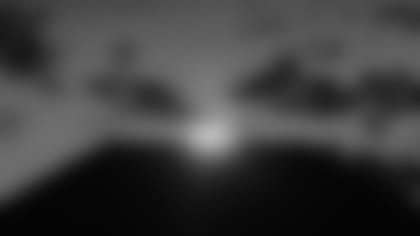 Mas, Do you suppose it would be beneficial for Kubiak to take some of Manning's playbook and incorporate some no huddle, 3 wide sets, and some pistol formations even when Manning retires? If he could find a way to incorporate that with his offense and keep his personnel groupings the same, his offense could become next-level lethal. What do you think?
-- Sal Quintana
It wouldn't surprise me. People tend to have the perception that Kubiak's offense is this hulking tactical monolith that is the same as it was 20 years ago.
While there are concepts of the attack that have carried from John Elway to Jake Plummer to Matt Schaub to Joe Flacco and now Peyton Manning, it has looked a little different with each quarterback in each season.
Take Ronnie Hillman's 72-yard run last week as an example. That play can work with a tackle and a tight end kicking out, or a fullback leading and sealing the interior with a wide receiver making the outside seal. Last week, it worked from a pistol two-tight end alignment, with Green and Owen Daniels making key blocks.
Kubiak will always study his offense -- and the attacks of other teams -- to find ideas. It is a living entity, constantly evolving.
If Broncos can pick up a veteran RB like Forte for a draft pick, why don't they do it?**
1) Draft picks are currency. They're not Monopoly money. You don't spend them willy-nilly. Although the Broncos expect a substantial haul of compensatory selections in next year's draft, none will come before the end of the third round, and getting a still-in-his-prime running back like Forte might cost more than the value any of the compensatory selections.
2) How much of an improvement would Forte be over the running backs already on hand, especially given that Forte is in his eighth season? Is, say, Forte, a second-day pick better than what you already have on hand? That player must provide a substantial improvement to the team.
I was very impressed that Green Bay has only 3 free agents on their team. A team that can draft and develop players is much better shape than one like Denver. Broncos have not had a good record on drafting or free agents, with a some exceptions on both areas. The one area that Denver excels is getting undrafted players to become starters.**
In the words of Bill Lumbergh, "I'm going to have to go ahead and sort of disagree with you there."
First, let's talk about the draft. It's not perfect, but the hits outnumber the misses. The salary cap means that you can't keep everyone, which is why Orlando Franklin and Julius Thomas, among others are now with other teams. If you keep one or both, you might not have Demaryius Thomas on the roster, or you might not be able to keep Von Miller in the future.
You're going to find out much more about the Broncos' draft picks and undrafted acquisitions sooner during the Gary Kubiak era because of an increased willingness to play them. Take Michael Schofield, for instance. He didn't get a chance last year when the offensive line shuffled at midseason, with Louis Vasquez being moved out of position to play right tackle. This year, when injuries struck, the Broncos pushed him into the starting lineup, and he responded with a solid first start.
And frankly, there's no difference between undrafted rookies and draft picks, beyond their salary. If an undrafted player succeeds and a draft pick fails, then so what? You still found the contributor you needed.
Eleven starters last Sunday have never started for anyone but the Broncos. That's not as many as the Packers, but I think that's a rate that will increase over time as Elway gets more drafts.
You must also consider that the Packers are in the 11th season of Ted Thompson's regime as general manager. Thompson drafted Aaron Rodgers in the first round of his first draft. Fourteen Packers come from the 2005-2010 rookie classes.
Elway only joined the Broncos in 2011, in part because of inconsistent drafting and development over the previous several years. There are just three pre-Elway players on the 53-man roster: punter Britton Colquitt, safety David Bruton Jr. and wide receiver Demaryius Thomas. (The Broncos brought back 2007 pick Ryan Harris this summer, but because he left and eventually returned, he's considered a 2015 unrestricted free-agent signee in the official roster-building calculus.)
And to say that the Broncos don't have a good record in free agency is absurd. Consider their 2014 class:
OLB DeMarcus Ware: **Pro Bowler last year, AFC Defensive Player of the Month for September, NFL's leading sacker through four games.
S T.J. Ward:Pro Bowler last year, AFC Defensive Player of the Week for Week 4, leads all NFL safeties with two sacks through four games.
WR Emmanuel Sanders:Pro Bowler last year, on pace for a second consecutive 100-catch, 1,200-yard season this year.
CB Aqib Talib:Pro Bowler last year, AFC Defensive Player of the Week for Week 1, tied for third in the league with two interceptions.
Further, consider the free agents that Elway found in other years. Darian Stewart had the game-clinching interception in Week 1. Willis McGahee was a Pro Bowl running back in 2011 when most thought he didn't have anything left. Louis Vasquez had an All-Pro season in 2013. Wes Welker was tied for 10th in the league in touchdown receptions in 2013. Others had less notable, but still helpful, accomplishments.
And then there's that street free agent pickup in March 2012, some guy named Manning.
It would be hard to find a team getting more out of its free agents than the Broncos.
During the offseason, there was emphasis placed on getting Virgil Green more involved in the Broncos' passing game. Through a quarter of the regular season, Green has been targeted five times and caught three passes for 38 yards and one touchdown. Do the Broncos still intend to get Green more looks as a receiver, or will protection issues force Denver into continuing to use Green as more of an in-line blocker? As always, thank you for your well-reasoned response.**
I'd expect Green to continue getting extensive work as a blocker, especially in the short term. The Broncos' two longest runs last week were a direct result of Green's blocking. Perhaps we will see more two-tight end formations, and from time to time, he'd get involved as a potential target, but with the offensive line in injury-spawned flux, look for him to keep blocking in the short term.
Why does Bubba Caldwell get so many touches in the game when he continuously makes bad decisions and is known for dropping passes thrown his way?
"So many touches"? He's been targeted 1.25 times per game, fifth-most among Broncos wide receivers.
Yes, Caldwell isn't as explosive as other wide receivers. But he has three-plus years of experience with Peyton Manning, is a good teammate in the locker room, knows his role, knows the offense and can help out on kickoff returns as he has the last three weeks with Omar Bolden coming off a foot injury.
Some guys are just more valuable to the overall team construction than their numbers reveal. Having been with the Broncos since 2012, Caldwell is one of those players.
Definitely Toronto. I've always had a soft spot for the Blue Jays, going back to when I used to watch them play spring-training games in Dunedin, Fla., not far from where I lived for the better part of 12 years. (There wasn't a better way to spend a college spring-break day than in the cheap seats down the line at what was then known as Grant Field, contentedly keeping score and -- after I turned 21 -- sipping on a Labatt Blue.) And it's cool to see another fan base embrace Troy Tulowitzki the way Rockies fans did at Coors Field. But it doesn't look so "OK Blue Jays" right now.
---
Submit a question for the next Mailbag!
The analysis, opinion and speculation in this story represents that of the author, gathered through research and reporting, and does not necessarily reflect the opinion of the Denver Broncos organization.