The start of the turnaround was by making it an increased priority. When the media gate flung open at the first practice of the voluntary veteran minicamp in May and the Broncos shared their first glimpse of practice in the Kubiak era, what were they working on?
At that moment, no voice was louder and more energetic than that of the Broncos' new special-teams coordinator, Joe DeCamillis, who was a part of his first practice at Dove Valley since his final year on Dan Reeves' staff in 1992. The tone was set: the third phase would matter, and he would get the best players out there for any situation, regardless of whether they were starters or reserves on offense and defense.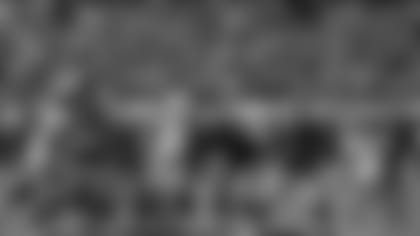 Fast-forward five and a half months, to Sylvester Williams getting his hand on Sebastian Janikowski's 38-yard field-goal attempt last Sunday. Given how the 16-10 win ended up evolving, the block -- the Broncos' second on a placekick this season -- was massive, and along with a later Janikowski miss, forced them to play from two scores behind in the final moments.
Note the 11 players on the field with Williams for the block, which included six starters: OLB DeMarcus Ware, CBs Chris Harris Jr. and Aqib Talib, ILBs Brandon Marshall and Danny Trevathan and safety T.J. Ward. Talib had the blocked PAT in Detroit that Harris nearly returned for two points -- and also forced the Lions to chase from behind the rest of the game.
The four other players in for Williams' block were safety David Bruton Jr., NT Darius Kilgo, DE Antonio Smith and OLB Shaquil Barrett, all of whom are crucial defensive components.
"I think really it's just effort and the buy-in of those guys," DeCamillis said. "It's helped because [Defensive Line Coach Bill] Kollar is such a good coach as far as getting effort out of them, so the D-line has just bought in every week. Having those outside guys giving the kind of effort that they do, it's been really good, and hopefully it continues.
"It's definitely affected the two games we got them in, so we need to continue to do that."
Brandon McManus' progress has helped the special teams, as well. By removing the "jab step" from his run-up to the football, he's reduced the moving parts to his delivery, creating a more consistent approach. That has helped him hit every placekick so far in the regular season. His kickoffs are outstanding; he ranks fifth in touchback percentage, and his ability to place kickoffs into "manageable space" has helped the Broncos' kickoff-coverage team rank third in the league, allowing just 18.3 yards per return.
If you're looking for areas in need of further improvement, focus on two:
Punting. Britton Colquitt is 19th in net punting, 21st in percentage of punts placed inside the 20-yard-line (32 percent) and 13th in percentage of punts that are go into the end zone for a touchback (4 percent, with a lower percentage translating to a higher-ranking). He's in the middle tier, which is an improvement from 2014, but he'd like to do better, and the coverage team would like to improve on the 11.9-yard return average it has allowed this year.
Punt returns. Emmanuel Sanders' average of 5.6 yards per punt return ranks 25th.
"We were real close last week of getting a real big one," DeCamillis said. "We've got to execute all 11 people at the same time -- not 10, not nine, but 11. I think when we do that, there will be some results. I'm pleased with his returner mechanics and I'm also pleased with his decisions."
"I think he's done a good job as far as decisions. We're pleased there. We've just go to get some more production. I think it's coming. Those guys are working at it, and hopefully it will come."
I read in several articles that Virgil Green and Cody Latimer are a very good run-blocking players and an underrated receivers. I'm curious if they can be used to substitute for each other to get them more involved in the offense. Cody on 3-WR sets and Green for 2-TE/ 2-WR. The offense would have a good run blocker every time we want to run the ball. And the same look can be used for pass plays because they're both underrated receivers.**
Given that the Broncos' two biggest runs in Week 4 came with two-tight end packages that included Virgil Green (Ronnie Hillman's 72-yard sprint and C.J. Anderson's 13-yard dash on the game-winning drive), there's some potential there. The Broncos used pistol packages with either an offset fullback or a second tight end 12 times against Oakland.
With Latimer, he has not proven yet to be as consistent a threat in the passing game as Jordan Norwood (who is a more traditional slot receiver) or Bennie Fowler. At 6-foot-1 and 212 pounds, Fowler has a similar build to the 6-foot-2, 215-pound Latimer, and can potentially do some of the same things. But Latimer was used as a single receiver in some goal-line alignments during training camp because of his blocking ability, so there may be some potential there.
I believe rotating the O-linemen would be very beneficial for the Broncos. Do you expect Shelley Smith to get some looks? He looked great in preseason, especially in the run game.
After last week's split of left tackle repetitions between Ryan Harris and Tyler Polumbus, do not be surprised to see some line substitution from the Broncos on Sunday. Specifically, look for Max Garcia to possibly see some work in place of Evan Mathis, who missed all of practice this week with a hamstring injury but is questionable for Sunday.
But with Smith in particular, I don't expect his number to be called just yet. Garcia is ahead of him among swing backups on the offensive line, and reserve center James Ferentz also appears to be ahead of Smith, since Ferentz has been active four of the last five weeks.
And the following question is presented unedited:
I REALLY WISH PAYTON MANNING WOULD STOP SAYING OMAHA EVERYTIME IT PLAYS FOOTBALL. IT DRIVES ME CRAZY!!!!! THANK YOU!!!!**
Would you prefer "Wichita"?
Only if you stick with both. If you hop aboard the Cubs bandwagon now and then don't remain with them through a future 90-loss season, then, no, it's not okay.
Will Terrell Davis ever get into the Hall of Fame? If not, who will be the next Bronco into the hall in your opinion?
Momentum is trending in his direction. I expect he will be enshrined at some point in the next few years after breaking through to make the finalist list in January. But I'm not sure that he will be next, because John Lynch is a two-time finalist and appears a good bet to at least make it to the room for the third time this February, and Owner Pat Bowlen is an outstanding candidate to be considered as a contributor for the 2017 class.
Between that trio and the recently retired Champ Bailey and Brian Dawkins, you can expect the Broncos to have a more worthy Hall of Fame representation over the next several years than they do today.
---
Submit a question for the next Mailbag!
The analysis, opinion and speculation in this story represents that of the author, gathered through research and reporting, and does not necessarily reflect the opinion of the Denver Broncos organization.