Big Broncos fan from Austria here. That's true, the NFL in Europe isn't all about the UK ;-) The injury setbacks at safety simply don't seem to stop right now. Can you explain how the whole safety situation affected the Broncos over the last two games? Did the defensive tactics change in any way? Is Chris Harris' bad day at the office down to a lack of help? Shiloh Keo biting on that pump fake on 3rd and 15 against the Raiders for the 4th quarter TD probably remains as the biggest "what-if." Or doesn't it?
The play against the Raiders probably remains the biggest "what if," as you mentioned. It's interesting to watch Raiders quarterback Derek Carr before the snap; he zeroes in on that area of the defense, with Keo and Josh Bush lined up in proximity with each other. Carr is only in his second year, but he was smart enough to identify the area with the newest defender -- Keo -- and attack it.
No offensive or defensive player can join a team and be completely effective within five days of his first practice. The collaborative, collective nature of football prevents plug-and-play arrivals from being completely effective, especially compared with a more individual sport such as baseball.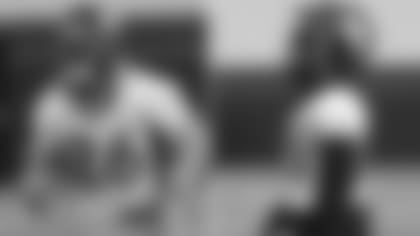 That touchdown scratches the surface of the impact of safeties, and why we can't estimate the impact of the injuries to T.J. Ward, Darian Stewart, Omar Bolden and David Bruton Jr. Safeties are not only crucial in coverage, but they're integral to the communication on the back end. Although Bush had the entire offseason, preseason and brief work in the early part of the regular season, he's still not going to be at the same level of communication as players who have been in the defense all season.
As for whether Harris' day is because of the lack of help ... remember that he's been working "on an island" in man-to-man coverage all season. Harris and Aqib Talib are so good in man coverage that they allow the safeties to have greater responsibility on intermediate routes down the seams and between the hashmarks, as well as underneath within 10 yards of the line of scrimmage and for occasional use on blitzes.
Harris was beaten by arguably the best receiver in the sport right now. Some of those plays weren't going to be prevented by anyone; what Harris knows that he can correct on his own are the missed tackles, which are highly unusual. Few cornerbacks are better at limiting the damage of plays on the outside better than Harris, and I doubt his uncharacteristic missed tackles will be repeated. He was very hard on himself this week, and I expect him to rebound in a big way.
But it will undoubtedly help his cause -- and that of the entire defense -- to have Ward and Stewart back, which the Broncos hope is the case regardless.
I think it's clear they're going "all in" regardless. They have to. Every available player who's healthy will play. You can't think about the possibility of a bye week when you may need to win the next two games just to qualify for the postseason, if the Steelers, Jets and Chiefs all win out.
It's pretty simple: the only kind of suspension that will make you ineligible for the Pro Bowl is a season-long suspension. A single- or multi-game suspension would not apply for the Pro Bowl, so it's not relevant, whether it's at the end of the season or, in the case of Talib's suspension, in Week 10.
Even Derek Wolfe's four-game PED suspension at the start of the regular season wasn't going to prevent him from being eligible for selection.
Given that the Broncos will pick no earlier than 20th in the draft, and they won't have a better idea of their draft needs until after the free-agency period begins -- and they decide how to proceed with Brock Osweiler's contract -- getting to five "most likely" quarterbacks for them to pick is a futile exercise.
We're also still waiting on potential early-entry candidates, which could potentially alter the landscape substantially. This is a good question, but not one that anyone can answer with any accuracy right now.
Among quarterbacks we know are draft-eligible, I find North Dakota State's Carson Wentz to be particularly intriguing. The 6-foot-5 passer has already accepted a Senior Bowl invitation. He has a strong arm and a quick release, but also hasn't played since October because of a broken wrist.
We'll talk about plenty of other names in the next few months, but right now, it's way too early to note any as potential Broncos.
Hey Mase, huge fan of the mailbag! I'm flying to Denver Monday for my first Broncos game! So I have to ask, what would you recommend for food at the game? Gotta have some favorites right?**
I do! Welcome, and bundle up!
I always look for food I can't easily find at other venues, so with that in mind, here are my recommendations;
If you are on the club level, I recommend the burrito stand in the northwest corner behind section 314. For a true Denver taste, make sure you get your burrito with green chile both in the burrito and smothered on top. When the press-box meal is not to my liking, that's my go-to stand.
I've had a good meal at "First and Fusion" (behind sections 135 and 518), which does teriyaki noodle or rice (I always choose the noodles) bowls with chicken, beef or vegetables.
At the Mile High Legend's Grille, try Schlereth's Green Chili Fries, again, for a local flavor.
A new addition this year is the Jalapeño Cheddar Brat Burger, available at stands behind sections 100, 119, 127 and 504. It stacks up well against what I can find in the cradle of brat burgers: the happiest place on earth, otherwise known as Madison, Wisconsin.
Just to be sure: Is this a fashion blog or a football blog? Thanks.**
Neither, because it's not a blog.
First off, big fan of your writing but more so of how you are able to handle certain bonehead questions and responses.
You answer most of my football related questions and if you can't I am able to get most answered by coaches/players media time. So my question is Star Wars-related. What is your ranking of all seven movies?
You're scratching me right where I itch -- especially considering that I have an iPhone-controlled BB-8 rolling around my living room right now. Here goes:
The Empire Strikes Back: In terms of style and substance, the deepest entry of the series -- and the most audacious; in how many big-budget action/fantasy/sci-fi movies have the good guys had their butts kicked so thoroughly for two-plus hours? Like Dante Hicks said in Clerks, "That's what life is: a series of down endings." And the film features two of my favorite visuals in any movie: the shot of Darth Vader through the smoke as Han is being frozen in carbonite, and the backlit silhouette of Vader and Luke beginning their lightsaber duel. Empire isn't just a great Star Wars movie, it's a great film, period.
A New Hope: The original has a clean, linear storyline, clearly defines the heroes and villains from the start, is infinitely quotable and holds up as well today as it did when it was released -- even though it was clearly a film borne as a reaction to the understandable cynicism of its time.
The Force Awakens: There may be some revisions as I re-watch the movie, but my initial impressions are overwhelmingly positive, starting from how it grabs the viewer in the first scene. I don't want to give away anything, except to say that I had a visceral, emotional reaction to the first scene; I was sucked into seeing Kylo Ren as the worst kind of evil.
Return of the Jedi: Richard Marquand's direction and the cinematography is less creative here than in the first two films, and it weakens the overall presentation -- there are too many tight shots. I never had a problem with the Ewoks -- there was an anti-technology subtext to the first film in 1977 to which their success at thwarting the Empire holds true. The scenes in Jabba's court are a bit too long, but he's an integral villain to the Star Wars universe.
Then, a massive gap to ...
Revenge of the Sith: This film could have been so much more. The Order 66 scene packs an emotional punch, but it could have been greater if we'd gotten to know the Jedi being slaughtered instead of focusing on the "romance" between Anakin and Padme in Episodes I and II. There are redeeming scenes from it: Palpatine's explanation of the nature of the Sith to Anakin (well, pretty much any scene with Palpatine in it; he's the most compelling character in the prequels by miles).
The Phantom Menace: Jar Jar Binks is the least of the problems here. I could write an essay on everything that is wrong with this, but it wouldn't be as entertaining as Harry Plinkett's on-point and hilariously profane deconstruction of the film for Red Letter Media.
Attack of the Clones: A muddled mess. The scenes with Anakin and Padme in the meadow looked like they were outtakes from a 1980s commercial. Count Dooku just looks like he was squeezed in, which lends credence to the Jar Jar theory from Reddit.
---
Submit a question for the next Mailbag!
The analysis, opinion and speculation in this story represents that of the author, gathered through research and reporting, and does not necessarily reflect the opinion of the Denver Broncos organization.