I love Brandon Marshall's s play, but I also loved Danny Trevathan's. Sure, Marshall is a complete player, but Trevathan could also do it all well. Marshall's contract was for $32M ($20M guaranteed); Trevathan's is $20M ($12M). Is #54 that much more valuable? Would it have made sense to keep #59 instead?**
First, for clarification, Trevathan's contract was actually worth $24.5 million if he plays it out according to multiple reports, not $20 million.
Part of the distinction between the two is that Marshall was considered a better three-down linebacker for the defense than Trevathan was. As a result, Marshall played 202 more snaps last year (1,096, including playoffs), than Trevathan (894). In the 16 games both played together from start to finish last season, Marshall saw more snaps 14 times, showing how the coaches perceived them relative to each other in the 3-4 scheme.
Both have injuries in their past, but there was a bit greater long-term concern over Trevathan given the multiple injuries he had to the area around his knee during the 2014 season.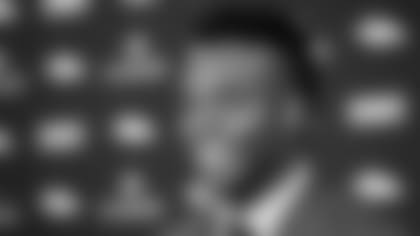 It's not that the Broncos didn't like or want Trevathan. But under the salary cap, you have to make difficult decisions. A potential $32 million guaranteed at inside linebacker is probably too much given other needs at the position, so you try to figure out which of the two is most difficult to replace. That proved to be Marshall, with his blend of stoutness against the run, coverage ability, pass-rushing prowess and leadership.
What is the status of the undrafted free agents, and if the team will sign some of them anytime soon? I understand that they have contract extensions in progress, but I was wondering what the timeline would be.
They all have signed contracts, otherwise, they wouldn't have practiced with the team the last few weeks. Undrafted free agents typically sign their deals before rookie minicamp in May.
Just a comment: I really like your ideas and take on developmental football for the NFL & agree completely. What are the chances of the league implementing anything similar - is the league taking any steps in this direction?
I think the winds are finally starting to turn back in favor of adding a developmental league. Although it has yet to become a front-burner topic, it is one being discussed with increased frequency in league circles.
Much of the push is coming from coaches and personnel executives. The 2011 collective bargaining agreement put increased restrictions on the length and intensity of offseason and training-camp practices. It also restricted the number of padded practices that can be held in the regular season, but more than a handful of teams had been limiting their padded in-season practices of their own volition for years.
Costs have to be kept in line, but I would be surprised if there is not a developmental league -- or enhanced player-development program, perhaps an academy to which all teams send players -- before this decade concludes.
So is it possible for Denver to re-sign Brandon Marshall, Darian Stewart, and Emmanuel Sanders? I know our cap is supposed to be better than this year's. If so, which player would probably take a cheaper contract to stay in Denver like Chris Harris or Derek Wolfe. **
It's definitely possible. Marshall is already done, and the effort of re-signing Sanders is well under way. Stewart is a different matter, especially when looking at what the Broncos did in the draft by taking two safeties in Justin Simmons and Will Parks; if they get the development they want to see, they might choose to go young.
When looking at next year, don't forget that the cap figures for players on long-term contracts will increase. Chris Harris Jr., Derek Wolfe and Donald Stephenson all have higher cap numbers for 2017, according to Spotrac.com. And if the Broncos pick up the option on Russell Okung's contract, his number will go up to $11.7 million. The cap situation will be better, but space can go fast when you have quality players to retain, as the Broncos have seen in recent years.
But saying it comes down to a player taking a "cheaper contract" is a bit simplistic. Sometimes, a player wants to take that guarantee of a payday rather than rolling the dice on not getting injured or enduring something that depresses his potential value on the market. In Harris' case, he signed his deal just 11 months after tearing his anterior cruciate ligament. The Broncos offered him a deal that provided financial security for life.
Marshall is in a similar situation, after playing last year while dealing with the lingering effects of surgery to repair his Lisfranc injury. Now he knows his long-term future is secure; it's a potential win-win situation.
With the Super Bowl rings, do the players also receive the AFC championship rings as well?
No. There are no conference-championship rings made for teams that win the Super Bowl; it's one ring per season.
C.J. Anderson is at the top of the heap. He earned it late last season, and spent the last four weeks consolidating his role as the No. 1 running back. In terms of presence, leadership and offseason work ethic, he has led by example and assumed a greater role on the team -- which goes with the four-year contract he received.
The primary competition is for the No. 2 role. Ronnie Hillman has the inside track, but Devontae Booker ran well after he recovered from a torn meniscus, and appears poised for a push. Kapri Bibbs also did well during OTAs, and if he is to make a move, it has to be this summer; it is unlikely that he returns for a third year on the practice squad. Juwan Thompson can also be a factor, and with his work at fullback, is perhaps the most versatile back in the bunch. Cyrus Gray had some explosive moments early in OTAs, but with the depth at the position faces an uphill fight.
It would appear to be a three-way battle between Booker, Hillman and Bibbs to be the primary backup.
When does training camp start? I can't find it anywhere.
You can't find it anywhere because it hasn't been finalized yet. The earliest possible date for the first practice is Thursday, July 28, because teams can begin practice no earlier than two weeks before their preseason opener.
Hey Mase, I will be going to the game against New Orleans in November. First time seeing the team play outside of Denver. Any recommendations for that city? We'll be staying about 10 minutes away from the French Quarter.**
Let's just say there's a reason why some friends call me "Hurricane Mase." But I'll stick with food for now.
The most famous spot for oysters, is, of course, Acme Oyster House, and I've had enough good meals there to where I have no problem recommending it. But you might find the lines less lengthy and the fare just as tasty at nearby Felix's, which is famous in is own right. Make sure you have room for some seafood gumbo and/or etouffee. Being an aficionado of spicy food, I particularly enjoyed the buffalo oysters at Felix's.
If you want a po'boy, the place I always visit that found via a local's recommendation is R&O's in Metairie (so, obviously, you'll need a car if you're staying in the French Quarter) There is nothing fancy about the place; you'll park in a grass lot out back. Its pizza is spotlighted, but you'll want the po'boy. I always order a shrimp po'boy, stuffed with so much fried shrimp it falls all over the place, but the roast beef with gravy is also terrific.
The kickoff time is noon CST, unfortunately. (No Saints home game should EVER start before 3 p.m. local time.) You still have time for breakfast if you time it right. Cafe du Monde is a local institution, and the beignets should not be missed if you get a chance to have them. But if you're looking for something a little different and not so touristy, try Jimmy J's Cafe; I recommend the blueberry brandy-glazed French toast. The Seafood Benedict at the Cafe Fleur de Lis is another good choice.
---
Submit a question for the next Mailbag!
The analysis, opinion and speculation in this story represents that of the author, gathered through research and reporting, and does not necessarily reflect the opinion of the Denver Broncos organization.