With Louis Vasquez released and a sometimes shaky offensive line, how is he replaced?
It's still in flux, but there are possibilities. Ryan Clady is still under contract; if he's back at left tackle with Donald Stephenson at right tackle, you can potentially move Ty Sambrailo to left guard, since he has position flexibility. That would leave Max Garcia to handle the work at right guard. Michael Schofield also has some versatility and could compete at one of the guard spots, and young Robert Myers, who was plucked off Baltimore's practice squad, and Sam Brenner will also factor into the competition.
The offensive line wasn't what the Broncos hoped it would be last year, but injuries to their top two tackles played a massive role in that. With better health and young players like Sambrailo, Garcia and center Matt Paradis a year older in a scheme that rewards experience and intelligence, I would be surprised if the Broncos do not have a substantially better performance from the line this year.
Do you think Trevor Siemian will get a chance to play more now that Peyton has retired? The few times I have seen him play he looked pretty good.
There are a lot of reasons for long-term optimism about Trevor Siemian, but based on the number of questions I've received the last few days suggesting his potential readiness to contribute in 2016, I think the brakes need to be pumped just a little bit, because it's not fair to Siemian and people's perceptions of him to have them too high for his second season.
One reason the Broncos traded for Mark Sanchez on Friday was to give themselves at least one quarterback with extensive experience. There are others still in play, and Colin Kaepernick and Ryan Fitzpatrick remain at the center of speculation and possibilities. It would be a surprise if the Broncos do not add at least one quarterback via the draft, as well.
But whether the future is in the hands of Siemian or a draft pick, the presence of Sanchez offers insurance that a young quarterback will not have to be rushed into the lineup, if those are the Broncos' other options on the depth chart.
The quarterbacks emerging from the college ranks these days have the same kind of potential as those of the past. But they are also harder to project and need more refinement to be pro-ready because of the proliferation of spread offenses and visual/card-based play-calling relayed from the sidelines to the entire offense. And without alternate methods of developing quarterbacks such as NFL Europe, that time in practice has never been more essential.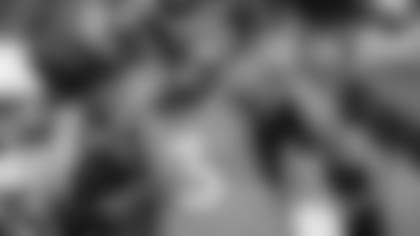 Siemian is progressing well. But his growth is not at the point where the team could be put in his hands. If his development accelerates, he proves ready and earns the job outright, that would be outstanding for the Broncos. But they would need other options like Sanchez or whoever else ends up in the quarterback room by the time OTAs begin during the spring.
"I think he's got a bright future. He has an NFL arm, no doubt. He's made a lot of progress as far as mentally and what he's doing. I think he's going to be very competitive," Head Coach Gary Kubiak said at the Combine.
"Now it's Trevor's time. It's got to be up to him, what type of leader he is, how hard he works. Big jumps are made from Year 1 to Year 2, but obviously he's got a lot of ability."
If he progresses to the point where he can push for the starting role, then the Broncos will be giddy. They'll have a tough choice, but they want those tough choices. But you can't go into the offseason relying on him making that kind of leap just yet; if he does, it's a bonus.
Rudock is an interesting case because he checks off many of the boxes among the intangibles teams seek from their quarterback: He's smart (he's working on a graduate degree and would like to go to medical school someday) can quickly assimilate and execute new concepts (learned the Michigan offense on the fly last year after arriving as a post-graduate transfer from Iowa), he's accurate (his last two seasons saw him cross the 60 percent threshold for completions), he steps away from the rush and doesn't take sacks (he was sacked once every 23.88 attempts).
He throws with some zip, especially as demonstrated in East-West Shrine Game practices. He also is above all the baseline measurements; he's 6-foot-2 5/8 and has 9 3/4-inch hands (anything above 9 1/2 inches is considered fine).
There's a few issues that knock his draft stock down. While mobile, he's not particularly dominating when he does keep the ball and run. More often than not, he throws at least one interception (he has a pick in 21 of his 38 games). And I think last year he got written off by a lot of people nationally after he threw three interceptions in Jim Harbaugh's opening game at Utah. But the Utes defense turned out to be exceptional against big-time quarterbacks; the unit later intercepted potential top-10 pick Jared Goff five times.
Rudock is one of two curious omissions from the Combine at quarterback; Alabama's Jake Coker is the other. But like Coker, Rudock did some of his best work late; he was cool and carved up Florida's defense in the Citrus Bowl.
Because there's nothing that jumps off the tape and makes you say, "Wow!" he drops into the third day. But I think if he's drafted, he comfortably makes a team, at least as a No. 3, and eventually settles in as a No. 2. What happens there depends on how he adapts to the speed of the game, but as I re-watched some of his work Saturday, I was impressed at his composure, feel and decision-making, and the numbers matched with what I saw. He's not a "sexy" quarterback pick, but I think there's a future for him (and playing a year under Jim Harbaugh won't hurt him one bit).
Peter King of TheMMQB.com proposed this, but there is one basic problem: There is no indication that McCarron is on the block. Further, if you're the Bengals and have a starting quarterback coming off a thumb injury, why would you trade his backup, when you've learned you can win with him?
The fact that the difference between the first- and second-round tender under the salary cap is $1,082,000. If you're a team with $40 million of salary-cap room, it doesn't make much difference, but if you have a cap crunch like the Broncos, a difference of just over $1 million matters.
How are we only $17 million in cap space so far? Help us Bronco fans understand where we are at in cap dollars.
According to the latest NFLPA-issued cap report, the Broncos had $15,073,046 of salary-cap space as of Friday morning. This reflects the team's status after signing offensive tackle Donald Stephenson, but does not yet reflect the trade for Sanchez.
Restricted/exclusive-rights free-agent tenders and franchise tenders count toward that tally, even if they are as yet unsigned by the players. Although the Broncos were able to get a $19 million cap savings from Peyton Manning's retirement, the new contract for Derek Wolfe, the franchise tender to Von Miller and higher cap figures for players such as Demaryius Thomas (up $2 million, per OvertheCap.com) and Chris Harris Jr. (up $6 million, per Overthecap.com).
Do u think it would be a bad idea to bring Tebow back? If I remember correctly, we had possibly the number one running game with him, but now the number one defense! Kubiak wants to run. really don't need and All Star Quarterback with this defense, and you have to admit Tebow wins games!**
First of all, teams win games. The top-ranked rushing offense of 2011 had at least as much to do with Willis McGahee having a Pro Bowl season as what Tebow did.
Tebow galvanized the Broncos for a six-week stretch, and he and the entire 2011 team must be given proper credit for launching the Broncos on their current path.
No one who was around the Broncos, whether in the organization, in the media, in the stands or watching as a fan from home, will ever forget that roller-coaster ride. Of the 17 NFL seasons I have covered professionally, it is among the three most memorable.
But the Broncos' turnaround that year also began with the return of some key players from injuries, most notably Elvis Dumervil (missed two games), D.J. Williams (missed three games) and Champ Bailey (missed three games). Most people forget that. Once they returned, the defense began to click. And the defense struggled late in the season, with injuries also playing a factor: Von Miller tore a ligament in his thumb and had to play with one good hand, and Brian Dawkins suffered the neck injury that would end his career.
These factors have largely been relegated to the dustbin of history because of the lingering hysteria around Tebow and the inability or unwillingness of some national pundits to look closer, both then and now.
The Broncos wrung everything they could out of Tebow. They re-wrote the offense to provide the best chance of success, and it brought the team to life. Broncos fans everywhere can -- and should -- thank him for his contribution to helping revive what had been a stagnant club that had missed the playoffs five consecutive seasons and was coming off its worst season in 40 years.
But Tebow's limitations as an NFL quarterback rendered his status as a starter unsustainable. Fissures were already showing by the end of the 2011 season, which led to a need at quarterback, which led to the successful pursuit of Peyton Manning, and the rest is history.
There are reasons why he is not in the NFL today. For one thing, he has a career completion percentage of 47.9 in an era where hitting 60 percent is a baseline. This is not sustainable for a consistent offense. Further, while the Broncos won six consecutive games with him starting, they then lost four out of five as defenses figured him out, containing his runs and forcing him to try to get to his second read, at which he struggled. His rating for those games -- which included the playoff win and the 80-yard pass to Demaryius Thomas in overtime -- was 61.5.
And of course, Tebow has been released by three teams in the last three years -- teams that had entirely different schemes. The sport has moved on.
---
Submit a question for the next Mailbag!
The analysis, opinion and speculation in this story represents that of the author, gathered through research and reporting, and does not necessarily reflect the opinion of the Denver Broncos organization.