First, I enjoy your reporting and writing. You provide insight hard to find elsewhere.
Secondly, Ryan Clady and Louis Vasquez are obviously fine linemen (when healthy) and have done good work for the Broncos. The are also substantially larger than the younger players around them, players who bring to mind echoes of Alex Gibbs hollering "one cut and done son" at Terrell Davis. All this makes me wonder if they truly fit our current zone-blocking scheme.
Thanks for the kind words.
As for offensive linemen and whether they fit a scheme, it's not about size, but footwork and agility. Remember, Clady was a first-round pick in 2008 when the Broncos used a zone-blocking scheme. He was a first-rounder in part because he had exceptional footwork and quickness for a 315-pounder. (Footwork was a reason why the Broncos picked George Foster in the first round of the 2003 draft, even though he didn't fit the usual zone-blocking size template, either.) Clady possesses the skill set to fit what this coaching staff wants its offensive linemen to do. Although the Broncos picked up the pieces and moved on as best they could, you don't just replace a five-time Pro Bowler who is a also an ideal scheme fit.
With Vasquez, I think some of the ups and downs are as much a function of shuffling around him as anything he does or does not do. For most of the season, he's been flanked by two players who didn't play last year: center Matt Paradis and right tackle Michael Schofield. Toss in some nagging injuries and you have a situation that is less than ideal. Vasquez acknowledged in the offseason that there was some adjustment involved with the new line scheme, but he's had some good moments and has done well in pass protection (allowing only one sack this year, according to ProFootballFocus.com).
Out here in Cali but huge fan of the 'Bag!
I took a trip down memory lane the other day and watched the entire Super Bowl XXXIII win First, I must say it was refreshing to watch a game in which the players weren't looking for penalties after EVERY play. John Elway still had such a strong arm at that age and was still able to throw the ball on a line, or heave it 50 yards in the air to connect with Rod Smith for the 80-yard score. Pat Summerall even mentioned numerous times that Elway could play for many more years, but wanted to go out on top.
Is this what Manning is waiting for? Would we have been in the Osweiler era sooner if Torrey Smith didn't catch the bomb from Flacco? If we didn't get steamrolled by Seattle?
Thank you. That's a lot of "if's," and if -- yep, there's another! -- we go down that rabbit hole, we might never come back.
Every potential Hall of Famer wants to go out as Elway did. Time continues to reveal just how extraordinary that end was. But injuries were starting to catch up with him even at that point. As Elway said at his retirement press conference in 1999, "I have a chronic bad knee ... It got to the point where it was preventing me from doing the things I wanted to do." So I would say Summerall's assessment was a bit off the mark.
As for Manning, let's remember this: Manning was a Pro Bowler last year and had a typical Manning season in terms of statistical production. Hindsight is always 20/20, but going into the offseason, knowing that injuries exacerbated some of the late-season struggles, it seemed that good health and a scheme tweak that took some pressure off Manning could lead to a productive season.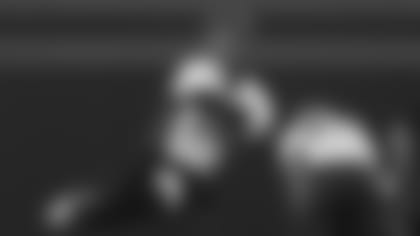 That didn't materialize, and as Manning noted, he'd struggled with a foot issue for "quite some time" before it was exacerbated in the Nov. 8 loss at Indianapolis. Now, we're in wait-and-see mode. Can he heal enough to play again?
Certainly the foot soreness that hit Friday morning and prevented him from practicing that day is notable, and shows that rehabilitation and recovery is not always on a straight incline. But at the same time, day-after soreness is an unfortunate but unavoidable aspect of the football life. I expect we'll have a better idea in the coming days and weeks.
A few weeks ago you wrote about why the Broncos can't wear the '77-'96 throwbacks because of a helmet rule.
Why is the league letting Miami wear throwbacks on Monday Night Football during Week 14 that include the old Dolphins logo?
Because they're wearing the same helmets. Miami has always worn white helmets, thus, having a throwback look requires only peeling off one set of decals and placing others on the helmet.
As we've mentioned in previous mailbags -- including the last three in succession here, here and here -- the 2013 helmet rule prevents the Broncos from doing a true throwback uniform.
In reference to the many naive questions about the throwbacks and the newly adopted helmet policies, I do have a good question here I believe; how are the Rams exempt because those helmets appear to be a lighter shade of blue than the standard helmet, wouldn't you agree?
No, I wouldn't agree. They're not exempt, and they've worn navy blue helmets since before their 2000 uniform change.
As you can see in this 1999 photo of Kurt Warner, the Rams have two shades of blue: navy on the helmets and face masks and royal on the jerseys.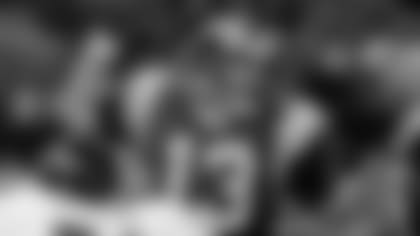 That has allowed them to have proper throwback uniforms. They used the bright-yellow Ram horns on their regular navy helmets again Thursday for the Color Rush game.
Von Miller or Brock Osweiler? They are on their last year on their contracts. Who would you keep for the 2016 season?
Why does it have to be an either/or? Why can't you keep both?
He's ready to go if needed, but given his status as a rookie, you can't expect him to be as productive or effective as he was during the preseason. Going against practice-squad players and others who aren't on rosters in any form is one thing; facing a first-team defense in December is an entirely different matter.
It's way too early to know about specific priorities -- and assuming the Broncos pick late in the first round, they can't get locked into focusing on one position or player and need to be in position to adapt as the draft board changes (see last year's trade up for Shane Ray as an example).
As for the positions you cited, the quarterback issue may be resolved if Brock Osweiler is signed and Trevor Siemian continues to receive developmental time.
The offensive line is always a priority; the Broncos have selected at least one O-lineman in 13 consecutive draft, taking 21 in total over that span and four in the last two drafts. The attrition and injuries ensure there will always be some churn there.
What do you think of the theory that Jar Jar Binks is actually a Sith Lord?**
In the parlance of Cosmo Kramer, it was so sane that it blew my mind. (It's posted on a Reddit feed. It's too bad this notion didn't come to pass; it would have made all of Episode I tolerable if you knew that Jar Jar's idiocy was actually a front.
To me, the most salient point of the Reddit piece revolves around Count Dooku, who just suddenly shows up. His presence felt tacked on within Episode II, which is a mess of a film. Dooku gets tossed in and we hear of a Jedi Master named Sifo-Dyas, out of nowhere. It just felt like the kind of plot that you'd put together in one afternoon over a couple of martinis and club sandwiches in a studio bungalow.
And even though you didn't ask, here's my spoiler-free review of Star Wars: The Force Awakens:
I loved it to the point where I want to see it again and pick up on details I know I missed on the first viewing Friday. The film grabbed me emotionally in a way that the original trilogy did, but the prequels did not. For fans in my generation and older, it might make you feel old ... but it will also make you feel young.
---
Submit a question for the next Mailbag!
The analysis, opinion and speculation in this story represents that of the author, gathered through research and reporting, and does not necessarily reflect the opinion of the Denver Broncos organization.