Will Paxton Lynch be a quarterback like Brock Osweiler or will he be like Peyton Manning for years to come?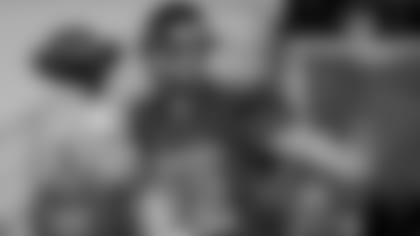 "Difficult to see, the future is," as Yoda said. If I could see into the future with certainty, I'd forecast the weather or spend a lot more time at the horse-racing track, Biff Tannen alternate-timeline style.
All we can do is compare styles in the present and try to project. Lynch's height evokes the Osweiler comparisons, but to me, that's the only similarity.
Lynch's delivery is more efficient than Osweiler's; remember, Osweiler had to work on his release point and his elbow placement with the Broncos and even last year would sometimes lapse into some old habits. Further, Lynch has a better feel for the pass rush, and is ahead of Osweiler coming out of college in reading defenses (although Osweiler had just one full season of starting experience at Arizona State).
As for any comparison with Peyton Manning ... let's lay off that. Manning is, at worst, one of the three best quarterbacks all-time -- and with the individual records he holds and his distinction as the only quarterback to guide two different teams to Super Bowls, there's an argument for him being the best.
Manning is incomparable. So is Tom Brady. It's unfair to them -- and to these draft-eligible quarterbacks -- to bring them up in comparisons.
With our current QB quandary why wouldn't we try and coax Peyton Manning out of retirement for one more go-around?**
Because he went out with the best possible ending, and you can make the argument that he left with the greatest collection of accomplishments of any quarterback in NFL history. He's 40. He didn't look like his usual, dominant self at the end, thanks to the accumulated effects of age and injuries.
It was time. Give him credit for nailing the timing of his departure -- as he nailed so much else in 18 brilliant and unforgettable seasons.
Broncos need to go back to all Blue looks mean!
No it doesn't. It makes the larger linemen look like blueberries. Not -- and never has been -- the best look, in my opinion.
Is there any chance we might go back to the blue jerseys for our home color? The orange is o.k, but most fans like the blue more.
No. Orange is the identity of the Broncos, and makes the team unique. Do not expect that to change.
Further, I disagree with your assessment that "most fans like the blue more." Just take a look around the Broncos' home stadium over the years -- particularly on warm days, when fans are most likely to wear jerseys. In the blue-jersey years, you saw plenty of orange sprinkling the stands; never could one have accurately said it was a "sea of blue."
Now look at the stands on days when fans don't have to wear heavy coats. The only football venue with more orange is that of the University of Tennessee. It adds to the atmosphere.
Further, I wanted to get a read on Broncos' fans color preference. Admittedly, this is unscientific, but last week, I conducted a Twitter poll. Seventy-one percent of the fans who took it prefer the orange jerseys.
I am really intrigued with Dak Prescott and I believe he could be a Russell Wilson-Esque steal in the draft. I've read that he is on our radar and that we had him in for a bust but I am curious as to why more accounts aren't talking about him.
I can't speak for other accounts. I've been talking about him since the Senior Bowl in January.
Would the Broncos start a QB they draft over Mark Sanchez?**
If he's good enough, is clearly the best quarterback and playing him early doesn't hamper his development, absolutely.
The competition is going to be wide-open, no matter who ends up involved in it.
I see Brandon Marshall is back. When did that signing happen, and what are the terms?
He is back at the UCHealth Training Center working out with teammates, but he has not re-signed. I know that getting him on a long-term contract is a high priority for the Broncos, especially after losing Danny Trevathan in free agency. Marshall is seen as a complete three-down linebacker with outstanding leadership qualities -- in other words, a perfect player to be at the core of this defense.
Is there a chance the Broncos move up in the draft with so many picks at their disposal?
There is a distinct possibility of that. However, the quality of the draft looks like it will be the same in the 40s as the 20s, so unless a highly-rated talent unexpectedly slips, it could be wise to trade down a bit.
Anyone who tells you whether they know for certain that the Broncos will move up or down is lying or just making it up. It is the epitome of a fluid situation that will depend on other trades and, finally, how the draft board falls Thursday night.
---
Submit a question for the next Mailbag!
The analysis, opinion and speculation in this story represents that of the author, gathered through research and reporting, and does not necessarily reflect the opinion of the Denver Broncos organization.