Realistically, he looks like a sixth- or seventh-rounder. His 4.36-second 40-yard dash will open eyes, but his relative lack of production until his senior year will hurt his stock, and some teams may want him to add some weight to his frame. The Broncos are stacked at wide receiver, but every year, it seems there is at least one late-round or undrafted rookie who seizes the training-camp spotlight and makes a run at the roster. It could be McCaffrey, but after his 40-yard dash at Duke's Pro Day, many teams have interest.
Because of his mobility, downfield vision, feel for the pass rush and ability to throw on the move.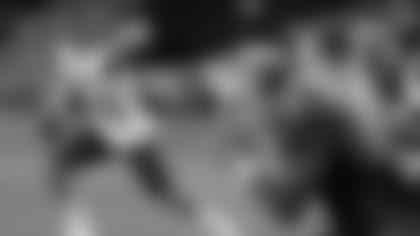 Going under center is something Lynch will have to learn with almost any team that could draft him; it is why I think he needs a year to be properly ready to contribute, unless he is an especially quick learner in OTAs and training camp (which is possible). But overall he has the cerebral skills and natural athleticism to make that transition.
As intriguing as the QB situation is I am more concerned with finding a replacement for David Bruton Jr. He was a special teams captain and a very serviceable safety, is there anyone on the roster to fill that void? Or can it be addressed in the draft? And last part -- will it take two guys to fill his void?
You hit the nail on the head with needing multiple players to replace him. Kayvon Webster, Cody Latimer, Todd Davis and Corey Nelson are all among the potential candidates to fill the special-teams leadership role that he had; Webster, in particular, stepped up in a big way during the postseason run.
At safety, look for the Broncos to get younger. They return practice-squad safety Ryan Murphy, but it would not be a surprise if they use multiple draft picks at the position. In 2011, Elway drafted Rahim Moore and Quinton Carter; both became starters, and with Carter, he looked like a long-term standout in the making before injuries struck.
The Broncos must not just work on their plans for safety at the moment, but in the future; both starters have contracts that expire in the next two years. So in case Darian Stewart, T.J. Ward or both opt to test the market, the team needs to develop some young safeties. In the late-first-to-second-round range, I like West Virginia's Karl Joseph as an ideal fit in terms of versatility, ball skills, intelligence and scheme fit.
With all the talk regarding a QB how come a proven veteran and leader like Matt Hasselbeck hasn't been considered as a short-term solution?
Because he retired and took a job on ESPN's Sunday NFL Countdown.
With Ryan Clady being traded and Ryan Harris a Steeler, does Jason Spriggs from Indiana Or Germain Ifedi or guard Cody Whitehair make sense in the first round? Or will they look for depth in the later rounds?**
Offensive linemen make sense in general, but if you're looking for a player who will have an immediate impact, it wouldn't be at tackle, considering that both of the Broncos' priciest free-agent imports were at the position in Russell Okung and Donald Stephenson. Further, they have a viable plan at the guard spots, with Ty Sambrailo and Max Garcia.
I wouldn't put it past them to take an offensive lineman like the ones you mentioned, and Whitehair in particular could be tempting; there is a strong case to be made for him being the best interior lineman in this draft class. But I think that is an area they will target after the first round, just as they did last year with Sambrailo and Garcia.
What's up with Robert Nkemdiche falling out of the first round in a lot of the recent mock drafts? I know there are character concerns but with a talent like that falling to the Broncos at 31 don't you think they would take a chance on him?**
I saw there is a petition for bring Tim Tebow back and I'm wanting to know how real would that even be.
The petition is real; the notion of its desire actually becoming reality is not.
John Elway did not want to wear the orange jerseys for the Super Bowl. Do you think the Broncos might consider the blue jerseys as their home color this year?**
Only on an occasional basis, as has been the case since 2012.
Orange will remain the primary color, and frankly, there is not even a superstitious reason to change this; since 1997, the Broncos have a better home record in the orange jerseys with blue stripes (.750 winning percentage) than at home in the blue jerseys with orange stripes (.689 winning percentage).
The blue jerseys have a place, and the blue-on-white look last year against Green Bay was terrific to see. But orange is the Broncos' identity. Denver is the only NFL team with orange as a primary jersey color. Orange makes the Broncos distinct. Let's not change that.
---
Submit a question for the next Mailbag!
The analysis, opinion and speculation in this story represents that of the author, gathered through research and reporting, and does not necessarily reflect the opinion of the Denver Broncos organization.