#askmase why was the broncos pass rush against N.E. so dominant, when the pats eliminated the K.C. pass rush the week prior? — Patrick Krohn (@KrohnPatrick) January 29, 2016
1) The Broncos' underneath coverage was better and more aggressive and disrupted the timing of New England's passing game, which forced an extra few split-seconds of hesitation. Tom Brady still got the football out in 2.43 seconds last Sunday, according to ProFootballFocus.com, but that was 0.21 seconds more than his average in the 10 previous games he'd played with Julian Edelman at his disposal.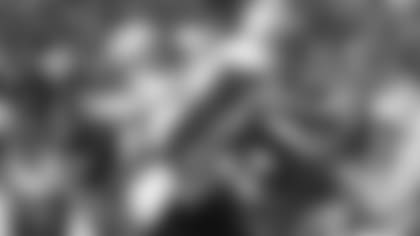 2) Denver's three-technique defensive ends were the best the Patriots had seen, and it showed. Their pressure was the first to shake Brady's pocket, and they did an outstanding job of getting their arms up to obstruct Brady's throwing windows.
3) Von Miller and DeMarcus Ware had the Patriots' silent count pegged. I've never seen them so quick off the snap.
This was why the team fought all season for home-field advantage, and why the overtime wins over the Patriots and Bengals were so crucial. Without those wins, I think I'm answering questions about looming free agents and Senior Bowl standouts rather than the Super Bowl matchup, and certainly Miller and Ware would have been more susceptible to hard counts and offsides infractions.
The Chiefs have good defensive personnel. The Broncos have better players on defense, and last Sunday, they played like it.
You need to try to forget about that team -- not in terms of the memories it created in going 13-3 and breaking a bushel of offensive records, but in terms of its construction. The 2015 Broncos are completely different: different strengths, different schemes, different coaches, different personnel. Just six players who started Super Bowl XLVIII are still with the team.
The other thing -- and this is a life lesson, not a football one -- is that everyone needs to relax and enjoy the moments of life a bit more. Go from day to day. Plan for the future, but marinate in today.
And understand that just being in this game as often as the Broncos have been is a truly remarkable accomplishment.
When considering the number of teams in the AFL and the AFC, the average rate of appearance would be once every 14.28 years, which translates to an average of 3.5 appearances over the 50-year history of the Super Bowl. The Broncos have been eight times. No one has been more often.
There's no guarantee that the rate of success will continue over the next half-century. The Miami Dolphins went to five of the first 19 Super Bowls ... and haven't been back. The Kansas City Chiefs went to two of the first four Super Bowls and are still waiting for their return appearances.
Enjoy the build-up. For the next week, your team is at the center of the sports universe. People in all corners of the globe will see the Broncos run onto the field at the start of the game.
On game day, you can fret. I'm a fan of other teams; I get it. I've been so burned by Atlanta Braves postseason failures that I want to curl into the fetal position in front of my flat screen at the first sign of postseason misery. (This is not something I have to worry about this year.) But the demons of the past are only issues in the present if you allow them to be.
"People" tend to use head-to-head as the reason Brady is better than Peyton; Brady is 11-6 all-time against Peyton. As a Broncos fan, I don't think any of us would agree (Brady usually struggles against us and Peyton used to destroy us). But for those that use head-to-head, does that imply that Brady is the worse playoff QB since his regular-season record is 9-3 and his playoff record is 2-3 against Peyton?**
It would, which is why you can't put much stock in the head-to-head results when evaluating which quarterback is better; it's a flawed measurement.
Quarterbacks drive the car, but his teammates are the myriad parts in the engine and chassis, and if a receiver drops a pass or a piston stops firing, you're not going to get very far.
Is Philip Rivers a bad quarterback because his team went 4-12? I think it's perfectly obvious that he's anything but; the San Diego Chargers -- and I still like typing "San Diego" -- had a Biblical plague of injuries that contributed to their demise.
Do you think the NFL would ever consider taking away the cap hit on players that were drafted by the organization intending to re-sign them and only having a salary cap for free agents that were not homegrown? I believe teams should be rewarded for drafting well and not penalized by being forced to let guys go because of money. I think it really hurts the game and breaks our hearts when players we love are forced to leave.**
Consider? Yes. But I don't think it would progress any further than that.
One of the key tenets of the NFL's success is its establishment of relative resource parity based on shared revenue from television contracts, merchandise sales and other profit streams. Teams keep what they make in premium-seat sales and local, team-only sponsorships, but this model has ensured competitive balance, and makes possible an environment where a team in Green Bay, Wisc. can go to seven postseasons in succession, and where mid-sized NFL markets like Denver and Carolina can go to the Super Bowl and no one bats an eye.
The salary cap helps perpetuate that balance. Without it, some teams with boundless resources in terms of local revenue and ownership largesse could simply outspend others, creating the sort of imbalance that exists in Major League Baseball or most soccer leagues around the world.
Creating an exception to the cap for re-signing players would only help large-market, high-revenue teams who draft well; small- to mid-market teams would struggle to keep pace and wouldn't be in position to go above budget.
Andrew, I've enjoyed the mailbag all season. Thanks for all you do to give us informed answers. My question is about the players on IR. How is Ryan Clady recovering from his injury? And Ty Sambrailo? How about Jeff Heuerman)? Also do Omar Bolden and David Bruton get to be on the sidelines during games? And do all of them get rings? I hope there's another mailbag because I'd love to hear your take on the NFC opponent in the Super Bowl.**
First, thank you for the kind words. The Mailbag will continue in the coming weeks and throughout the entire offseason; there's plenty to discuss, even after the last snap in Santa Clara, Calif. on Feb. 7.
The recoveries for those players have been smooth so far. Clady and Heuerman have been regular presences at the UCHealth Training Center throughout the season working on their rehabilitation; both are expected to be at full speed by the time NFL teams start their offseason programs in April. Sambrailo is expected to return at some point during offseason work; his recovery time was expected to be four to six months after he had his torn labrum repaired. If he is on the long end of that timetable, he would return in May.
Bolden and Bruton can be on the sideline during the Super Bowl, as long as it doesn't hinder their recoveries from injuries. And all of those players will get AFC Championship rings if the Broncos lose Super Bowl 50, and of course, the big piece of jewelry if the team gets it done against the Panthers.
I noticed that in the NFL the halftime lasts 12 minutes (in the Super Bowl, it's 30 minutes). Do you think having half-time for about 23 minutes very similar to College Football will help the athletes to rest up?**
A little extra rest couldn't hurt the players, but the biggest beneficiaries would be the fans in the stands, who would have time to go to the concession stand and the restroom and make it back to their seats in time for the start of the third quarter.
College football has a 20-minute halftime. It's all right for the fans and the atmosphere; you get a marching-band performance, some homecoming festivities once a year, and other celebrations. But for the television audience, it's stretched out, and that's the reason why NFL halftimes are at just 12 minutes: television.
Pro football used to have 15-minute halftimes, but I don't expect those to return.
My question about the new two-point PAT rule: I was under the impression that if the opposing team were to cause a fumble or interception they could return it for two points themselves. Am I right or is that just wishful thinking?
One more Batman or Superman? Just curious.
They can. With Bradley Roby last Sunday, it was an issue of wanting him to go down and take a knee to end the play, because the Patriots could have returned a fumble of his to get the two-point conversion they needed.
As for Batman or Superman ... I'll take Superman, but I'm a Spider-Man guy.
Submit a question for the next Mailbag!
The analysis, opinion and speculation in this story represents that of the author, gathered through research and reporting, and does not necessarily reflect the opinion of the Denver Broncos organization. Super Bowl 50 Official Ticket & Travel Packages
The Denver Broncos have partnered with PrimeSport to offer Official Denver Broncos Super Bowl packages.
Visit Primesport.com/denverbroncos for more information