If we were to trade up to the 18th pick with the Colts, and draft Paxton Lynch, how much would we have to give up? Do you think we have a real possibility of landing him?
I think whether Lynch is in play for the Broncos or not depends on whether he is still on the board once the draft reaches the teens. I don't see the Broncos moving up to the top 10 to take him; the cost would be too great. But to get up into the mid-to-late teens, the Broncos might be able to make a deal without sacrificing their 2017 first-round pick; a trade of two second-round selections (this year's and next year's) and this year's No. 31 overall pick might be enough (and would be in line with the draft-value chart some teams use).
Is there a chance that the Denver Broncos draft Derrick Henry if he's still on the board in the second round?**
If he's the best player on their board when their pick arrives, absolutely. But other running backs, including Utah's Devontae Booker, appear to be better fits for the scheme than Henry, who is a beast when he gets up to speed, but isn't as fast at making his cuts and accelerating as some other more compact backs in this class.
What do you think about Connor Cook, and how does he compare to Paxton Lynch? Do you think the Broncos would draft him at 31?
Cook is ahead of Lynch in working in a pro-style offense, but does not have Lynch's innate feel for the rush and ability to escape. There are also lingering questions about his leadership. If the Broncos stick to a "best player available" philosophy, I don't think Cook would be the pick at No. 31.
While this probably won't get to you before the draft, what do you think of Vernon Adams and could he be a steal late in the draft? When he was healthy at OU he was pretty darn good and he was very impressive at Eastern Washington before his transfer.
I love Adams as a pick in the middle rounds. I'm concerned about his size and his ability to adapt to a pro-style offense, but the accuracy, feel for the game, instincts and presence are impressive and worthy of a long look.
Adams, Kevin Hogan and Brandon Allen are my favorite mid- to late-round quarterbacks in this year's class.
Mayock has the Safety Karl Joseph listed for the 1st round. Possible you & your working peers favor this pick. I feel his size will limit his play in the NFL. Can he handle any of the top TEs in the NFL on his own over the next 3 to 4 years? He may have to have certain criteria to rush the QB which the divisional OC's will catch the drift to stop him by his 2nd season. Most likely he would sign to a 5-year contract. I think he wouldn't be a starter by his 4th year with a replacement from a Vet or a college free agent. If he isn't injured his NFL career will be for 7 or a lucky 10 years. **
There are limits I have in viewing film. From what I've been able to gather I found a Safety whose skill is underrated. Can't remember a few of his personal info, but some of his stats & size tell me a lot. His weight is between 215 to 219 lbs, speed shows his position, & others claim position loss in tight coverage from eyesight or looks at the QB to long. I don't think so. He may have very good peripheral vision & is setting up an interception. In reality he is a gambler. This S may lead the college ranks in interceptions over the past 2 years with 19. His tackles for loss (TFL) are high with explosive hits. This player needs coaching to overcome his ego with football defensive needs. His last name is Thompson & he might have attended a Kansas school.
Darian Thompson attended Boise State, not anywhere near Kansas. But I still like West Virginia's Karl Joseph a lot more, because he's a more complete safety; he gets into the box and makes plays, can handle coverage when asked, and is a ballhawk himself, with five interceptions in just four games last season before tearing his ACL.
Further, you mention Joseph's size; that doesn't concern me one iota. He's 5-foot-10 and 205 pounds. That's sufficient. T.J. Ward is 5-foot-10 and 200 pounds, and Joseph is the same kind of player.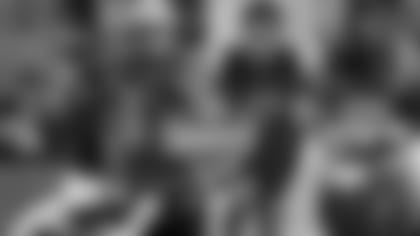 Andrew, any chance we chase Ezekiel Elliott to really take pressure off the QB situation, then concentrate on backfilling Malik Jackson, then getting another Veteran QB via trade? Seems like that really would set us up for another run and then we can address safety concerns next year or later in this year's draft.
Given Elliott's rising stock, that isn't realistic. Making a trade up 20 or more picks for a running back isn't the wisest move, anyway, given that this offensive scheme has succeeded with late-round and undrafted running backs.
Given that more than likely we wont be moving up in the draft, and the talent positions are what they are -- nobody gets the goods if the five guys up front don't do their job. Drafting the best possible guy for that position could be Ohio State's Taylor Decker.
If he drops to No. 31, perhaps you'd think about it, but there could be players of equal value at spots that weren't addressed by two free-agent signings this year, as tackle was with Russell Okung and Donald Stephenson.
Although when you start talking about "five guys" on the line, I suddenly get hungry. Man, a burger sounds good.
---
Submit a question for the next Mailbag!
The analysis, opinion and speculation in this story represents that of the author, gathered through research and reporting, and does not necessarily reflect the opinion of the Denver Broncos organization.