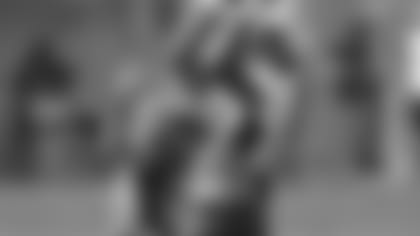 Why is Cody Latimer not being used more in the offense (especially for run blocking)? I don't recall seeing him on the field much during the last 2 games. He's currently listed 2nd on the depth chart and yet it's seems like Jordan Norwood is on the field more often. I was under the impression this would be Latimer's breakout year, but so far it doesn't appear that way.
-- Scott Eastin
Scott, you and many fans have the same question about Latimer and how the playing time at wide receiver is being dispersed.
Given that Latimer worked on the first team during the offseason while Demaryius Thomas had an unsigned tender and again during training camp when Emmanuel Sanders was injured, the questions are valid after Latimer played just nine offensive snaps the last two weeks.
Jordan Norwood's progress in returning from a torn ACL has a massive impact on Latimer's status, as well.
"What we're asking out of that spot, I think [Norwood] has earned his keep," Head Coach Gary Kubiak said. "I think he's done a really good job. He's a smart player and can move him all over the place. With that being said, I think you're going to continue to see [Andre Caldwell] and Bennie [Fowler] and Cody play more and more."
All play roles on special teams, which is why the Broncos have dressed all six receivers the last two games. Latimer has been solid in that area, even though it's not the offensive role he expected.
"He's doing fine," Kubiak said. "Hopefully he gets in a spot to make some plays. The plays that he has played, the ball hasn't come his way. You can't control that. You just keep playing hard and all of a sudden your opportunities will come.
"He's doing a really good job on special teams. He has a great attitude. He's a much better player right now to me than he was in the offseason. His time will come. He just needs to keep going."
This is a test of mental fortitude for Latimer. He must practice well enough to force his way into the lineup. During the offseason and training camp, Latimer made catches all over the place, but Norwood was the more produtive with his opportunities in the preseason.
Latimer must continue to make plays in practice, and to build his confidence on special teams. And if he is targeted in a game, he has to capitalize. If he does that, he'll get more chances.
Much has been said about the Broncos' poor results on punt returns in recent seasons. I'm wondering if a large part of the problem is that they play half of their games each season in the thin aired home stadium? It's not unusual for the visiting punter to have a career day in Denver. Between the hang time and distance, most punts appear to be unreturnable. Your thoughts?**
-- Chip Whitson
That's an interesting hypothesis, but the data does not support it.
Since 2010, the Broncos have had a higher punt-return average at home (9.968 yards) than in road or neutral games (9.677 yards). Further, the Broncos have been more likely to elect to return punts at home than on the road, returning 50.81 percent of the punts at Sports Authority Field at Mile High, compared with 44.00 percent of them in all games played on the road.
I was also surprised to see that the opponents' gross punting average wasn't much better in Denver (46.79 yards) than elsewhere (46.03 yards).
First, the biggest mistake you're making is trying to define a defense as "elite" after two games. Stop. Step back and get a larger sample size.
Second, Jamaal Charles ran for 125 yards and averaged 6.1 yards per carry on the Broncos in Week 2. Last November, he diced up the Seahawks for 159 yards and 8.0 yards per carry. Did this mean Seattle's defense wasn't "elite"? Certainly not! Then-St. Louis RB Zac Stacy ran for 134 yards on the Seahawks in 2013, and Frank Gore averaged 6.5 yards per carry en route to a 110-yard game against Seattle six weeks later. No one was saying the Seahawks defense wasn't "elite" because of those two games.
What effect does John Elway have on the game during play?
-- Albert Turner
What do you think of a two-quarterback formation? Osweiler and Manning on the field. Hmmm.**
-- John Ritchie
I think that if you're going to serve 31 flavors, you must start by getting vanilla right. Ensuring that the basic tenets of this offense to work efficiently -- the ground game, the protection scheme, play-action -- is where the Broncos' focus has to be. And even when gadgets are incorporated into the offense, there's hundreds of better ideas than using two quarterbacks simultaneously.
I thought Baltimore would kill the Raiders. What did Oakland do that enabled them to score so many points against a team we had such a hard time with? I guess what I'm asking is, do you think the Raiders are a threat to the Broncos' hopes to win the West and position themselves well for the playoffs?
-- Rebecca Miller
The Raiders have quietly cobbled together some talented pieces: Derek Carr, Amari Cooper, Khalil Mack, Gabe Jackson, Latavius Murray, etc. Aldon Smith, for as long as he can play before facing league discipline, is an outstanding complement to Mack. Michael Crabtree appears re-energized by his fresh start.
Consistency is their issue; few teams had a greater discrepancy between their Week 1 and Week 2 performances. It wouldn't surprise me if the Raiders are a Jekyll-and-Hyde team until the roster matures. The ceiling for their talent -- particularly weapons like Cooper and Mack -- ensure that every contending opponent who faces them, including the Broncos, must prepare thoroughly. Whether the Raiders' talent makes them a threat for the division depends on their week-to-week consistency.
It seems as you look at all of the teams, with the exception of one team; that they are up and down like a roller coaster on offense and defense. However, if you look at the New England Patriots their team seems to be the most even/level game in and game out week to week. Most consistent! Is this because they are better coached and their players are more focused week to week? They do not come out flat and off hardly ever! They come to play and play well!
-- Rob Lowe
Mr. Lippman and Jake Jarmel do not endorse your use of exclamation points.
The Patriots are as capable of a stinker as any elite team. They lost by 27 points at Kansas City last year; they've had multiple giveaways in two of their last three games and have averaged 1.25 giveaways a game since their Week 10 bye last season.
The Patriots have some elite players, and they scheme and prepare well, which comes back to their coaching. They capitalize off mistakes as well as any team ever has. But to say that their players are "more focused" week to week is insulting to the rest of the league.
The Patriots will ride the roller coaster like anyone else, and if you're looking for an area of concern, look at their defense, which ranks 28th in first-down rate (one first down allowed every 2.98 snaps) and yardage per play allowed and dead last in first-down rate and average per run allowed. If New England doesn't improve -- particularly against the run -- the team will hit some speed bumps.
---
Submit a question for the next Mailbag!
The analysis, opinion and speculation in this story represents that of the author, gathered through research and reporting, and does not necessarily reflect the opinion of the Denver Broncos organization.