Why is Ronnie Hillman still the starting running back? C.J. Anderson has more yards per carry than Ronnie in the last month, Also Ronnie seems to be more effective when C.J. starts, wears down the defense in the first quarter, and then Ronnie can turn on his speed in the second quarter.
This is one instance where the starter/backup differentiation means nothing.
In the seven games that Hillman has started and Anderson has rotated in, their playing time is nearly identical: 31.86 snaps per game for Anderson and 33.29 snaps per game for Hillman. Hillman has touched the football more often (104 times, compared with 73 for Anderson), but that's because Anderson plays a majority of the third downs and other passing-intensive situations because of his strength in blitz pickup.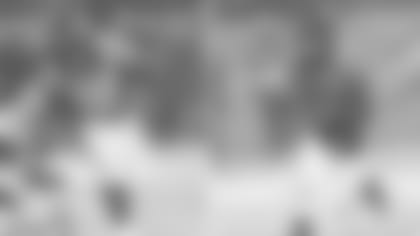 And while Hillman had a better per-carry average when Anderson started (4.89 yards per carry, compared with 3.36 yards per carry since then) Anderson's pace is better when Hillman starts (6.45 yards per carry, compared with 3.0 in Weeks 1-6, when Anderson started). So you can't look at what each individual back does; you have to look at their collective averages.
With Anderson starting:3.79 yards per carry
With Hillman starting (and Anderson rotating in from start to finish):4.75 yards per carry
With Hillman starting (and Anderson limited or out because of injury, against San Diego and Oakland):3.10 yards per carry
The collective is what matters most, and their increased overall production with Hillman starting is a significant reason why their platoon is unlikely to change this season.
It's an interesting notion, although Jordan isn't exactly a specialist; not only does he block shots, but he's a plus player on the glass. However, as with the idea of any NFL "specialist" -- e.g. a two-point conversion quarterback -- the question that inevitably follows is simple: is he worth one of the 46 roster spots if he did just one thing?
How many more kicks would a team block than the average if it had a kick-blocking specialist? (This year, 1.65 percent of all placekicks -- field-goal and extra-point attempts -- were blocked. Is it worth a roster spot to find someone who can triple that, but provide no value elsewhere?
The concept is fascinating, but I don't think the value is there considering that roster spots are at a premium as it is.
How much of the game would Peyton Manning have to play to get credit for the win?**
There is technically no "credit" for the win, because unlike baseball, there is no official win statistic. That's why the only delineation that exists is for being a starter, so he would have to start the game in order to add to his win total as a starter, in which he's tied with Brett Favre.
Since John Elway drafted Brock, does Elway spend anytime with Brock Osweiler giving him tips/suggestions to improve his performance? Or does he stay out of it and let the coaching staff tend to these matters? Sure seems Elway could pass along some great help for Brock?
Elway is available as a resource and his door is open, but he doesn't want to get in the way of the coaches doing their jobs, so the day-to-day work in Osweiler's development is primarily handled by Quarterbacks Coach/Passing Game Coordinator Greg Knapp, with coaches like Mike McCoy and Adam Gase also playing key roles in Osweiler's evolution over the last four seasons.
Who would you put in your top five QBs who are 25 or younger based on current skill and potential?
I'll give you six names that are head and shoulders above the crowd of sub-25-year-old QBs: Blake Bortles, Teddy Bridgewater, Derek Carr, Marcus Mariota, Brock Osweiler and Jameis Winston. All have shown promise and have enjoyed some brilliant spurts this season.
One reason why the Broncos' 2016 season could be so fascinating in regards to young quarterbacks -- assuming that Osweiler returns; his contract expires -- is that their projected schedule will include games against Bortles, Carr (twice), Mariota and Winston. There could be some terrific measuring-stick opportunities next year.
To the best of my recollection Vernon Davis wasn't targeted at all during the Bengals game. Was he used as a decoy, or has he lost favor with the coaching staff and Brock Osweiler because of his untimely drops? Obviously Owen Daniels was targeted (great game!), but did Davis play many snaps in the game, did he not get open, or did he lose out on snaps when they went to three wide during the hurry-up offense?**
P.S. If you do choose to read my question during the video portion of Mason's Mailbag, my last name is pronounced like Howard Cosell's last name (with a hard o), although unlike him it is the name I was born with, and is Polish Catholic in origin (you mispronounced my last name when you read my question earlier during the preseason). Thank you for your column and the journalistic integrity you demonstrate in all of your articles!
Davis was used on just six snaps Monday, his fewest since he joined the Broncos. (After playing nine snaps in his first game against Indianapolis, he averaged 45.2 snaps in Weeks 10-15.) His low workload Monday had more to do with the extensive use of the hurry-up offense, as Offensive Coordinator Rick Dennison noted on Thursday. The Broncos' work with it in recent years and during training camp gave Daniels and Green a background that Davis did not have.
"We're working with him," Dennison said of Davis. "Virgil has been around here for a couple of years. O.D. [Daniels] is a quick study and he had a full training camp with it."
Daniels noted after the win over Cincinnati, the emphasis on the hurry-up offense was not in the game plan, and was an on-the-fly adjustment. Kubiak added that the change was made to generate more opportunities after the Broncos had just two possessions in the game's first 27 minutes (and trailed by 14, meaning they needed all the chances they could get to produce a comeback).
(And in response to your post-script, thank you for the kind words -- and for providing the correct pronunciation of your last name! I apologize for mispronouncing it, and I'll remember it next time I answer one of your questions in the video mailbag.)
Don't you think the 2015 Denver Broncos team kind of reminds you of the 2006 Chicago Bears team. Both teams had their defense to win the games for them.**
A little bit, but that Bears defense ranked fifth in the league in yardage allowed per game, sixth in rushing defense and 11th in passing defense. That was a good defense, but relative to its year, it pales in comparison with this year's Broncos defense, which is first, second and first in those three categories, respectively.
The Broncos' defense reminds me more of the 2013 Seahawks (first in total defense, eighth against the run, first against the pass), the 2002 Buccaneers (first, sixth and first in those categories) and the 2000 Ravens (second, first and eighth, respectively) than the 1985 Bears, even when comparing their offenses. The Broncos' offense has improved from its early season form to rank 19th in total offense, 18th in rushing offense and 16th in passing offense, and since Brock Osweiler took the reins, it ranks 13th in total offense, 13th in rushing offense and 14th in passing offense. With an elite defense as a complement, that has the potential to be a title-winning combination.
I thought this mailbag was for questions about the Denver Broncos not Star Wars movies. Since you are a fan of both, why not have a separate mailbag devoted to Star Wars. Don't get me wrong, I love Star Wars, but don't necessarily want to see lengthy responses here.
I do appreciate that you read all the way until the end of the last Mailbag; thank you and Happy New Year. The non-Broncos/NFL stuff is always at the conclusion of the Mailbag; I'll never lead with it.
But I'll continue wrapping it up with Star Wars, Seinfeld, The Simpsons or whatever else leads to a fun non-football question whenever I receive a good one. It's a bit like Ferris Bueller addressing the audience after the end credits; it's the bonus for everyone who sticks around, but the film is still good without it, I hope.
---
Submit a question for the next Mailbag!
The analysis, opinion and speculation in this story represents that of the author, gathered through research and reporting, and does not necessarily reflect the opinion of the Denver Broncos organization.