It's pretty easy. Until 2002, all intraconference/interdivisional games were set by the teams' finish the previous season. The Steelers and Colts missed each other from 1998, Manning's first season through 2001.
The current scheduling rotation (with a few tweaks) began in 2002, with each division meeting another division from its conference once every three years. The AFC South and AFC North were paired in 2002, and then again in 2005, 2008 and 2011. Manning missed the 2011 game because of his neck problems.
To create other Manning-vs.-Steelers duels, the teams would have had to finish in the same place in their respective divisions to play the following year. That didn't happen: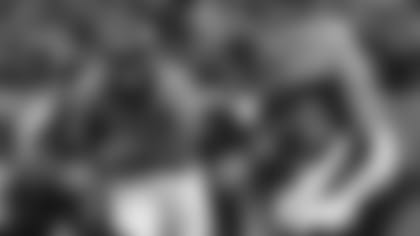 2002 (for 2003 scheduling): Steelers 1st; Colts 2nd
2003 (for 2004): Steelers 3rd, Colts 1st
2005 (for 2006): Steelers 2nd, Colts 1st
2006 (for 2007): Steelers 3rd, Colts 1st
2008 (for 2009): Steelers 1st, Colts 2nd
2009 (for 2010): Steelers 3rd, Colts 1st
The AFC West and AFC North were a tandem for the 2012 and 2015 schedules, but Manning missed the 2015 Steelers game because of the torn plantar fascia that cost him six games in total. In other years:
2012 (for 2013 scheduling): Steelers 3rd, Broncos 1st
2013 (for 2014): Steelers 2nd, Broncos 1st
One playoff game (Jan. 15, 2006 at Indianapolis) provides the fifth game.
I respectfully disagree with your assertion that the Hillman/Anderson back duo works well. If you take away Hillman's longest run he is left with a 3.52-yard average is unacceptable for a back in a system that is supposedly built on the run. Neither Anderson or Thompson have gotten enough carries to build a rhythm. Why hasn't Kubiak recognized Hillman's ineffectiveness and opted for a more physical back?
My point last week was how the production has improved since Hillman was named the starter and Anderson was used behind him, a change that was made at the bye week, which is a logical demarcation point. That trend continued last week, and the Broncos' average per game and per carry ranks sixth and eighth, respectively, since Week 8.
Further to illustrate that point, Hillman has improved, and in the last seven games of the season averaged 4.20 yards per carry -- not great, but enough to get the job done. It was going to take some time for the ground game to get going, especially with all the changes up front that were exacerbated by Ty Sambrailo's season-ending shoulder injury in Week 3.
Although there have been issues to overcome, the Broncos have been running the ball at an acceptable pace for two months, with only the Raiders loss providing a notable blight on their performance. Hillman has also improved at reading the creases and getting to them when they flash open, which has helped him have the afore-mentioned improvement in yardage per carry.
Hillman's season-long yardage per carry -- and your removal of one run -- doesn't reflect his actual performance in recent weeks.
The Hillman-Anderson combination is working. The scheme does not require a "physical" back; it requires one who can get to the creases when they form and will attack a quick hole rather than waiting for a gaping one, something Hillman and Anderson have done well in recent weeks. Barring injury, do not expect their platooning to change.
How plausible or viable is it for the Broncos to play both quarterbacks during the playoffs? Maybe alternating quarters or series? This could prove difficult for opposing defenses.
It would also prove difficult for your own offense, adjusting to a different cadence, different delivery, different pass velocity and different skill set on each play. Quarterback is the position on the field where continuity is needed more than anywhere else. Switching them on every position might work on Madden, but it isn't feasible in reality.
All signs point to T.J. Ward playing against the Steelers. It's a little hazier for Darian Stewart, in part due to the tricky nature of recovery from hamstring injuries. Head Coach Gary Kubiak said Saturday that Stewart's status was the primary concern among his collection of injured players, but he seemed optimistic that Stewart could be ready for next week's game.
Jeff Heuerman got hurt very early this year. When healthy next year what's his upside, and what do you think he'll bring to the team?**
He'll bring some balance to the position, as he's an effective run-blocker and pass catcher who fits the template of the every-down tight end Gary Kubiak and TEs coach Brian Pariani want. Heuerman was poised to have a significant role in the offense; even though he was a third-round pick, he appeared to factor into the Broncos' plans before he tore an ACL during rookie camp.
Heuerman's receiving production at Ohio State was similar to that of Owen Daniels at fellow Big Ten program Wisconsin in the early-to-mid-2000s, and it would not be a surprise if Heuerman's development follows Daniels' track, although it will be a year behind because of the ACL injury.
Can you give us an update on next year's cap status and who is under contract, restricted, not restricted? And I know it's a LONG way off but guess on the total cap next year.
-- Chad Lazel
Here's a quick projection:
UNRESTICTED FREE AGENTS:
S Omar Bolden
S David Bruton Jr.
S Josh Bush
WR Andre Caldwell
TE Vernon Davis
OT Ryan Harris
RB Ronnie Hillman
DE Malik Jackson
S Shiloh Keo
G Evan Mathis
OLB Von Miller
WR Jordan Norwood
QB Brock Osweiler
OT Tyler Polumbus
DE Antonio Smith
ILB Danny Trevathan
WR Kyle Williams
DE Derek Wolfe
RESTICTED FREE AGENTS:**
RB C.J. Anderson
ILB Brandon Marshall
OLB Lerentee McCray
EXCLUSIVE-RIGHTS FREE AGENTS:
OL Sam Brenner
ILB Todd Davis
WR Bennie Fowler
K Brandon McManus
C Matt Paradis
Look for the salary cap this coming year to be somewhere in the neighborhood of $153-$154 million this year. Since I loathe guessing, I'll pass on taking a guess at next year's salary cap.
@MaseDenver love your writing! Anyways, going to my 3rd Broncos game, best time/place to try and see players or get autographs? #askmase — Jake Moir (@YourAverageJake) January 8, 2016
Your best bet is going to be to head to the southwest tunnel a few hours before kickoff. Players come in through that entrance. Some will smile; some will wave; some will stop and sign autographs; some might be in the zone and ultra-focused, but don't hold it against them. At the least, you should get a glimpse of your favorite Broncos.
There's a nice case there, but Executive of the Year is often a bit like Coach of the Year, going to a team that exceeds expectations. The Broncos have met theirs -- at least so far. A 12-4 season next year after potential free-agent losses because of the salary cap would likely merit Elway consideration for the award. The full list of past honorees is is at the PFWA website so you can see what types of executives have won.
Not exactly. Late in the 1992 season, with Elway injured, then-head coach Dan Reeves had Shawn Moore and Tommy Maddox alternate plays, dusting off a tactic used in 1971 by his mentor, Tom Landry, who shuffled Craig Morton and Roger Staubach in and out before settling on Staubach, who held the position for the rest of the decade.
In my opinion, home-court, home-ice, and home-field advantages, etc. means nothing in sports because, if you are prepared to play you will be able to play anywhere, since your team has a good game plan. Any thoughts?
Speaking for the NFL, if it meant nothing, the split over the long haul would be close to 50-50. But over more than 10,000 games played since the AFL-NFL merger of 1970, home teams have a .574 winning percentage compared with .426 for road teams. It has a tremendous impact, to say nothing of the manner in which a crowd can impact the timing of the opposing offense, and, in Denver's case, the impact of playing at 5,280 feet above sea level.
I heard that PFF rated Evan Mathis as the best run-blocking LG, why hasn't he gotten more snaps instead of Max Garcia?**
Because Pro Football Focus does not provide the grades and breakdowns that measure the play of the team's offensive linemen; the coaches do from watching the film and knowing what each offensive lineman's task is on each play. PFF's grades and metrics are a nice tool, but they are not the be-all, end-all of evaluation.
Hey Mase, I don't have a question for you, but instead just want to give a shout-out to you and the entire crew for your outstanding work. I've been a Broncos fan since the seventies when I was a kid growing up in Denver, but work took me away from the area many years ago, and I've really missed having access to the local Broncos coverage. I can't begin to tell you how much I appreciate the fact-based analysis you guys offer, the clear camaraderie you all seem to have, and the positive tone that your team manages to keep (all rare finds in NFL coverage these days). Thank you, Happy New Year to you all, and keep up the great work!
I know everyone on the staff appreciates your kind words. Thank you, and have a great 2016!
---
Submit a question for the next Mailbag!
The analysis, opinion and speculation in this story represents that of the author, gathered through research and reporting, and does not necessarily reflect the opinion of the Denver Broncos organization.