DENVER — Sorry, mom. Sorry, dad. Phillip Lindsay is moving out.
No longer an unheralded running back at the bottom of the depth chart, Lindsay is making some changes. He got a new car — a sports car befitting a speedy player like himself — and a new car for his mother. And, yes, after spending his rookie season living with his parents in his childhood home, Lindsay is searching for a place of his own.
Things are very different for Phillip Lindsay now, as compared to a year ago, and it was hard to shake that thought as he arrived at the Hilton Denver City Center hotel on Wednesday night with an ESPN camera crew in tow for the Colorado Sports Hall of Fame's 55th annual hall of fame induction and awards banquet. Amid stiff competition from other local sports stars that include the Rockies' Kyle Freeland and Nolan Arenado, the Nuggets' Nikola Jokic and the Avalanche's Nathan MacKinnon, Lindsay earned the Hall's Professional Athlete of the Year award.
Lindsay himself seems no different. He's the same kid that attended Denver Public Schools, still humble and still cherishing everything that his stellar rookie season has brought him, including this honor.
"It is a very big deal," Lindsay said. "It's an honor to be here. There's so many great players that should have won this award this year, and I was just fortunate to be able to be [the one] that they voted to win it."
But at the same time, the Broncos' undrafted rookie phenom is ready to put it all behind him.
"This season's over now," Lindsay said. "I've got to prove myself again. People know about me now, so now it's about going out there and adjusting and proving that I belong here for a second year. You've got to put in years, not just one good year."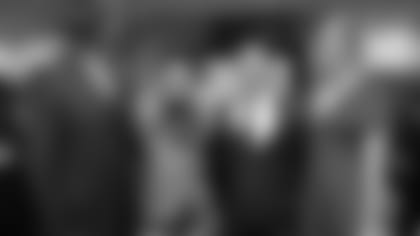 Lindsay's 2018 season earned him plenty of accolades, including Week 13 AFC Offensive Player of the Week honors, a Pro Bowl selection and inclusion in the Pro Football Writers of America's All-Rookie team.
There has been time for him to bask in those praises, but he's moving past that stage as a new season approaches.
"Sometimes I think back and I'm like, 'Dang, this is surreal.' And sometimes I think back and I'm like, 'I've been working hard for this moment,'" Lindsay said. "But now it's about maintaining it. It's about keeping it up.
"Everybody loves you when you're doing well, but when you start falling off, you're the [scum] of the earth," Lindsay said. "I've just got to keep going."
That work began in earnest Tuesday with the start of the Broncos' offseason program, as players returned for strength and conditioning workouts. Lindsay, who is still recovering from a wrist injury suffered in Week 16 that required surgery, said he's not able to participate in every drill but added that he's doing everything the training staff allows.
After all, this is invaluable time that will partly lay the foundation for the 2019 season, and nothing can keep him from doing whatever he can.
"I'm ready to get on to the next year and continue to get better," Lindsay said.
He may not be an unproven player like he was when entering his first NFL season, but that won't stop Lindsay from keeping the same mindset.