In November, the NFL puts a spotlight on its Salute to Service campaign to show gratitude to military members from all branches of the United States armed forces. As part of that, NFL teams permit players to select a decal representing a branch of their choosing to be placed on the back of their helmet. We talked with just a handful of Broncos players to hear their stories of the personal connections that led them to pick the branches that ended up on their helmets.
Sam Jones: U.S. Air Force
"I have a tremendous amount of respect for the military, all the branches and the sacrifices that they make, just being away from their families and going through things that normal people just can't even imagine. My family has a history of service, so it means a lot to me for that. I also have some friends that are going through right now. One of my best friends is going into the Air Force, and he's in the thick of training right now, so it was pretty cool for me to be able to throw that Air Force patch on there. I sent him a picture — him and his mom, actually — and I sent them a picture and said I'm thinking about him and keep grinding.
"I grew up with him, went to high school with him, played sports with him growing up and stuff. He's just a really good dude and exactly what the military needs and how those types of guys are.
"I went with Air Force just because my buddy's going through the training right now. He doesn't have his phone or anything, but he talked to me a couple of weeks ago when they got a little day off or something. He was just telling me about what they were having him doing, going through the drown school and stuff, where they basically just throw them in a pool and wait until they drown and bring them back so they know what it feels like. I was like, 'Man, that's wild,' so I just have a bunch of respect for that."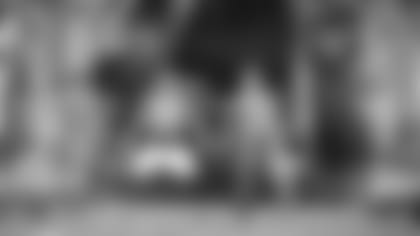 Derek Wolfe: U.S. Navy
"[In addition to picking it for my brother-in-law,] I just have a ton of respect for Navy SEALs in general. … I think those guys are badass. I really take a lot of inspiration from those guys and got a lot of respect for them.
On running the memory he has of running out of the tunnel with his brother-in-law last year:
"I think it's something, like I said when it happened, it's something we'll have forever. He was really happy about it, so for me to be able to do something like that for him, and I told him, 'It was just as cool for me. It's a big deal, and it's a good deal any time you get to run out of the tunnel with some military guys, because they don't get any kind of accolades for the stuff that they go through. They're doing it for the country, making the ultimate sacrifice. Any time you sign up for the military, you're putting your life on the line. I've got a ton of respect for those guys."
Matt LaCosse: U.S. Marines
"I chose the Marines. My grandfather on my father's side was a Marine in World War II, and also my father-in-law was a Marine, so it just means a lot to me. Big background with the Marines, so that's why I chose them.
"It's awesome. I think most guys in this locker room have someone they know in the military or some military background and whatnot. So it means a lot because those are the real heroes. We play a game on Sundays. That's it. They go put their lives on the line so that we can do what we love. So they're the real heroes in this world. It means a lot to us that we're able to show our appreciation to them."
Todd Davis: U.S. Navy
"I've been wearing Navy for a long time. My cousin Asher is in the Navy and I support him 100 percent, so that's why I picked that sticker.
"It's just my way show him a little love and support. One of my favorite cousins, so I think when he sees it on my helmet, it makes him feel good. It makes me feel good to feel like I'm carrying him with me."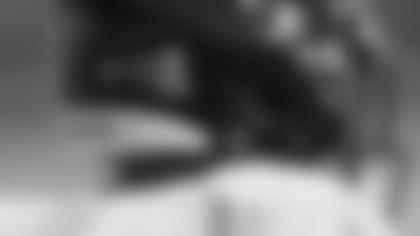 Justin Simmons: U.S. Air Force
"I choose the Air Force every year. That was the branch of the military that my dad was a part of. I used to know, but I couldn't tell you what rank he was or anything like that. But I know he enlisted after college and he was in the Air Force. I just know how big of a deal it was for him and what it meant to our family at the time when he enlisted. I always put it on my helmet, take a picture and send it to him. That's something that he would be proud of. It's pretty cool.
"My dad's always been like my coach — my hardest critic and my biggest fan at the same time. He can't always make it out to all of the games and I know he's always tuned into them. For him, I know it's cool when we get to be able to wear the decals on the back of our helmets [during] Salute to Service month … he probably wouldn't say it out loud or you would never know, but it means a lot to him. He knows the impact that he's had on our family and knows what he sacrificed and how much that means as a family. I know how much that means, so it's cool for him."
Bradley Chubb: U.S. Air Force
"I had a couple of family members that were in the Air Force, but I didn't really pick it because of that. I just picked it because being around here, I went to the Air Force base when we first got here as rookies, so I just felt that it was pretty cool, since they're right here, to put them on my helmet.
"I would say [I made a connection at that base], because those people are fighting for our country and at the end of the day, they might not come home to their families one night. The whole military, all branches, is very special to me because they make the ultimate sacrifice to make sure we can live the life that we want. To those guys, I salute them. I could have picked any one, but the Air Force just stuck with me."